Greek court sentences Syrian refugee to 52 years in prison over 'illegal' crossing from Turkey
He 'will be sitting in prison for nothing... for just fleeing Turkey and fleeing Syria'
Chantal Da Silva
Wednesday 28 April 2021 12:44 Comments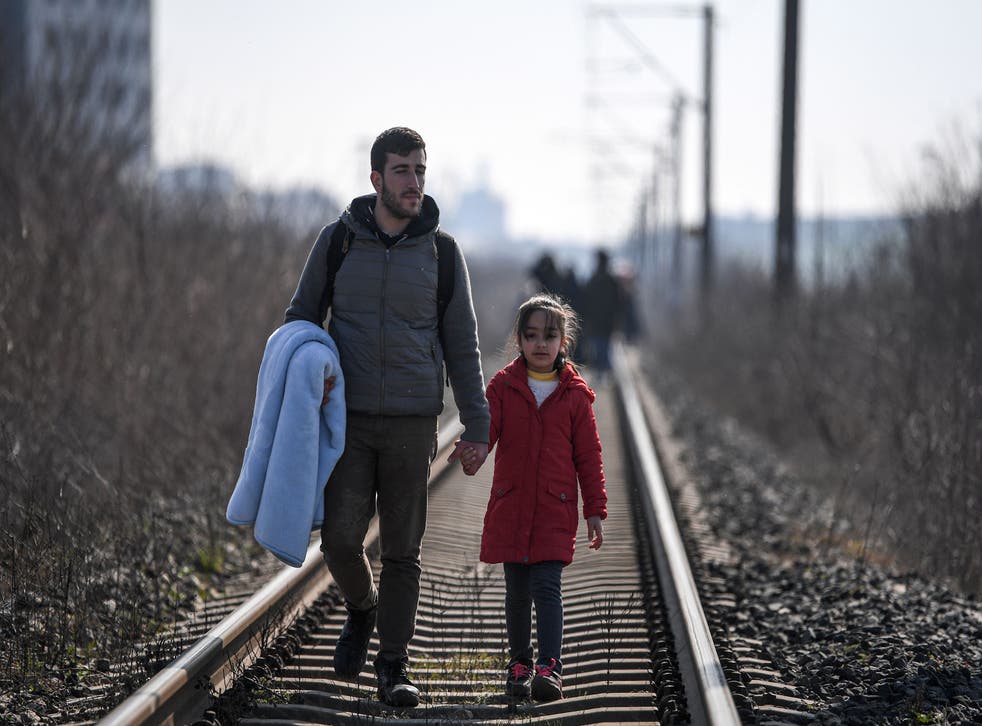 A Greek court has sentenced a Syrian refugee to 52 years in prison for "illegally" crossing into the country with his family in the midst of the country's crackdown on irregular migration through Turkey last year.
Identified only by the initials KS in court, the refugee was handed the heavy sentence in a Mytiline court on the Greek island of Lesbos on Friday.
According to campaigners, KS had crossed from Turkey to the Greek island of Chios by boat with his family, including three young children, and dozens of others in early March 2020.
The family had originally sought refuge in Turkey after fleeing the civil war in Syria. However, KS claims that he had refused to participate in the Turkish military operation in Libya and was briefly imprisoned as a result.
Following his release, he and his family sought to escape to Greece, traveling to Chios, the closest island by boat, only to be denied the right to asylum upon arrival due to a controversial policy introduced earlier that month.
At the start of March, not long before the family arrived on Greece's shores, the Greek government had ruled to temporarily block new asylum applications for at least a month after Turkey "opened the doors" for migrants to travel to the EU.
At the time, Turkish President Recep Tayyip Erdogan said his country was no longer able to cope with the amount of people fleeing Syria's war.
Demanding that EU countries do more to ease the pressure on Turkey to take in refugees, Erdogan allowed asylum seekers and migrants to cross into neighbouring EU member states, prompting a rush of arrivals at the Greek border.
In response, Greece issued a strong warning that it would "protect" its borders, with Greek Prime Minister Mitsotakis telling migrants and asylum seekers that if they attempted "to enter Greece illegally" they would be turned back.
Caught up in the chaos at the Greek-Turkish border, KS was one of many to be hit with "illegal entry" charges.
However, he was also accused of "facilitating illegal entry" and causing a "shipwreck "after Greek authorities accused him of having been at the helm of the boat that his brought his family and as many as 40 others to Greek shores.
In total, all three charges could have amounted to a 93-year prison sentence. But while KS was only convicted on the first two charges, campaigners say that there is no proof that the refugee was the one steering the boat to Chios, while his family has maintained that he was only a passenger.
Those supporting the Syrian refugee and his family say KS's 52-year sentence is part of a broader strategy by Greece to deter migrants and asylum seekers from coming to the country.
"They want to show people to stay away from Greece and to criminalise people who are fleeing," Johannes Körner, spokesperson for You Can't Evict Solidarity, a campaign supporting asylum seekers in Greece, told The Independent.
As a result, he said, KS "will be sitting in prison for nothing... for just fleeing Turkey and fleeing Syria".
"It's insane," Körner said. "It's crazy that he's been given such a long sentence".
Körner said it is possible that KS could see his sentence shortened after 10 or 20 years in prison. However, it would still mean at least a decade spent behind bars separated from his wife and three children, who are currently living at a refugee camp in Greece.
KS's family is not the only one impacted by Greece's immigration crackdown, however, with the country receiving repeated warnings from UNHCR, the UN refugee agency, over reported pushbacks in the Aegean Sea.
Earlier this year, UNHCR said it had recorded several hundred cases of suspected pushbacks since the beginning of last year, despite the forcible turning back of would-be asylum seekers being in violation of European and international law.
The agency has urged Greece to investigate the incidents. However, the country's government has so far denied the accusations, with Greek Migration Minister Notis Mitarakis branding reports of pushbacks"fake news".
The Independent has contacted the Greek government for comment.
Register for free to continue reading
Registration is a free and easy way to support our truly independent journalism
By registering, you will also enjoy limited access to Premium articles, exclusive newsletters, commenting, and virtual events with our leading journalists
Already have an account? sign in
Join our new commenting forum
Join thought-provoking conversations, follow other Independent readers and see their replies