Syrian refugee sues Facebook over 'fake news' posts accusing him of terrorism after Merkel selfie
'I want to live in peace, without any problems,' Anas Modamani tells The Independent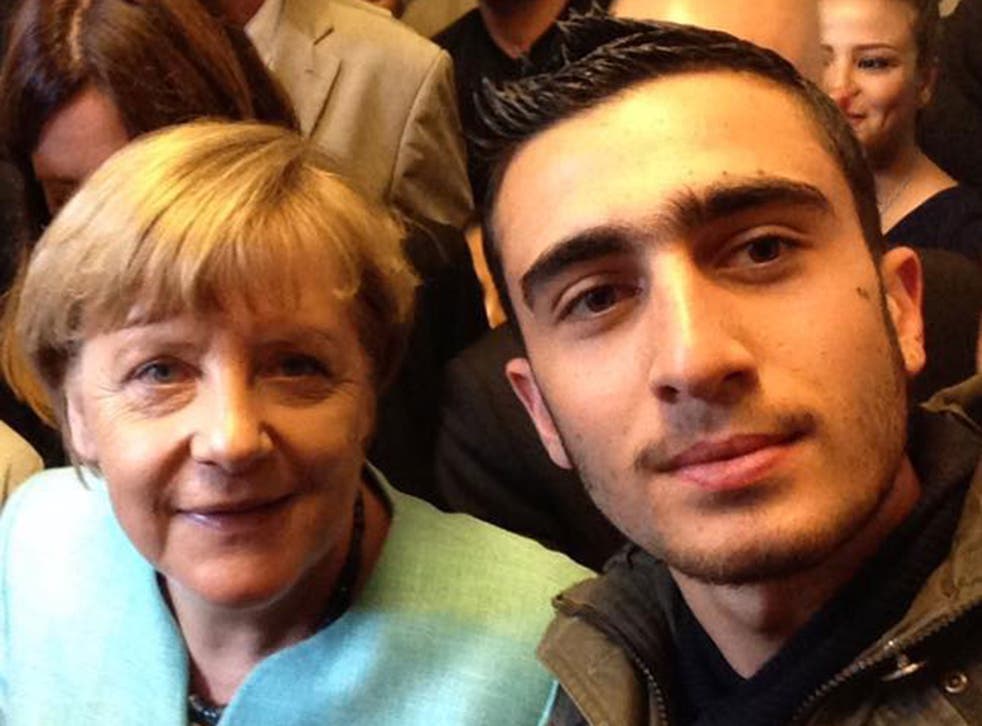 Anas Modamani had only been in Germany for a couple of weeks when a pack of politicians and reporters descended on his refugee accommodation in Berlin.
Among them was Angela Merkel, who had just shocked Europe by opening her country's borders to Syrian asylum seekers risking their lives in search of safety on the continent.
Anas, aged just 18 at the time, snapped a quick selfie with the German Chancellor as she passed by on 10 September 2015, showing the smiling pair looking happy and relaxed.
"I took the selfie because my hobby is taking photos," he told The Independent. "It was for me, not for other people."
But the teenager had no idea that an agency photographer standing metres away had captured the moment on camera, with the image going viral in a matter of hours and dominating international news coverage.
It was swiftly picked up by far-right activists and groups in hate-fuelled social media posts that evolved into "fake news" stories spread on Facebook, accusing Anas of terrorism and attempted murder.
He is now suing the social media giant in a landmark case, claiming damages for its alleged inability to remove the defamatory and distressing posts.
Among them is a combination of Anas' selfie with CCTV images of one of the Brussels bombers, alleging he was among Isis militants who attacked the Belgian capital, with the caption "you reap what you sow".
State-owned Russian media helped spread the false claims with an article claiming Anas resembled bomb maker Najim Laachraoui, under the headline: "Did Merkel take a selfie with Brussels attack suspect?".
The jihadis were identified, but Anas remained a target. As the hunt continued for the man who rammed a lorry into a Christmas market in Berlin last month, his photo popped up again.
It was superimposed on photos of the wreckage from the massacre in a mock news story with the headline "They are Merkel's dead".
Then, after a homeless man was set on fire by seven migrants at a Berlin underground station over Christmas, Anas was falsely alleged to be among the suspects.
"Homeless man set on fire. Merkel took 2015 selfie with one of the perpetrators!" read a Facebook post.
The lies were repeated on Twitter and on websites posing as "anti-mainstream media" news outlets, where the articles remain.
Anas, who is now 19, said he learned of many of the posts from friends concerned for his safety, who advised him to stay inside amid fears he would be attacked.
He hoped the fake stories would die down but as malicious claims continued to surface in new incarnations, an activist group that previously debunked the allegations put him in touch with a lawyer.
"I came to Germany because I wanted to live in peace, away from danger," Anas said.
"I don't want anyone to continue using my photo on Facebook. I want to live in peace without any problems."
The teenager, who is working while continuing courses to improve his German, still cherishes his selfie with Ms Merkel, which he posted on Facebook alongside photos documenting his gruelling journey from Daraya to Germany via countries including Turkey, Greece and Macedonia.
Refugees settle in Germany

Show all 12
His lawyer, Chan-jo Jun, said that Facebook has a legal responsibility to remove defamatory or discriminatory content that violates German law.
"Instead, Facebook has created an environment that allows illegal content to thrive," he told The Independent.
"In this case, I will either demonstrate the legal gaps that are still being closed to effectively enforce German law, or Facebook will learn that it does not pay to constantly violate the law."
Mr Jun prompted an investigation into Mark Zuckerberg and other Facebook executives last year over claims the site may have violated German hate crime laws by failing to remove abusive posts.
He has filed a new injunction "seeking to prevent Facebook Ireland Ltd from publishing the slanderous image of the Syrian refugee Anas Modamani" and other defamatory material that violates German law – if not the site's community standards.
Mr Jun said Facebook's policies "must change", claiming malicious posts had remained online because they were initially judged not to have contravened its rules.
The case also names a politician from the anti-immigrant Alternative for Germany party, who was allegedly among hundreds of people who shared one of the posts featuring Anas' picture.
Mr Jun said that the legal community has a "chance to curb fake news, at least where the rights of individuals are violated", and hopes his case could set a precedent for the future.
Fake news conspiracy theory about Hillary Clinton led a man to open fire in a pizza parlour
A spokesperson for Facebook said it took down one piece of content that "violates Mr Modamani's right of personality" at his lawyer's request, adding: "Access to that reported content was quickly disabled, so we do not believe there is any basis for him to seek an injunction."
But a cursory search of the social network reveals several other posts linking Anas' photo with the Brussels attacks, as well as the attempted murder of the homeless man in Berlin.
Austria's Mimikama group, which campaigns against "fake news" and abuse on social media, has worked to debunk the reports.
Member Andre Wolf, who connected Anas with his lawyer, is a member of, said the young Syrian's selfie had "brought many negative consequences".
"Anas Modamani is ultimately a victim of the hatred, prejudice and falsehoods of people on social networks – one of many," Mr Wolf told The Independent.
"False and defamatory posts cannot remain unpunished. The internet is not a rights-free zone."
The campaigner said it would be "far too easy to blame Facebook alone" but called on the social network to make it easier and quicker to take down harmful posts.
"The court case must also be a signal to those people who inflict damage on others with false posts," Mr Wolf added.
"These people should know that they can be held to account for a lie…Anas' example could be an important case."
The case will be heard at the district court in Würzburg on 6 February.