Syrian refugee tells harrowing story of journey to Europe: 'I fell in the sea... I thought I would die'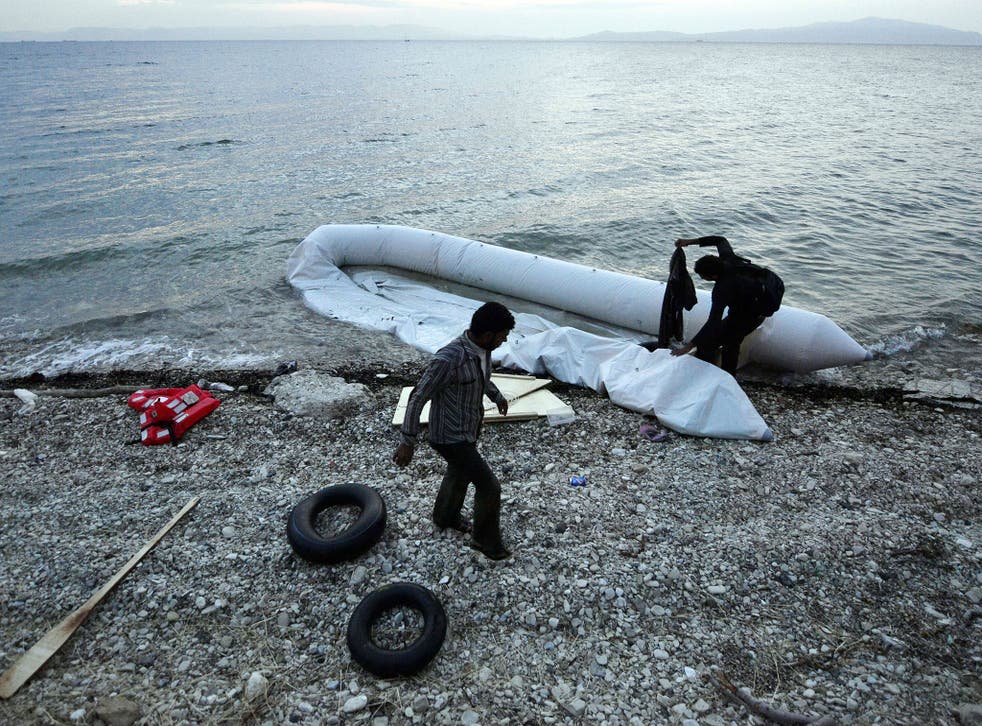 A Syrian asylum seeker has told how he thought he would die as he struggled to stay afloat for 45 minutes when the dinghy he was packed on with dozens of other migrants started to sink.
The 34-year-old, who did not want to be named, has reached safety on the Greek island of Lesbos after travelling for months from his war-torn homeland.
He told aid workers from International Rescue Committee (IRC) UK that he wants to live in Germany after hearing fond memories of the country from his father, who worked there for eight years.
The man was picked up by smugglers in Turkey, who forced him to pay $1,125 (£720) to cross the Aegean Sea.
He was assured that he would be put in a safe boat but made it to the shore to discover a small rubber dinghy.
"They only want to get your money - they don't care if you die," he said.
"The boat was punctured and we fell in the water. I was in the sea for 45 minutes before they pulled me out.
"If I live 200 years, I will never forget it. This is the first time in my life I felt I will die."
Migrants' desperate boat journeys to Europe

Show all 33
The man and more than 50 fellow migrants were rescued by Greek authorities and taken to Lesbos, which is one of several islands in the region seeing an influx of hundreds of thousands of people.
Here is the man's story in his own words:
My father worked in Germany for eight years.
Every day when we had a problem in Syria he would say, 'oh, when I was in Germany it was very good. Good people, good government.'
My friends who have already reached Germany told me that everyone respects you. If you go to your job, learn the language and be a good person, then you will live a very good life there.
So I dream to go to Germany. But because of four years of war in my country no one will give you papers to come here. My country doesn't have embassies because they're all closed.
It is not our fault if they world doesn't like our President. We know we don't live in a democratic country. We know if we talk politics we will go to jail.
So I chose the hard way.
When I told my family I was going to come here my father and my mother cried for three days.
My dad told me, 'how can I give you the money for the journey when I know you are going across the sea and maybe you will die? But this is your decision. I cannot do anything to stop you. You are 34 years old. So if you want to make decision go, I will pray for you. I cannot do anything else.
In Izmir, the smugglers see you in the street. They know you are Syrian, and they come to you and say, 'I have a boat, and will put you in a good car. The journey will only take 30 minutes and you will reach the beach without any problems'.
It isn't the truth but there is nothing you can say because they are mafia. They have guns, they are killers.
The journey costs $1,125. You pay the money to an insurance broker in Izmir. You give him the money and they give you a secret number. You give this number to the smuggler when you reach the boat, so they can collect the money.
We were told to go to a hotel, and we stayed there until ready to go. I was there for days but when it was time to leave we were only given 30 minutes warning.
We were told to turn off our mobile phones and just to take one bag. The smuggler told some people to throw their bag away if they were too big. He tried to do this to me, so I put my clothes in my friend's bag.
Dozens of us crammed into a small 12 seat bus with blackened windows, so people can't look in.
It was so packed I stood on one foot for two hours as we travelled up the coast. When we were dropped off, we had to walk for another hour and half through a forest. We kept running, stopping and crouching every 400m.
We finally reached a highway and I knew we were close to the sea. I could smell the salt water.
I saw the boat was a dinghy. It only seated 40 people but there were 54 of us.
The smugglers had lied. But they only want to get your money. They don't care if you die.
We traveled on the sea for an hour. It was so slow.
We then came across another boat. We didn't realize it was the police. We were told by friends not to stop because they will take you back to Turkey.
We don't know the Greek language. We can't understand what they are saying. They were saying stop the boat.
We held the children and we shouted at the police 'we have children'. I thought to myself 'let me reach the beach and anything you say I will do.'
The boat was punctured and we fall in the water. I was in the sea for 45 minutes before they pulled me out. If I live 200 years, I will never forget it. This is the first time in my life I felt I will die.
They helped us ashore. But why are they doing it this way?
Don't help us the hard way. Help us the easy way.
Now I am in Europe. We know we we'll see good people. And we are good people. And we will show we are good people. We will show a good picture of ourselves. It's not our fault that we have four years of war in Syria.
Interview taken at Kara Tepe Transit camp in Lebsos
At least one thousand migrants are arriving on Lesbos every day, the IRC estimates, including more than half believed to be refugees fleeing the Syrian civil war.
The organisation is one of the international agencies providing humanitarian relief with urgently-needed water, food and sanitation in temporary transit camps.
David Miliband, the former Labour Foreign Secretary and president and chief executive of the IRC, called for urgent action to tackle the "extreme needs" and health risks on Lesbos.
"The requirement for IRC to deploy staff is a terrible commentary on the failure of European countries to meet immediate and basic needs of refugees in Lesbos," he said in a statement.
"We are an NGO focused on the victims of conflict in the poorest countries in the world, from Niger to Afghanistan to the Middle East, yet Europe's inability to support Greece means we have to send staff to the richest region in the world.
"Europe is setting an example to the rest of the world – of exactly the wrong kind."
Join our new commenting forum
Join thought-provoking conversations, follow other Independent readers and see their replies