'Imminent' terror attack foiled in France after police arrest group of suspected Isis supporters including teenage girl
Police find TATP explosives factory at young couple's flat near Montpellier
Lizzie Dearden
Friday 10 February 2017 10:05 Comments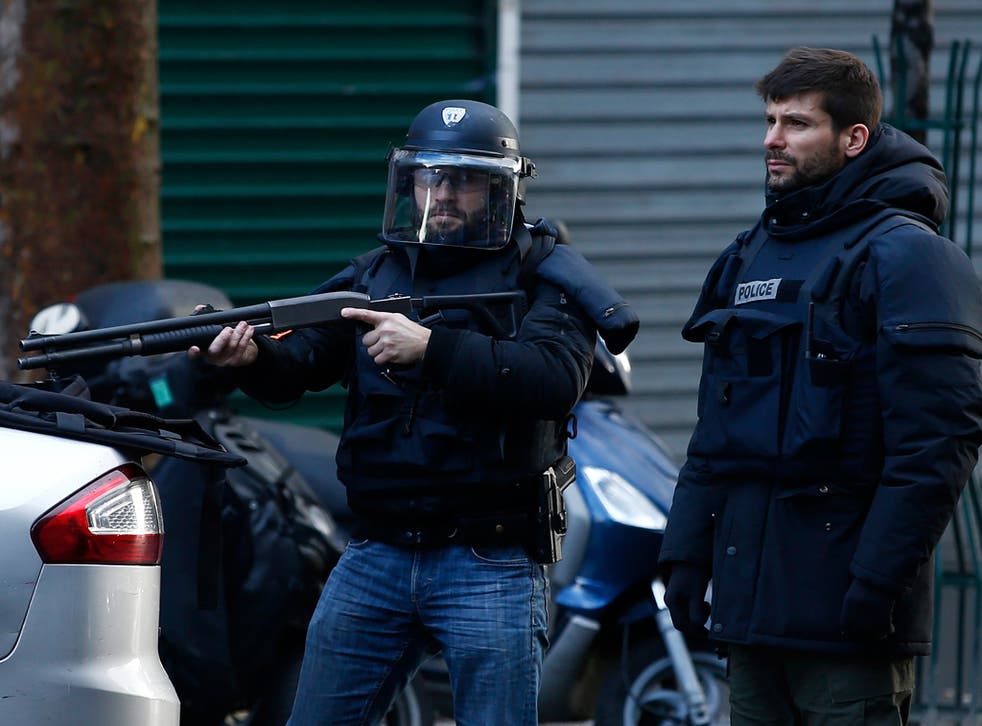 An "imminent" terror attack has been thwarted in France with the arrest of a group of suspected Isis supporters who were manufacturing explosives for a possible suicide attack.
A 16-year-old girl, named locally as Sara, was arrested alongside her 20-year-old boyfriend and two other men aged 26 and 33 near Montpellier on Friday morning.
Local reports said the group were suspected of planning a suicide bombing in an unspecified "tourist area" of Paris.
Explosives and other equipment were found during searches of a home shared by Sara and her boyfriend, identified only as Thomas.
Police discovered 71g of triacetone triperoxide (TATP), a powerful explosive widely used by Isis militants, inside a makeshift factory manufacturing the substance.
The volatile explosive, known as the "mother of Satan", was used in the Paris and Brussels attacks, as well as the 2005 London bombings.
Isis propaganda magazines have contained instructions on how to make TATP, which is difficult to detect, from legally available and low cost products.
The suspects were arrested after buying acetone, one of the key ingredients.
Sara had allegedly used social networks to express her desire to either journey to Syria or Iraq, or attack France, and pledged loyalty to Isis in a video posted online on Wednesday.
But one of her online jihadi "mentors" was working for France's domestic intelligence agency, the DGSI, and the intelligence triggered the dawn raid on her home.
The couple had planned to have an Islamic marriage before Thomas carried out the suicide bombing, with Sara then travelling to join Isis in Syria as a "martyr's widow", BFMTV reported.
The 34-year-old man arrested is suspected of putting the couple in contact with jihadis in Syria, as well as helping the teenage girl obtain a fake passport.
Bruno Le Roux, the French interior minister, said counter-terror operations were carried out in Montpellier, Clapiers and Marseillan.
Terrorism in 2016: Terror attacks in Europe claimed by Isis

Show all 9
A spokesperson for his ministry said the arrests had "foiled plans for an imminent attack on French soil", vowing that authorities would continue to fight terrorism.
A statement said three of the four people arrested were suspected of directly preparing "a "violent act", while explosives in the course of manufacture had also been discovered at the culmination of the two-week investigation.
The Prime Minister, Bernard Cazeneuve, also praised the work of investigators.
"Faced with the heightened threat, there has been an extremely strong mobilisation of our intelligence services to ensure the French are protected to the utmost," he said.
The arrests came a week after a suspected Isis supporter attacked French soldiers guarding Le Louvre.
Abdallah el-Hamahmy, a 29-year-old Egyptian man, claimed he received no direct orders from the terrorist group and intended to deface artworks.
Soldier shoots 'attacker' outside Louvre museum in Paris
France has been repeatedly targeted by Isis, whose militants launched a series of mass shootings and suicide bombings across Paris that killed 130 people in November 2015.
A supporter killed 86 people by ramming a lorry into crowds celebrating Bastille Day in Nice in July, and supporters have also carried out several stabbing attacks including the murder of a police officer and Catholic priest.
The country remains under a continuing state of emergency, which has been extended four times, prompting human rights concerns from the United Nations.
France's top constitutional court has struck down a contentious law brought in under the emergency measures, which allowed prison sentences for the offence of consulting "terrorist websites", saying it infringed on the ability to communicate freely.
The 2016 law, approved after the attacks in Paris, was intended to stem the influence of jihadi social networks and online propaganda and made exceptions for purposes of research or informing the public.
In a ruling on Friday, judges said France had other laws at its disposal to protect the public from acts of terrorism and imprison Isis sympathisers.
Register for free to continue reading
Registration is a free and easy way to support our truly independent journalism
By registering, you will also enjoy limited access to Premium articles, exclusive newsletters, commenting, and virtual events with our leading journalists
Already have an account? sign in
Join our new commenting forum
Join thought-provoking conversations, follow other Independent readers and see their replies