Tensions rise as Spanish customs boat fires shots at pleasure craft in Gibraltar's waters
It is alleged that four shots were fired at the Gibraltar-registered boat on Saturday, in what is a third such incident in as many weeks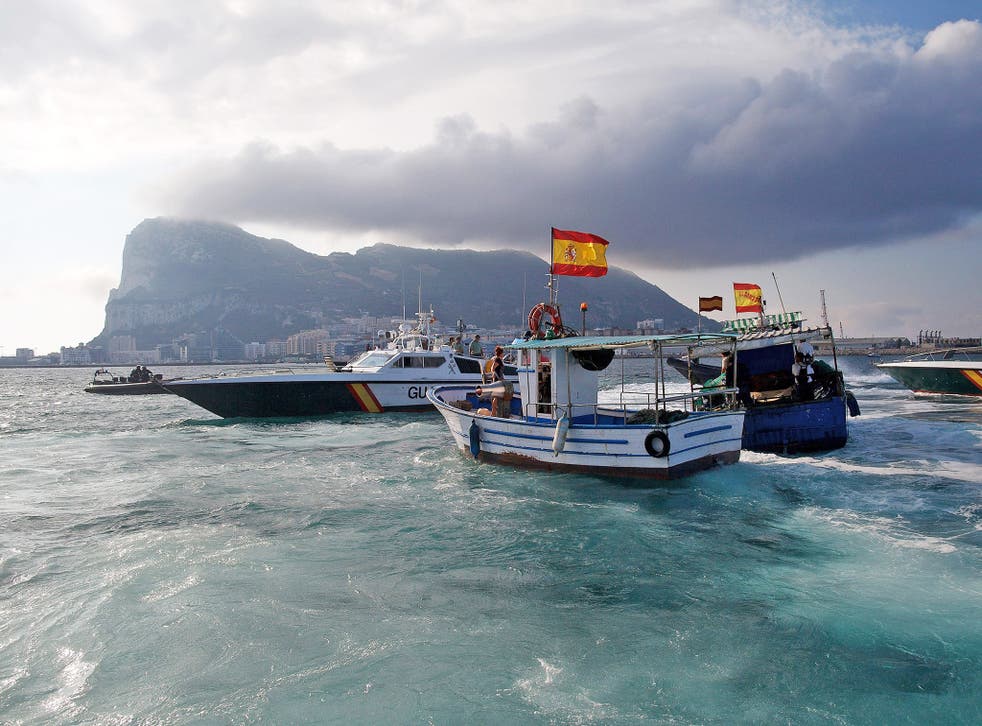 The government of Gibraltar has reacted furiously to reports of Spanish customs officials firing shots at a pleasure boat within the territorial waters of the British dependency.
It is alleged that four shots were fired at the Gibraltar-registered boat on Saturday, in what is a third such incident in as many weeks. The Chief Minister of Gibraltar, Fabian Picardo, said that the incursion by the Spanish authorities represented an "extremely serious escalation" in tensions between Madrid and the Rock.
"Her Majesty's Government of Gibraltar will not tolerate, under any circumstances, the intimidation or harassment of Gibraltar vessels in British Gibraltar territorial waters," said Mr Picardo.
Two men on board the boat, which was reportedly on a fishing expedition, said that Spanish officials had approached them and ordered them to cut their engines. When they refused, the Spanish vessel circled them, and officials attempted to board the craft, they claim.
"During this time, the shots were fired by the [Spanish vessel's] crew into the sea near the boat, and objects which they believe to have been bricks were allegedly thrown at the local men," said the government of Gibraltar.
The government in Gibraltar said that the Spanish boat belonged to the SVA, or Servicio de Vigilancia Aduanera, the Spanish law enforcement agency responsible for investigating contraband, smuggling and illegal drugs.
The pleasure boat was later escorted back to a harbour by the Royal Gibraltar Police.
"The Spanish authorities have put the lives of innocent Gibraltarian civilians at risk," said Mr Picardo. "These actions are criminal offences in Gibraltar. We are working closely together with the UK Government so that necessary and appropriate action is taken to counter this unacceptable threat. Proper co-operation remains our aim. The sooner the Spanish authorities adopt a similar co-operative posture the better." The incident follows a ratcheting up of tensions between Gibraltar and Spain, which claims the territory, ceded to the UK in 1713 under the Treaty of Utrecht, as its own.
Earlier this month, Gibraltar was outraged when a Spanish boat continued its chase of alleged drug traffickers into the Rock's territorial waters. Mr Picardo accused the Spanish of acting with undue bravado and ultimately allowing the alleged criminals to escape.
The Foreign Office said that it has lodged a protest with the Spanish government over the latest action by the SVA officials.
"We have protested this incursion to the Spanish government at a high level and have also raised our extreme concern over the reported interaction between the Spanish vessel and a Gibraltarian pleasure craft during the incursion," said a Foreign Office official.
"We take seriously any reports of attempts by Spanish law enforcement agencies to interfere with vessels in British Gibraltar territorial waters and threaten or intimidate their crews. We continue to work closely with HM Government of Gibraltar and the Royal Gibraltar Police to establish the facts surrounding the incident."
Register for free to continue reading
Registration is a free and easy way to support our truly independent journalism
By registering, you will also enjoy limited access to Premium articles, exclusive newsletters, commenting, and virtual events with our leading journalists
Already have an account? sign in
Register for free to continue reading
Registration is a free and easy way to support our truly independent journalism
By registering, you will also enjoy limited access to Premium articles, exclusive newsletters, commenting, and virtual events with our leading journalists
Already have an account? sign in
Join our new commenting forum
Join thought-provoking conversations, follow other Independent readers and see their replies