Moment planes 'almost collide' at Barcelona airport caught on video
Spanish airport authority insists the plane could have landed safely
Lizzie Dearden
Tuesday 08 July 2014 09:50 Comments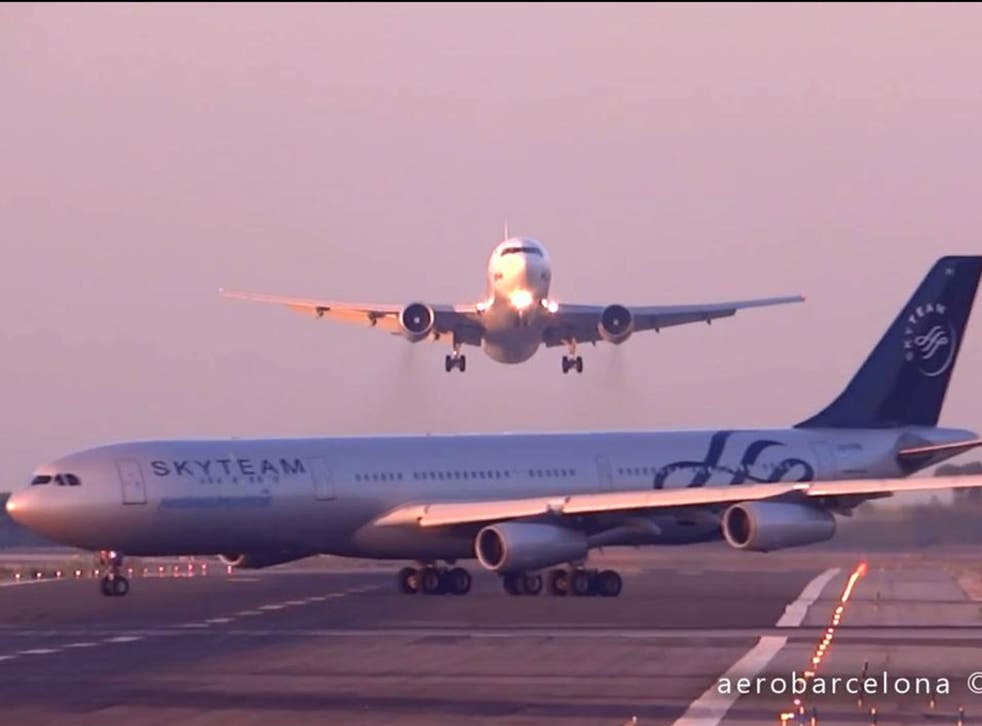 The terrifying moment two planes appeared almost to crash into each other at Barcelona airport has been caught on camera.
An aviation enthusiast happened to be filming the busy runway at El Prat airport when disaster was averted on Saturday.
A Boeing 767, operated by Russian airline Utair, was coming into land but at is approached the ground, an Aerolineas Argentineas Airbus A340 started crossing the runway in its path.
At the last minute, pilots in the Russian plane pulled the plane back up and away from danger.
The Boeing 767 performed what is known as a "go around" and landed safely shortly afterwards.
Miguel Angel, who posted the video to YouTube, described it as "one of the worst experiences I have ever had".
Footage of the incident has since been viewed almost 3.5 million times.
Fortunately, the near-miss in Barcelona happened on a clear morning and the plane on the runway was seen in time.
In the deadliest plane crash in history, in 1977, a plane hit an aircraft on the runway while taking off in thick fog.
A KLM flight misunderstood instructions from the control tower and tried to take off when a Pan Am flight was on the runway ahead.
By the time pilots saw the second aircraft, it was too late to stop and they collided, killing 583 people. There were 61 survivors.
A spokesman for the Civil Aviation Authority said that had the Barcelona incident occurred in the UK, it would have been classified as a runway incursion.
He added: "Such an incident would be looked into by the Air Accidents Investigation Branch. Fortunately the number of runway incursions incidents in the UK is very low."
The Spanish air navigation authority (AENA) said the incident was being investigated but claimed a "go around" was a standard and safe procedure.
A statement said the video circulating on the internet was not part of the investigation.
A spokesman told El Mundo newspaper that the separation distance between the two aircraft was "sufficient" for landing.
Additional reporting by PA
Register for free to continue reading
Registration is a free and easy way to support our truly independent journalism
By registering, you will also enjoy limited access to Premium articles, exclusive newsletters, commenting, and virtual events with our leading journalists
Already have an account? sign in
Join our new commenting forum
Join thought-provoking conversations, follow other Independent readers and see their replies