The Big Question: Should Italian justice be in the dock over the conviction of Amanda Knox?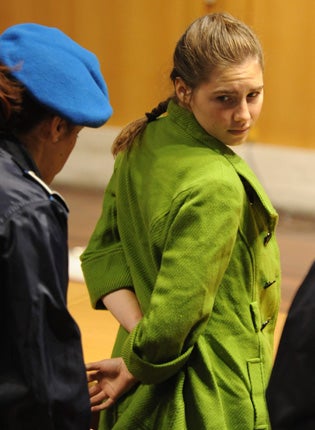 Why are we asking this now?
On Friday, the 22-year-old American college student Amanda Knox was sentenced to 26 years for the murder of her flatmate, the English student Meredith Kercher, found stabbed to death in the flat they shared in Perugia two years ago. Ms Knox's then boyfriend, an Italian student called Raffaele Sollecito, received a 25-year sentence. They are both appealing. The next day Maria Cantwell, senator for Knox's home state of Washington, said, "I have serious questions about the Italian justice system and whether anti-Americanism tainted this trial." Secretary of State Hillary Clinton said she would meet Sen Cantwell "or anyone who has a concern".
But wasn't Knox convicted fair and square?
A jury of six citizens and two judges deliberated on the verdict for 12 hours at the culmination of a trial that began in January. The process was painstaking, the court was skilfully and tactfully managed, the defendants, who were never called to give evidence directly or to be cross-questioned, were allowed to stand up and make "spontaneous declarations" at any point. The courtroom, fashioned from a medieval palazzo in the city centre, was a fit and proper setting.
So what grounds are there for saying the trial was unfair?
There is a strong possibility that the jury made their minds up about Ms Knox before the trial opened. That's because in Italy there is no functioning equivalent of the British and American law of contempt. Within a few days of the murder, the city's public prosecutor announced that the case was solved. He let selected journalists know that Ms Kercher had been done to death at the culmination of a sex orgy involving Ms Knox, Mr Sollecito, and an African bar owner in the town called Patrick Lumumba. She had been killed, it was said, because she had refused to take part. No power in Italy could prevent him leaking these theories, which roared around the world, establishing the common perception of Ms Knox as a murderous, sex-mad voluptuary with the face of an innocent.
But he had evidence?
Look first at the evidence he didn't have: no fingerprints or DNA samples of either of the pair at the scene, only a single, hotly contested DNA sample linking Mr Sollecito to it, collected 45 days later. What the prosecutor had was an admission by Ms Knox that she (and Mr Lumumba) were at the scene, an admission obtained after an all-night session at the police station, helped along, she claimed in court, by abuse and slaps to the head. Ms Knox said she was in the kitchen of her flat at the time of the murder and heard Ms Kercher's screams, and covered her ears. That was as far as she went. She later withdrew the statement, claiming it had been forced out of her.
But from the prosecution point of view, wasn't that better than nothing?
Surely. But there were nagging loose ends. None of the three had any prior convictions for anything, or any history of violence. The talk of bad relations between Ms Knox and Ms Kercher seemed poorly founded. No forensic evidence that any of the three was in Ms Kercher's room that night was uncovered. Yet the crime scene was full of forensic clues – it was just that none of them fitted these suspects.
What sort of clues?
A bloody handprint on the pillow. DNA on the victim's genitals. Faeces in the toilet. Enough to be going with.
And then three weeks after the murder, investigators announced that there was a fourth suspect: a local drifter, originally from the Ivory Coast, called Rudy Guede, whom all those forensic clues fitted. He had fled to Germany, but surrendered and was brought back to face charges.
So Guede was involved in the orgy too?
So it was claimed. Mr Lumumba, who had an excellent alibi, was set free. Ms Knox and Mr Sollecito, who claimed to have spent the night of the murder together at Mr Sollecito's flat, smoking dope, watching a video and having sex, had only each other. So the prosecutors simply unplugged Mr Lumumba and plugged this new African, Mr Guede, into the scene in his place.
Anything wrong with that?
The prosecution never stood up their claim that Mr Guede and Ms Knox were friends. They had been in each other's company a couple of times, but there was no evidence of a relationship of any sort. It was also claimed that Ms Knox had repeatedly telephoned Mr Guede on the night of the murder. The flaw in this account is that Mr Guede did not possess a mobile phone. The murder scene was full of evidence of Mr Guede's presence. He had left his blood at the scene, and his DNA on Ms Kercher's genitals. Yet the other accused, who supposedly participated with him in this orgy, even though they were not friends of his, managed to leave no trace at the scene at all.
So if Guede killed Meredith, why have Knox and Sollecito been jailed?
Mr Guede is already serving a 30-year sentence for his role in the crime (he is appealing it). He was sentenced at a so-called "fast-track" trial nearly a year ago. Optional fast-track trials were introduced in an attempt to accelerate the sluggish pace of Italian justice. But the splitting of the case had the effect of preventing a coherent picture of what happened on the night of the murder emerging.
How did the orgy scenario become so well-established?
It's partly a town-gown problem. In the view of the town, the foreigners attending Perugia's University for Foreigners have brought a flood of drugs, drink and low-life. Ms Knox, who was having a sexually hectic relationship with her new boyfriend and who, like him, admitted smoking dope, became a symbol of foreign decadence. She hugged and kissed Mr Sollecito instead of mourning her friend with tears and misty eyes. It was a short step to believing her capable of murder.
Could anti-Americanism have been a factor?
To the extent that America is a synonym for such decadence, yes. And there is another, more impalpable element: the powerful influence of the US on Italian post-war politics – for decades actively preventing the Communists from entering government, for example – has left Italy with tortured and contradictory feelings towards the US, an unstable mixture of admiration and resentment. The vigorous campaign by US-based supporters of Ms Knox may have been counter-productive.
Where does it all leave Knox and Sollecito?
The good news for them is that the appeal is essentially a re-trial: every aspect of the case will be examined afresh. It is very common for convictions at the first trial to be overturned on appeal. A conviction is not considered "definitive" until it is confirmed by the Court of Cassation.
Can a foreigner ever hope for justice in Italy?
Yes...
*The motto on the wall of Italian courtrooms reads: "the law is equal for all", and judges try to enforce it
*Most crimes do not feed into popular prejudice the way Meredith Kercher's murder did
*Italian justice is slow but very painstaking, and often arrives at the right result in the end
No...
*Prosecutors have an unhealthy amount of discretion and often make baseless accusations
*Media leaks frequently contaminate the process and result in trial by newspaper
*Juries are not sequestered so cannot be protected from prejudice in the air
Join our commenting forum
Join thought-provoking conversations, follow other Independent readers and see their replies