The Chios Hilton: inside the refugee camp that makes prison look like a five-star hotel
'We are, right now, in a prison. Two nights ago, in the potatoes, we saw a small animal,' says inmate at refugee detention centre on Greek island near Turkey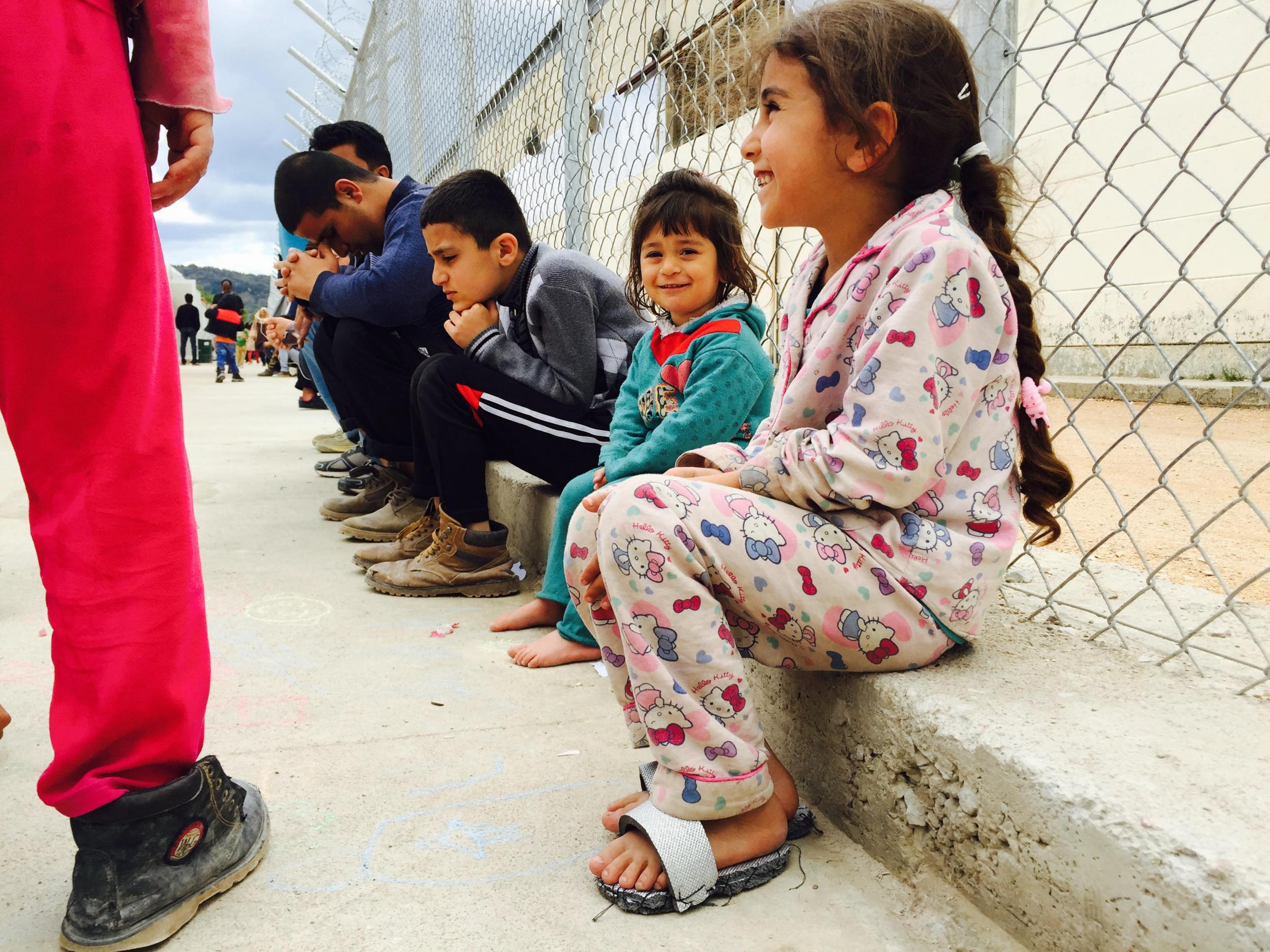 In a cold and cavernous hall once used as a waste-processing plant, scores of people lie huddled on the bare concrete floor with nothing but a thin blanket to keep them warm – if they can get one.
The food comes with the occasional live maggot; the people wear handmade flip-flops fashioned out of scraps of plastic and clothes skilfully tailored from the ubiquitous blue blankets.
The Vial detention centre on the Greek island of Chios, where 35,000 refugees have landed since the start of this year, is a bleak place and one that the authorities are not keen for the outside world to see.
However, a reporter for The Independent managed to get inside for just under an hour to hear from the refugees who made the dangerous sea crossing from nearby Turkey only to find themselves locked up in a facility that make a prison look like "a five-star hotel" – in the words of one activist on the island.
Sumaya Sliman, 32, a Palestinian-Syrian from the Yarmouk Camp in Damascus, fled Syria two months ago, hoping to join her brother and father in Norway.
In some ways, she was fortunate. The United Nations warned this month that civilians still in Yarmouk were "facing starvation, dehydration and death" amid fierce fighting between Isis and al-Qaeda-linked al-Nusra Front and regular shelling by President Bashar al-Assad's forces.
However, Ms Sliman, now detained in Vial, pointed to the bare patch of concrete inside a vast hall where she sleeps with her five-year-old son, Abudah.
"At night we are freezing, and we are sick. I have a cough, and a problem with my throat, but the doctors do not give us enough medicine," she said.
"Our children are crying, they are hungry. We have no blankets."
Yarmouk was used as a refugee camp for Palestinians displaced following the creation of Israel. "My grandfather left Palestine for Syria in 1948," Ms Sliman said sadly. "Now we have lost everything twice."
Javid Raoufi, 24, a graduate in economics and computer science who previously taught maths in Herat, Afghanistan, showed countless graphic photographs of the violence that prompted him and several of his relative to flee their home country, in the hope of finding safety in the West.
"We are not here for European people to give us food. We don't want just to be given food, or water. We are here for freedom. In Afghanistan we had some freedom, but our lives were not safe," he said.
"You don't know who is a terrorist, you don't know where the terrorists are.
"For me, it's not important: Austria, Germany, Switzerland, Sweden. I only want to go to a safe country."
Vial was supposed to be a processing centre for refugees, but has quickly turned into something more menacing – as the razor wire surrounding the hall and a group of huts that are home to about 1,000 people, including young children, babies and more than 20 pregnant women.
"We are, right now, in a prison. Two nights ago, in the potatoes, we saw a small animal," he said. A video taken by another inmate also showed a live maggot in a food ration served in the camp.
Mr Raoufi reported problems obtaining medicine for his aunt, who suffers from a cyst on the lining of her heart.
"We have only two doctors. The doctors work only five or six hours in a day. The doctors come at 11am, and can only visit 12, maybe 20 people each. Forty people – it's not enough. My aunt and uncle really need to go to the hospital," he said.
"The doctors visit us every four days, and give ibuprofen to my aunt, for pain. But she says 'I am not in pain! I need to go to the hospital!' but there is nobody to help us – this is Vial."
On Thursday, the refugees staged a breakout, apparently smashing through a locked inner gate and finding the outer one unlocked. Ayas Najib, 20, said: "Police were shouting 'Stop! Don't leave!', but they were a little afraid. After shouting at us, they stepped aside."
But the refugees, perhaps realising there were few other options, drifted back the centre peacefully as the riot police assembled.
Their main hope was to draw attention to their plight. The United Nations High Commissioner for Refugees and a number of non-governmental organisations withdrew their staff from Vial at the end of March, refusing to be complicit in the refugee's detention.
The Red Cross and American NGO Samaritan's Purse have continued to provide limited medical support, blankets and some hygiene products since 20 March, but individual volunteers have been refused access.
Veronica Encinas Sanchez, a 36-year-old from Mexico who works with the locally led group of volunteers called the Chios Eastern Shore Response Team, said conditions at the centre were "completely inhuman".
"Innocent children [are] locked in, with no access to education, no proper food and zero hygiene. People call Vial a prison, but a prison is a five-star hotel compared to Vial detention centre," she said.
"Prisons have a system. They have outdoor areas for walking and exercising, prisoners have a cafeteria where they receive three meals a day. They have proper bathrooms with hot water, access to books, they're allowed to receive visitors, they get clean clothing and their sheets changed.
"All of the above would be considered a luxury [in] Vial."
The situation is so bad that the local council in Chios is now threatening to sue the Greek government in Athens in a bid to force them to do something to improve the conditions.
"We have seen that the government is experiencing difficulties keeping its promises. Probably because they are focused on the big picture they miss the details," said Dimitris Karalis, deputy mayor for local development.
He said initially Vial had worked as a registration centre when refugees only stayed on the island for 24 hours.
"If this process was fast, then difficulties in the centre were only minor problems. But now, we have people there for many days, and we need to provide different services – now, we cannot skip those things," Mr Karalis said.
"From the beginning we have tried to have the best living conditions for the refugees on the island, and also good conditions for the locals, so as not to interfere with daily life on the island."
Join our commenting forum
Join thought-provoking conversations, follow other Independent readers and see their replies