The dark side of Disneyland Paris
To its European visitors, Disney sells fairytales. But the recent suicides of two park workers have exposed more sinister stories of a staff driven to breaking point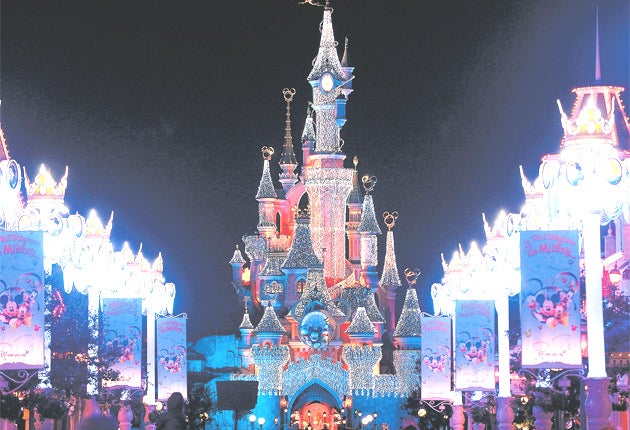 In a Magical Kingdom not so far away, somewhere between a place where you wish upon a star and dreams come true, Disney heroes and heroines live, once upon a time, in fairytales that are, happily, never ending. This is the candy-coloured introductory promise of the official website of Disneyland Paris, the most visited tourist site in Europe. Over 15.4m people flocked to the park last year, a new record. For most of them, the candy-coloured promise was fulfilled (so long as they didn't mind queuing for 50 minutes to be hurled around inside Space Mountain).
For many of the 14,500 people who work at the site, 20 miles east of the French capital, there is another, less magical side to the Magic Kingdom. "What we sell is something wonderful. We sell smiles. We sell the happiness of children. We all love our jobs, or what our jobs represent," said Hervé Saumade, 37, a maintenance man and union activist at the park. "But in the last few years, there has been a new management approach, which has, in many cases, made our working lives intolerable."
Since the beginning of the year, two Disneyland Paris employees have committed suicide. One of them, Franck, a cook at Disneyland for 10 years, killed himself on the day that he was supposed to return to the park after a long period of sickness. According to his father-in-law, he scratched a message on the wall of his home which read: "Je ne veux pas retourner chez Mickey" (I don't want to work for Mickey any more).
Disney – and the majority of unions on the site – say that there is no clear evidence that Franck's suicide was linked to his work. His father-in-law, Pierre-Louis Neut, says that Franck, a gastronomic chef in one of the more upmarket Disney restaurants, was depressed by staff cuts and a policy switch away from "freshly made food" to frozen produce.
The other employee, also a cook, killed himself in February after what one trade union, Force Ouvrière, insists was "humiliating" treatment at work. A Disney staff and management health committee investigation has found no evidence of work harassment. The moderate unions on the site – those most representative of the whole workforce – accuse Force Ouvrière of "exploiting" the two deaths in an attempt to win more support in delegate elections at the park later this year.
Even the moderate unions, however, insist that something has gone desperately wrong behind the scenes in the Magic Kingdom. Over the last five or six years, they say, a younger, mostly French, top management has taken over at Eurodisney, as the parent company is called.
The number of jobs in restaurants and hotels on the site has been sharply reduced, unions say. The number of visitors – attracted by cut-price deals – has increased. The hiring of seasonal workers has been slashed. A whole tier of middle management has been removed or "reduced to secretary status", unions say, leaving lower-level employees feeling undervalued and ignored.
Longer hours and six-day weeks are frequently demanded of everyone from pastry chefs to the "cast members", who earn just above the French minimum wage to play Goofy or Donald Duck in the daily Disneyland parades. The number of industrial accidents on the site has risen to 1,500 a year – one for every 10 employees – a higher rate than in the legendarily accident-prone building trade.
The moderate CFTC trade union federation, which has the widest support among French Disneyland employees, recently sent the President of Eurodisney, Philippe Gas, an excoriating open letter urging him to "wake up".
"For years now ... union representatives have been fighting daily to denounce the shameful and degrading practices used by [Disneyland] managers and anyone who has a little bit of power in this business," the letter said. "Prozac factories will never go bankrupt given the incalculable number of your employees who use their products."
Noel Barbier, CFTC delegate and Disneyland employee since the park opened in 1992, says that the joyous, family atmosphere of the park used to extend beyond the mouse-ear-clad visitors. The staff also thought themselves to be part of a family. No more.
"A large part of the problem is that the present Disneyland management has no strategy – and apparently no desire – to get the best out of its workforce," Mr Barbier said. "Most people here still love Disneyland and what it stands for. They want to enjoy their work.
"But there is no system of career development. If you were a junior cast member in the parade at 20, you might still be a junior cast member at 35," he complained. "Playing Goofy or Mickey in the parade might look easy but those big heads that they wear take a terrible toll on people's necks and backs. You have to dance while wearing them. As you get older, it gets to be very tough indeed ... And there is little prospect of a career move to something else."
Eurodisney, as the park was originally called, first appeared, like a garish moonbase, in the flat fields just to the east of the Paris conurbation in 1992. It was attacked by some in France as a spiritual monstrosity, a "cultural Chernobyl".
The park, although still making losses in most years (2008 was an exception), has been a great popular success. It is now as much a part of the French cultural landscape as the Eiffel Tower. Or perhaps not quite. In the village of Chessy on the banks of the river Marne, there is a pleasant church and village square with a bar-restaurant. You might be in deepest rural France, except for the mournful hooting of the Disneyland Wild West steam train as it runs along the park's perimeter fence 200 metres away.
Three Disneyland employees came to the bar in Chessy to chat to The Independent about life "Chez Mickey". Hervé Impinna, 43, used to maintain the floats used in the daily parades. He is now on lighter duties after falling from the top of Cinderella's coach and damaging his neck and back. "The whole attitude of management has changed," he said. "When I look at the illuminated night parades, I see scores of gaps where bulbs have failed and not been replaced. Visitors may not notice the difference but I know what the spectacle is supposed to look like and it's depressing."
Tama Gandega, 43, is an assistant manager in one of the large Disney hotels. He said: "All the pleasure of service is gone. Some days we have to do 3,500 breakfasts with half the staff we had a few years ago. No wonder everyone is ready to drop."
Sandrine, 39, is part of the team which makes up the Disney princesses in the parades. "Sometimes they are so exhausted with working six-day weeks they can hardly move, never mind smile," she said. "But they are obliged to smile, because that is the magic of Disney."
The company – like the more moderate unions – has criticised Force Ouvrière for "exploiting" the suicides. It has cast doubt on the "don't-want-to go-back-chez-Mickey" suicide note, which was found 10 days after police first investigated the death. The company has agreed, however, to look again at its working practices. The official management-employee delegate committee at Disneyland, Paris agreed yesterday to hold a "social audit" of working conditions and worker satisfaction. In the meantime, access by employees to psychological help will be improved.
Jeff Archambault, the Eurodisney vice-president for communications, said yesterday: "Because of the kind of business we run, the happiness of our employees is very important to us. Everyone at Disneyland, Paris is a cast member, from the most junior waiter to a senior management executive.
"Many of these complaints are a matter of perception. Not everyone who works for Disney feels ignored or undervalued. Seventy per cent of our team managers have been promoted internally. Despite the financial crisis, we have made a big effort to maintain – and even slightly increase – our full-time staff. There have been wages increases of 3 per cent or more in 2009 and 2010."
On the high rate of work accidents at Disneyland, Mr Archambault said that the company was aware of the problem and trying to improve its record but many of the incidents were relatively "minor".
"We do not accept that either of these tragic events [the suicides] can be directly linked to Disneyland, Paris," Mr Archambault said. "But we do recognise that, with the financial crisis, all of us are under increased stress. At home. At work. We are ready to do even more, to go the extra mile, in looking at ways that we can improve relations with our employees."
Six out of the seven Disney unions have agreed to co-operate with the "social audit" of conditions at the park. Only the militant, but little supported, Force Ouvrière has refused.
The moderate unions – though neither "wishing on a star" nor expecting all their "dreams to come true" – hope that the audit will add a happier next chapter to the Disneyland fairytale.
Suicide watch: France Telecom
* Work-related suicide has become a high-profile political issue in France after an epidemic of deaths among employees of the telecommunications giant France Telecom.
* A judicial investigation was started last month into alleged workplace bullying after 35 France Telecom workers took their lives in the space of 18 months.
* An official investigation by the French work inspectorate in February confirmed long-standing allegations by trades unions that many of the deaths could reasonably be linked to radical changes in work practices in the last four years.
* France Telecom has been accused of shifting employees to unsuitable jobs and encouraging a bullying attitude amongst its management. No such official allegations have been made against Eurodisney.
* France Telecom, while agreeing to adopt a more sensitive approach, has pointed out that the suicide rate among its employees is, proportionally, about the same as in the French population as a whole.
Join our commenting forum
Join thought-provoking conversations, follow other Independent readers and see their replies