'The dictatorship has fallen': Ukraine former PM Yulia Tymoshenko calls on protesters to stay on streets and complete their 'mission'
Former leader says 'will not leave this square until we achieve real change in this country'
Richard Osley
,
Oliver Poole
Saturday 22 February 2014 21:30 Comments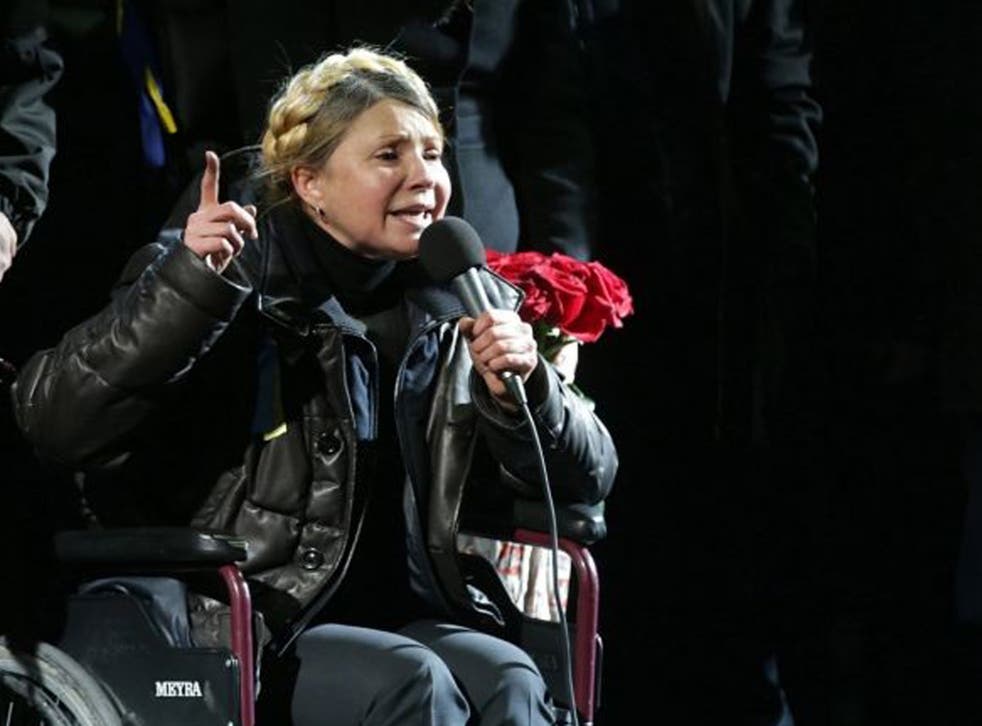 Free from the watchful eye of armed prison guards and helped on to the stage in Independence Square in a wheelchair, Ukraine's former prime minister Yulia Tymoshenko made a triumphant return, delivering a stirring speech to the crowds in Kiev in which she urged them to stay on the streets until their "mission" was complete.
"You are the best thing in Ukraine," she said. "The people who are here, the people who have died here are the heroes. No politician could have done what you have done. You are dressing the wounds of the country, only you can dress them. It is a precious flame burning with morality, strength and power."
On a day of high drama, Ms Tymoshenko's supporters took control of Ukraine's capital and its government, while MPs voted to oust President Viktor Yanukovych, who fled to an eastern stronghold, from which he claimed he was the victim of a "coup". He vowed not to stand down even as many of his closest allies were ousted from office and the demonstrators who had turned Independence Square into a protest camp took over the presidential buildings.
Ms Tymoshenko, who had served two years in jail after being convicted of abuse of office in a trial condemned in the West as politically motivated, appeared late at night to address an ecstatic crowd, who repeatedly chanted "heroes never die, heroes never die" back at her.
In pictures: Protesters gain control of Kiev government district

Show all 10
"We will not leave this square until we achieve real change in this country," she said. "We need an authority which will never allow the country to step back... You should not leave until we have travelled all of the way. Nobody could do what you've done, trying to eliminate this cancer, and for this it was important for you to stand at the barricades and face the bullets of snipers. That meant that this nation will never be subdued. I want you to feel your strength so that you can change Ukraine. You can change it. We are inspired to do it."
Promising to run for president in the coming elections, she said that "no drop of blood that has been spilled will be forgotten" as fireworks exploded over Kiev.
Ms Tymoshenko said: "When I entered Kiev, I could not recognise this city for the burnt-out fires. But what I did recognise was that it's a different Ukraine, a Ukraine of different people and to everyone who lives in this country and who will live here tomorrow, you've given a new us a new country. The people who died here are liberators. The people here were ready to give their lives to their country. This is a sacred place which will always be part of our energy."
She added: "When I came to Kiev, the first thing I wanted to do was come to the barricades. I wanted to feel the feelings that all these boys and girls on the barricades had been through. Those who fell, they fell to stop the dictatorship forever..."
Upon release from the hospital where she was being held under guard as she was treated for back pain, Ms Tymoshenko had taken a plane from Kharkiv to Kiev airport before moving on to lay flowers at a memorial on Grushevsky Street.
She told the crowds that she had been desperate to reach Kiev as she received updates of the days of protests in the capital.
"When I saw a person behind a wooden shield fall and I saw people move to help him, determined not to leave the body on the battlefield, I prayed to be there. There isn't a greater happiness [than] to be among you now," Ms Tymoshenko said. "Today we have an open way to build Ukraine the way you want it. You've earned this. You don't have a lot of trust in officials and politicians, so you must stay here until you've seen an honestly elected government. Don't stop. You are the heroes. This is a country of free people. This is your victory. People will have to be accountable for their actions. "
There was no sign on the streets of the police and security forces who in recent days had fought running battles that left 77 dead. Parliament, which authorised Ms Tymoshenko's release, earlier elected one of her closest allies, Oleksandr Turchynov, as its new speaker after his pro-government predecessor resigned. Arsen Avakov, another Tymoshenko ally, was appointed in charge of the interior ministry. The parliament also voted to hold elections on 25 May.
The sudden transformation in Ukraine's political situation was prompted by Mr Yanukovych's departure for Kharkiv, near the Russian border, late on Friday night. In a television address, he looked shaken as he insisted he was still the "lawfully elected President".
"They are trying to scare me. I have no intention of leaving the country. I am not going to resign," he said. "Everything that is happening today is, to a greater degree, vandalism and banditry and a coup d'état."
Mr Yanukovych also said his ally, the previous parliamentary speaker Volodymyr Rybak, was forced to resign after he was physically beaten. The newly elected speaker, Mr Turchynov, was reported as saying Mr Yanukovych had been stopped by border police in an attempt to flee to Russia, although this report could not be confirmed.
In Kharkiv his supporters, including pro-government legislators, warned that events had caused the "paralysis of the central government and destabilisation of the country". Some even called for volunteer militias to protect themselves from the opposition's supporters.
The Foreign Secretary, William Hague, issued a statement saying the UK would work closely with the new government in Ukraine: "Events in the past 24 hours show the will of Ukrainians to move towards a different future, and ensure that the voices of those who have protested courageously over several months are heard."
In Moscow, the Russian government called for order. President Vladimir Putin has been a steadfast ally of Mr Yanukovych.
Register for free to continue reading
Registration is a free and easy way to support our truly independent journalism
By registering, you will also enjoy limited access to Premium articles, exclusive newsletters, commenting, and virtual events with our leading journalists
Already have an account? sign in
Join our new commenting forum
Join thought-provoking conversations, follow other Independent readers and see their replies