The street artist who made the Louvre pyramid disappear
'I wanted to do something which continued the theme of all my work – bringing people together by inviting them to look at the world in a different way,' JR says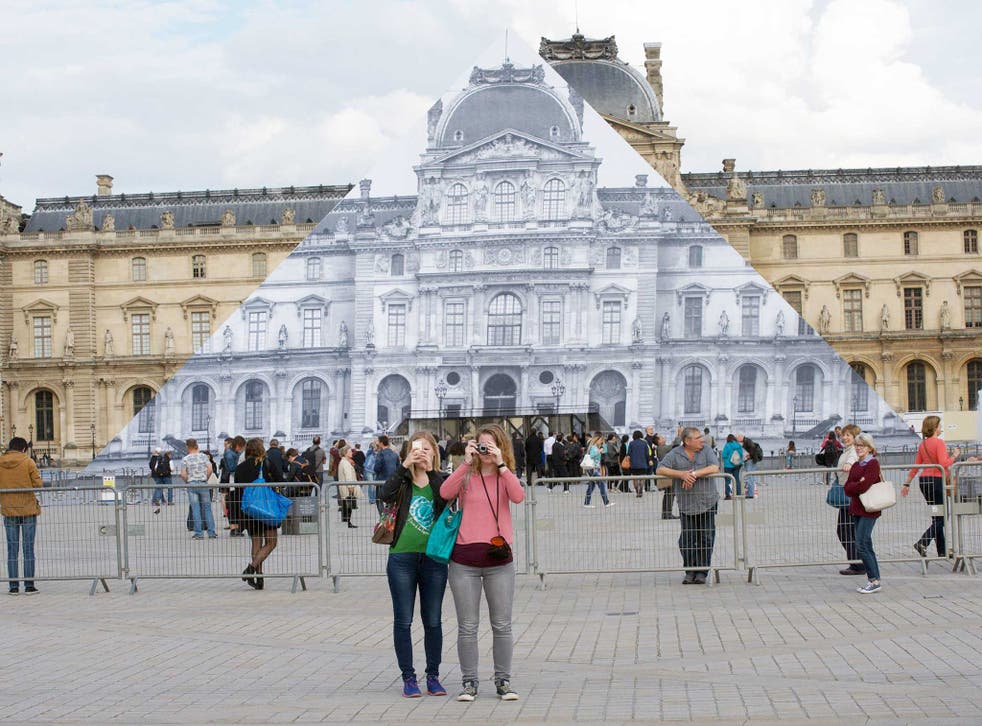 JR, who is known only as JR, has made a name as one of the most imaginative and adventurous artists in the world.
Even JR has never made a building vanish before.
His photographic conjuring trick with the Louvre pyramid has been delighting tourists in Paris for a couple of days.
Louvre's pyramid disappears
In the last decade JR has invented a new art form which is a mixture of street performance art and poster advertising. In recent days, he has pasted life-sized, blown-up photographs of the Louvre on the glass pyramid which was built in the museum's courtyard in the 1980s.
The effect, from certain angles, is to make the pyramid vanish, like Aladdin's palace in The Arabian Nights.
"I was amazed to be invited to work in the Louvre. I thought it was just for artists who were dead," JR said in an exclusive interview with The Independent. "I wanted to do something which continued the theme of all my work – bringing people together by inviting them to look at the world in a different way."
The Independent has followed JR's career from 2006, when he lived in a Paris attic and took photographs with a camera that he had found on the metro. The Franco-Moroccan photographer-graffiti artist, or photograffeur was then "about 25".
He was illegally sticking up in the Paris streets poster-size photographs of grinning or grimacing faces from the multi-racial banlieues or suburbs. He would then take pictures of wealthy Parisians staring at the faces "as if they were from the moon" and posted those up too.
Later that year, he was invited to paste one of his images almost the full length of the Tate Modern tower in London. He has since toured the world, frequently getting arrested, sticking giant photographs of ordinary people on and around, for example, the slums of Kenya and the favelas of Rio de Janeiro.
Recently, he has been working with the New York City ballet and the veteran French new wave film director, Agnès Varda, 88. He finances his photographic guerrilla activities by selling original images to French and US galleries for tens of thousands of euros or dollars a time.
Why did he decide to make the Louvre pyramid disappear? Was that not a change from his usual approach, which is to make banal places more visible by plastering them with people's faces?
"I spent a couple of days at the Louvre thinking about what to do," he said. "I watched the tourists from all over the world taking selfies over their shoulders with the museum and the pyramid in the background.
"I went back [on Wednesday] and was delighted to find that they were not just taking selfies but talking to one another, discussing the best angles from which to get the best effects, talking about what I had done and what it was about.
"OK. There may not be the usual faces but the work follows in my tradition of making people see things differently and bringing people together."
World news in pictures

Show all 50
Following his usual multi-layered approach, JR has also been taking photographs of people taking photographs of his pyramid-dissolving photographs.
How does it feel for a man who started as a street artist to be invited to work with the Louvre?
"It feels strange – paradoxical," he said. "But there have always been two sides to what I have done, the uninvited and the illegal and the invited and official. I was arrested earlier this year in Turkey and now here I am an official guest at the Louvre."
From 3pm on Saturday to 3pm on Sunday JR is a "taking over" the Louvre with a series of conferences, masterclass, screenings, concerts and workshops.
Join our new commenting forum
Join thought-provoking conversations, follow other Independent readers and see their replies