The intolerant continent: Europe's shocking attitude creating a climate of fear for gay people
Amnesty International report says governments are ignoring violence and discrimination
Charlotte McDonald-Gibson
Thursday 19 September 2013 10:56 Comments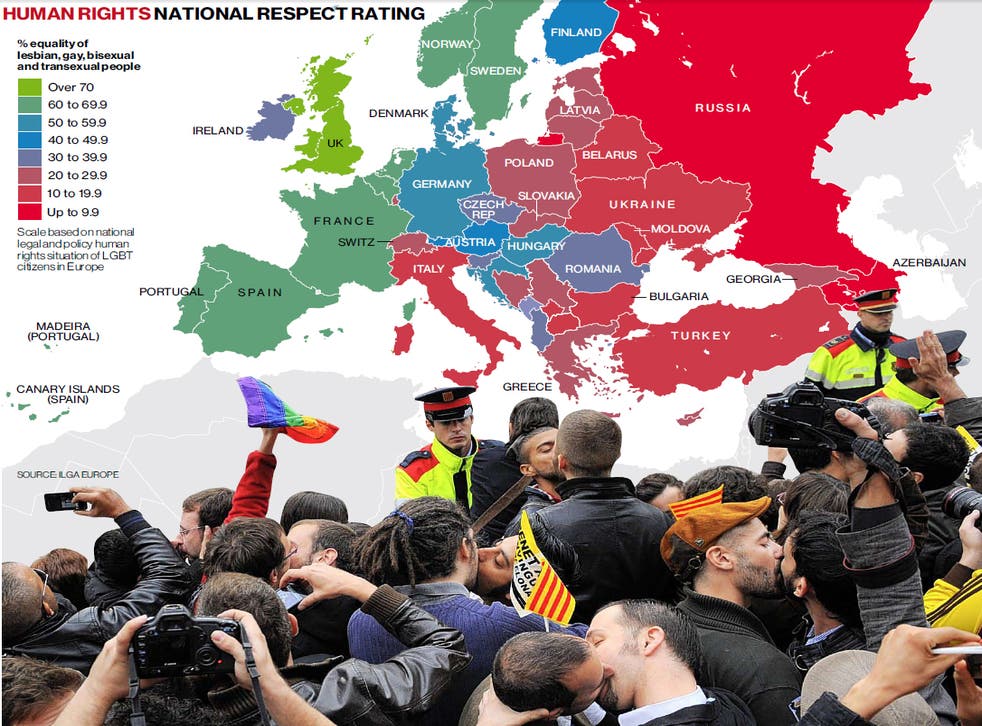 Gay, lesbian and transgender people face shocking levels of violence, discrimination and abuse across Europe, with gaps in EU and national legislation robbing them of justice and creating a climate of fear, a new report by Amnesty International says.
Click image above to enlarge graphic
This summer, people hurled eggs at participants at a gay pride rally in Lithuania, which is currently chair of the rotating European Union presidency. At the first gay pride rally staged in Montenegro, an EU candidate state, dozens were injured as homophobic protesters threw rocks and bottles.
Amnesty's report detailed cases of people killed, savagely beaten and doused in petrol because of their sexuality, with many victims struggling to get justice or support from police and judicial authorities ill-equipped to deal with homophobic violence.
"Lack of legislation has a fundamental impact on how these crimes are dealt with by state authorities," said Marco Perolini, Amnesty's expert on discrimination in Europe and Central Asia.
EU legislation from 2008 states that attacks motivated by racism and xenophobia constitute hate crimes. Attacks carried out because of someone's sexual orientation or gender identity do not come under that banner, the Amnesty report notes.
"The existing double standards convey the idea that some forms of violence deserve less attention and less protection than others," Mr Perolini said. "That's unacceptable for a European Union that prides itself on promoting equality and inclusion."
Statistics released in May by the EU Agency for Fundamental Rights found that one in four people in the bloc had faced violence because of their sexuality, with more than half reporting discrimination. Activists worry that those statistics could worsen as the EU expands to include more socially conservative nations.
In Serbia, which became an official candidate for EU membership this year, a gay pride parade has been banned for the past two years because police said they were unable ensure the safety of participants. In July, newspapers in Montenegro published fake obituaries of gay activists ahead of the nation's first gay pride march.
Candidate states have to meet minimum standards – including introducing legislation banning discrimination against lesbian, gay, bisexual and trans-gender (LGBT) people – to enter the EU. But activists want the bloc to make sure these laws are enforced.
"What we are looking at is not just a passive implementation of EU requirements but that there is a genuine political will and understanding that the required reforms are for the benefit of the society and not only a ticket to the EU club," said Lilit Poghosyan, of the advocacy group, ILGA-Europe.
But even some of the EU's founding members are struggling to protect gay communities. Italy and Germany were among the five EU nations Amnesty said did not have adequate laws.
Camilla, a Brazilian transgender woman living in Italy, spent three months in hospital after a group of men attacked her outside a club. "They punched and kicked me all over my body, when I fell onto the floor they kicked my head … Then one of them sat on my chest and tried to choke me," she told Amnesty. Hospital staff failed to inform the police, and when she was finally discharged, police said she had left it too long to report the crime.
In Greece a man trying to report a homophobic beating was asked by two police officers what a homophobic attack was. Such hate crimes need to be enshrined in law, said Mr Perolini, because they have an effect on entire communities.
"There were people (in Greece) who told us that they were scared to go out and to show affection with their partner on the street," he said.
In May, the EU's top justice official, Viviane Reding, said the EU had made progress, introducing a charter on rights which prohibited discrimination based on sexual orientation.
A EU spokesperson said they welcomed Amnesty's report, in particular because it highlighted weaknesses in member states which they also wanted addressed.
"EU laws exist and the Commission is acting to enforce them but unfortunately often enough Member States are not taking the necessary action to ensure these rules are enforced on the ground," the official said.
Register for free to continue reading
Registration is a free and easy way to support our truly independent journalism
By registering, you will also enjoy limited access to Premium articles, exclusive newsletters, commenting, and virtual events with our leading journalists
Already have an account? sign in
Join our new commenting forum
Join thought-provoking conversations, follow other Independent readers and see their replies