The Irishman and the 'plot' to kill the Bolivian President
Michael Dwyer was found dead in a Santa Cruz hotel room, wearing nothing but his underwear. How did he end up there?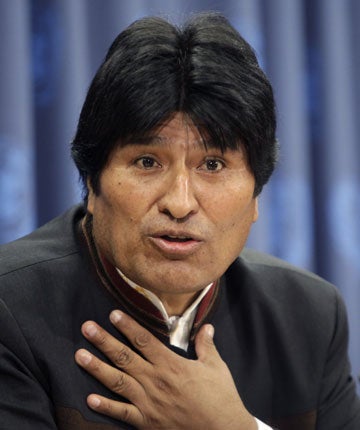 His bloody, bullet-riddled body, naked except for his underwear, was found on the floor of a hotel room in Santa Cruz, Bolivia. Police say Michael Dwyer, a 24-year-old Irishman, was a ruthless assassin hatching a plot to murder the Bolivian President, Evo Morales. His family say the allegations are "absolutely ridiculous" and the Irish government is demanding an investigation into his death alongside a Balkan war veteran and a Hungarian nationalist.
Mr Dwyer's mother, Caroline, describes her son as "fun-loving, always good-natured, generous, always thinking of us". She is clearly baffled by the alleged transformation of her son from an engineering student from Tipperary into a mercenary scheming to kill a South American leader. Her husband, Martin, shares her confusion, saying: "He just wouldn't be capable... you'd need to be trained for that type of thing, but he wouldn't have those sort of skills."
Mr Dwyer's death in a special forces raid in the early hours of 16 April was announced on Bolivian television, alongside images of the bloody corpses strewn about the fourth-floor room. Officials claimed the Irishman was part of a gang formed by wealthy right-wing figures of European descent who oppose President Morales's attempts to redistribute Bolivia's wealth and empower its indigenous majority.
The President's critics in Santa Cruz accuse him of staging a bloody "show" to intimidate and justify repression against them ahead of elections in December.
Police say the would-be assassins were captained by Eduardo Rozsa Flores, who led an extraordinary life that began and ended in Santa Cruz, a hotbed of Morales opposition. Mr Flores, who was born in the city in 1960 to Hungarian and Spanish parents, grew up in Hungary, where he was a communist youth leader and acted as a translator for Carlos the Jackal. After covering the start of the Yugoslav wars as a journalist, Mr Flores formed an international volunteers' brigade fighting for Croatian independence. When the war ended in 1995, he turned to writing poetry and political essays, played himself in a film based on his life, swapped Catholicism for Islam and supported causes from Hungarian nationalism to autonomy for Santa Cruz.
In an interview, recorded to be broadcast in the event of his death, Mr Flores said unnamed figures had asked him to return to his homeland to organise the defence of Santa Cruz in the event of a violent government crackdown on the region. But he insisted he had no intention of attacking the Bolivian capital, La Paz, or of toppling the President. He planned to fly to Brazil last October, before being smuggled into Bolivia, where he would start forming his militia. How a 24-year-old from Tipperary joined that fledgling militia is still a mystery to his parents, who refute Bolivia's depiction of their son as a deadly assassin. A former engineering student who had worked as a bouncer and security guard, Mr Dwyer described his existence as "travelin, workin, doin a bit a dis and a bit a dat". On a social networking site, he listed his hobbies as martial arts and pistol shooting, and posted photographs of himself clad in camouflage.
People who knew Mr Dwyer confirmed that he went to Bolivia last November for a bodyguard training course with two Hungarians. When the course failed to take place, they returned to Ireland but Mr Dwyer stayed on, and told his father he was working as a bodyguard for "some wealthy guy he met out there".
Attempts to understand how Mr Dwyer met the men he died with have thrown light on a shadowy Hungarian nationalist group called the Szekler Legion, which wants autonomy for the large Hungarian minority in Romania's Transylvania region. Mr Flores posted anti-Morales tirades on a website linked to the legion and is thought to have trained with them. The third man killed in Santa Cruz, Arpad Magyarosi, also had links to the group. At least one member of the legion is thought to have worked for the same security firm as Mr Dwyer in Ireland.
Dublin is pushing for an international inquiry and Hungarian officials have said "the pieces of the mosaic don't fit". Meanwhile, the Dwyers are preparing their son's funeral. "We would like to have some answers, whatever they can come up with," his father said. "Hopefully something will come out of it then, to clear his name."
Join our commenting forum
Join thought-provoking conversations, follow other Independent readers and see their replies