The Jungle: Bulldozers move in to clear part of Calais camp after 2,000 refugees evicted from makeshift homes
Volunteers helped refugees move their homes and possessions before the work started on Monday morning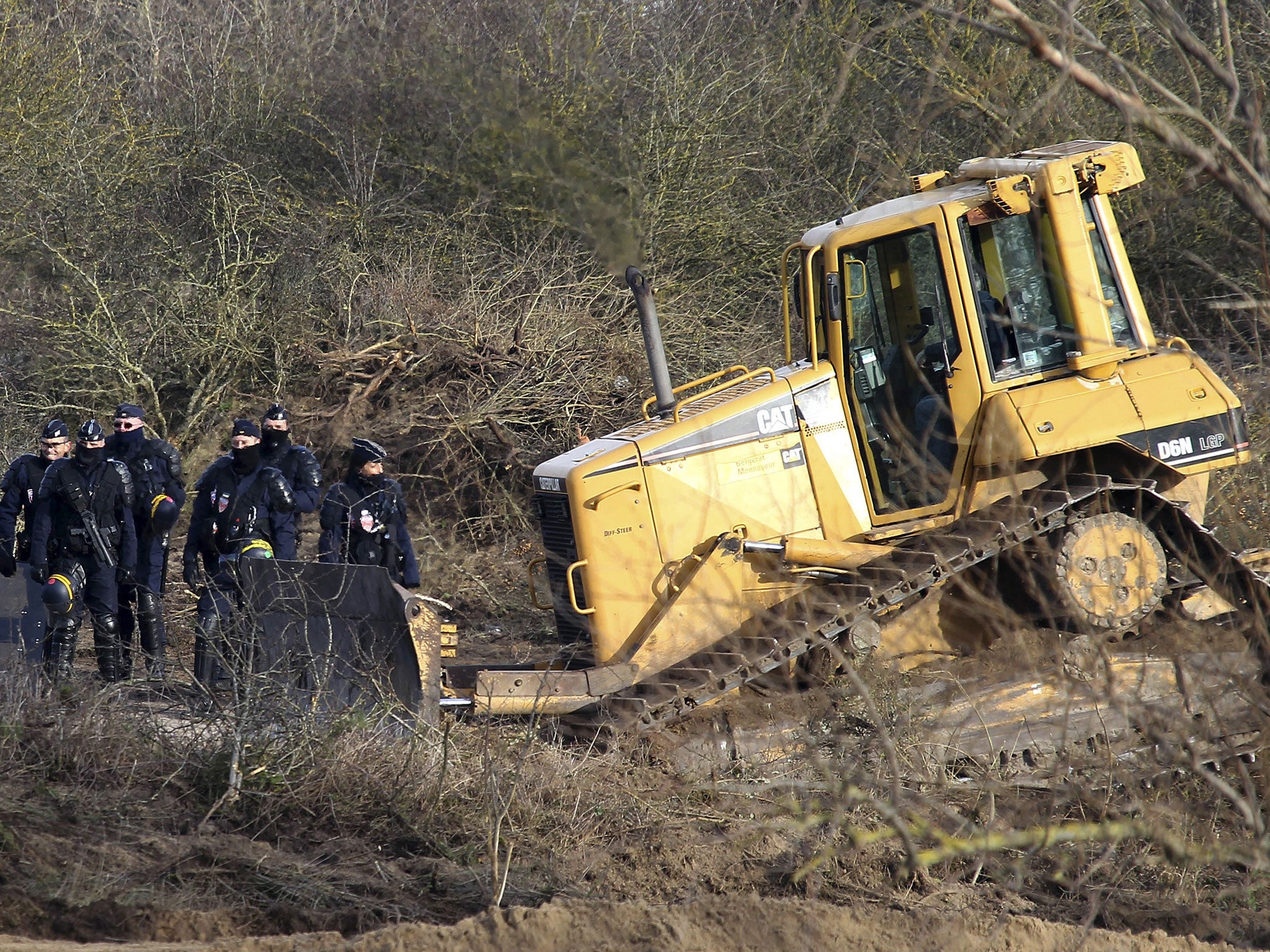 Bulldozers being guarded by French riot police have started demolish a section of "the Jungle" refugee camp in Calais that was home to an estimated 2,000 people.
British charities and volunteers from around the world had been trying to move shelters and salvage families' possessions in a race against time before the work started early this morning.
French authorities are clearing hundreds of tents set up 100 metres from a busy motorway, which has seen clashes with police routes to the French port and Channel Tunnel to be closed.
Migrants and refugees were initially issued with eviction orders telling them to leave by Friday but the deadline was pushed back following requests by charities for more time.
Tanya Freedman, from British charity Help Refugees, told The Independent that the operation was running smoothly by midday.
"The first bulldozer turned up in the early hours of this morning and began clearing the field where families had been staying," she said.
"As far as we're aware, they have only been clearing unoccupied areas so far."
The bulldozer was flanked by crowds of French riot police wearing helmets and carrying shields and refugees were holding a peaceful protest nearby.
But the comparatively calm scenes were a vast improvement on a similar demolition in November, when refugees awoke at 7am to find demolition vehicles moving through the camp.
Police used tear gas and batons to force them from their makeshift homes, when they were forced to watch their precious remaining possessions, documentation and money be destroyed.
Calais refugees share personal stories
Ms Freedman said that although Monday's operation was carried out with more "dignity and respect", the charity did not believe it would improve conditions.
"In our view it's not in the interest of the refugees because communities are being split apart.," she said.
"The original eviction order gave them three days, which made them feel quite fearful.
"From a humanitarian perspective, it wasn't well-handled but we have known about this for a long time and they gave us enough leeway to let the relocation process happen."
Converted shipping containers complete with lights, heating and sanitation have been used to create new accommodation for 1,500 people in the camp, where conditions were previously described as "diabolical".
Inside the camps in Calais
Show all 20
But the much-touted facility was not intended to house the families being moved today and has been greeted by suspicion and distrust.
Some of the vulnerable refugees earmarked to move in have refused as rumours spread about why it is fenced off from the rest of the camp, requiring refugees to scan their hands to enter and leave.
Around 5,000 people are estimated to be living in the "Jungle" as refugees fleeing war and persecution in the Middle East and Africa continue to cross the Aegean Sea and make their way through Europe from Greece.
Attempts to reach the UK from France have killed more than a dozen migrants and refugees in the past year, including a 15-year-old Afghan boy whose body was found in the back of a lorry a fortnight ago.
At least two men have drowned attempting to swim the English Channel, while others have been run over by lorries, died in falls from trains or electrocuted in the Channel Tunnel.
Join our commenting forum
Join thought-provoking conversations, follow other Independent readers and see their replies