The priest who abused deaf boys for 24 years
Fr Murphy was the only adult his pupils could communicate with – and he betrayed them. Andy McSmith reports
Saturday 27 March 2010 01:00 GMT
Comments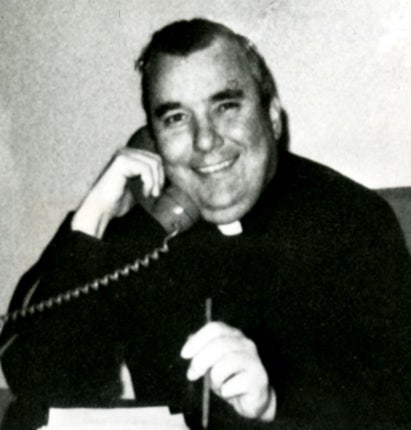 Father Lawrence Murphy was a man with charm and social skills. Small of stature, he was a lively, sociable, charismatic Irishman, who also had the rare ability to communicate fluently in sign language. Watching him conduct a service with his hands is said to have been more moving than if words had been spoken.
He was the mentor and spiritual guide to hundreds of vulnerable boys – and one thing they learnt from him is that there are some disgusting individuals in the adult world who gratify their sleazy appetites without a thought for others. Father Murphy was a predatory paedophile whose crimes were all the more revolting for the helplessness of his victims. The pupils at St John's School, St Francis city, Wisconsin, were deaf. This was a boarding school, so there was no escape at nights from the vile priest who had power over them.
Anyway, he was the only adult many of them could communicate with. They were given no sex education, so they had no way of understanding what he was doing. Some may have thought they deserved this treatment.
Steven Geier was taken to St John's at the age of eight, after a high fever made him deaf. He was crying as his parents left, and it was Fr Murphy who offered comfort then, only to abuse him later. Mr Geier also witnessed about a dozen other boys being abused.
"Murphy was so powerful and it was so hard," he said in an interview four decades later. "You couldn't get out. It was like a prison. I felt so confused. Here I had Fr Murphy touching me. I would be like, 'God, what's right?'"
"It was an awful thing," another of his former victims, Joe Daniels said. "I felt anger and shame." Little Arthur Budzinski would hide under his bed, crying, when it was time to go back to boarding school. His parents did not know what was wrong, because as his 89-year-old mother Irene Budzinski explained years later: "I never learned sign language. When you had a deaf child, the public health nurse would say: 'Send them to some school.' We were looking for a good place. Who would think any harm would come to a young child?"
There is an old photograph of Arthur Budzinski taken in 1962, when he was 13, with 10 other deaf boys who made up the St John's School basketball team. Father Murphy is standing alongside them in a long clerical gown. Five of the 11 boys were sexually assaulted.
Budzinski witnessed a boy of his age, Pat Cave, being abused in the dormitory. They met again, 42 years later. Until that meeting in 2004, Pat Cave thought he was the only boy to have suffered the priest's attentions. In fact, he was probably not even the only victim in his family. He had an older brother who also went to St. John's, who was frequently called into Murphy's office at night for long periods. The brothers never discussed why. His brother died in a motorcycle accident at the age of 21.
No one knows exactly how many boys suffered at Murphy's hands in the 24 years he was running the school. It could have been as many as 200. Most said nothing about it for decades, if at all. James Smith had bottled it up for so long that when he began talking about it, at the age of 62, he started to shake and cry. He said: "I would be playing baseball, and the boys would come and say: 'Fr Murphy wants you to come and see him.' I would refuse to go, and pretty soon I was dragged into his office and molested again. I never told anyone. I thought I was alone."
But others did talk. Among the documents uncovered by The New York Times, there is an account, written in 1974, by a youth who had left St John's only four years earlier, and was prepared to go to court to testify against his abuser. He was so determined to be believed that he volunteered to give a description of Fr Murphy's penis, and asked that the court then check whether he was telling the truth.
Soon after being sent to the school in 1964, the boy had got into trouble with one of the staff, and was sent to see Fr Murphy in his office. "Fr. Murphy scolded me as a bad boy," he wrote. "Then he encouraged me to his bedroom and taught me about sex. At the first thing he spanked my ass with his belt and he started touching my penis while he explained the sex things to me.
"Few days later, again he called me to his bedroom and asked me to take my clothes off so he touched my penis and explained the sex things to me. So he started to bother me many times for coming to his bedroom and forced me to play the immodest things with him.
"Few days later he came to the boys' dormitory and to my bed and touched my penis while (name redacted) saw us from his bed.
"During my confession with Fr Murphy few times he played with my penis in the bedroom, in the bathroom, in Fr. Murphy's office... During the summer times Fr. Murphy took some boys and me to his cottage and on the way I was a passenger and sat near Fr. Murphy driving while he touched my penis in front of other boys.... For my six years, I suffered bad from Fr. Murphy."
It is hard to imagine what reserves of courage the youth must have drawn on to write such an account of a recent childhood experience. In that year, 1974, Murphy was at last removed from the school which he had run since 1950 – but that was all.
Join our commenting forum
Join thought-provoking conversations, follow other Independent readers and see their replies