The Russian satirical poet, his billionaire backer and a tour that Putin won't find funny
Mobile phone tycoon Yevgeny Chichvarkin is paying for performers to fly to the UK to perform work aimed at Kremlin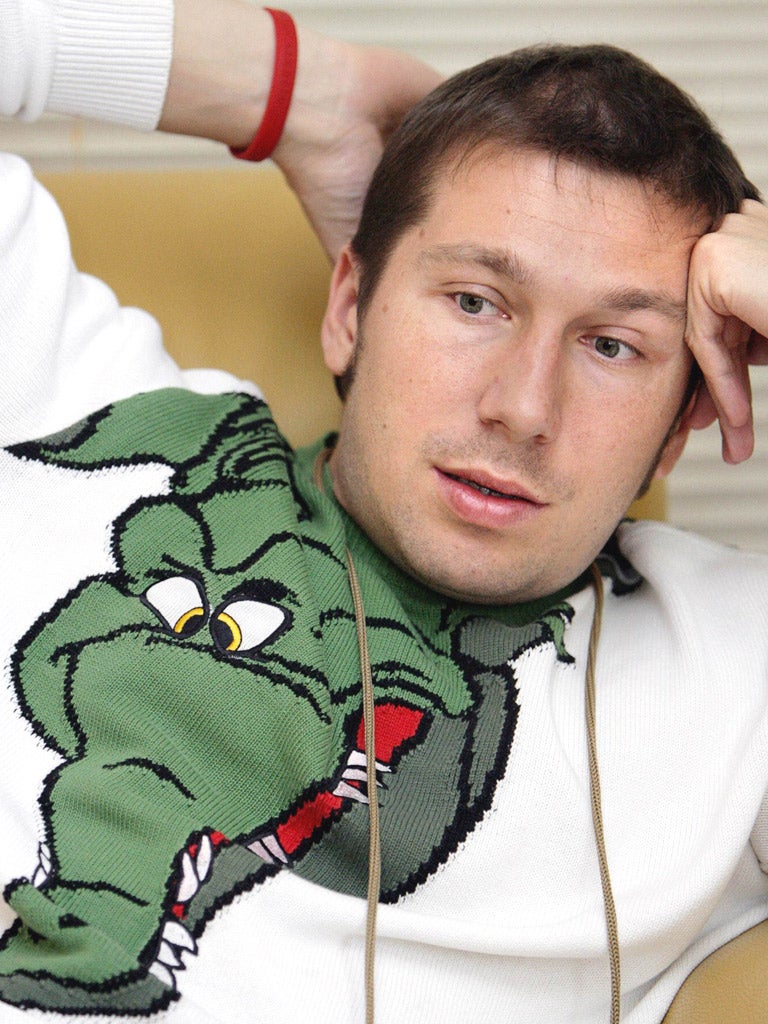 In the days before their compatriots go to the polls next month, London's sizeable Russian community will be treated to performances from a darkly satirical act that mocks Vladimir Putin and the system he has created, all thanks to a renegade Russian businessman living in exile in the British capital.
Citizen Poet features actor Mikhail Yefremov reading out poetry inspired by Russian classics, but given a cutting contemporary twist by the writer and journalist Dmitry Bykov. It was first aired on TV Rain, an independent cable channel. But after just a few episodes, a skit that ruthlessly mocked President Dmitry Medvedev as a hopeless puppet attempting to free himself from the clutches of Prime Minister Putin proved too hot for the channel's airwaves and the duo had to move to a liberal station.
The pair also perform live and Yevgeny Chichvarkin has paid to transport them to London prior to the 4 March election, when Mr Putin will attempt to win a return to the Kremlin. Mr Chichvarkin, a mobile phone magnate who was known as one of Russia's most successful young businessmen until he fled to London in 2008, said he would lose money on the concerts, but felt it was an important civic duty.
Many of the skits are sharply critical of Mr Putin, but others also touch on different aspects of contemporary Russian and international politics. The first London concert will take place at the Queen Elizabeth II Conference Hall in Westminster, just across from the Houses of Parliament and a symbolic venue for Russian businessmen.
It was here that the annual Russian Economic Forum was held, the biggest economic event in the Russian calendar each year. In 2007, with UK-Russian relations in freefall after the death of Alexander Litvinenko in London, top Russian businessmen and Kremlin-linked speakers pulled out of the forum, after a ban on attending was reportedly ordered by Mr Putin.
"It's extremely symbolic that we'll be doing it where the economic forum, banned by Putin, used to be held," Mr Chichvarkin told The Independent. "Many people in the room will have fond memories of that forum. We signed millions of dollars worth of contracts there and it reflected all our hopes that Russia would integrate further with Europe and become more of an open country; hopes that were dashed."
Mr Chichvarkin himself says he fled Russia because corrupt officials in the Interior Ministry were about to arrest him after he had refused to pay them enormous bribes. Russia later put an Interpol warrant out for the businessman. The warrant has now been lifted, but Mr Chichvarkin refuses to return.
"The people who were threatening me are still free and still in power, so the threat is still there," he says.
He joins a large community of exiles and Kremlin critics based in London, many of whom could be expected to put in appearances at the Citizen Poet concerts. In the December parliamentary elections, over 40 per cent of votes cast at the Russian Embassy in London went to the liberal anti-Kremlin party Yabloko, compared to less than 4 per cent in Russia itself, showing that the British capital remains a hotbed of anti-Putin sentiment.
Tickets to the Westminster concert will be aimed at the minigarch market, priced at up to £270, but a concert the next night promises to be more "democratic", says Mr Chichvarkin, with tickets from £27. Citizen Poet's last ever performance will be back in Moscow on 5 March, the day after the presidential election.
Join our commenting forum
Join thought-provoking conversations, follow other Independent readers and see their replies