'Make no mistake, there will be no Brexit negotiation', says man who took on EU
'The last thing you do is go in there and say: "I'm triggering Article 50 and I am going to get my way"'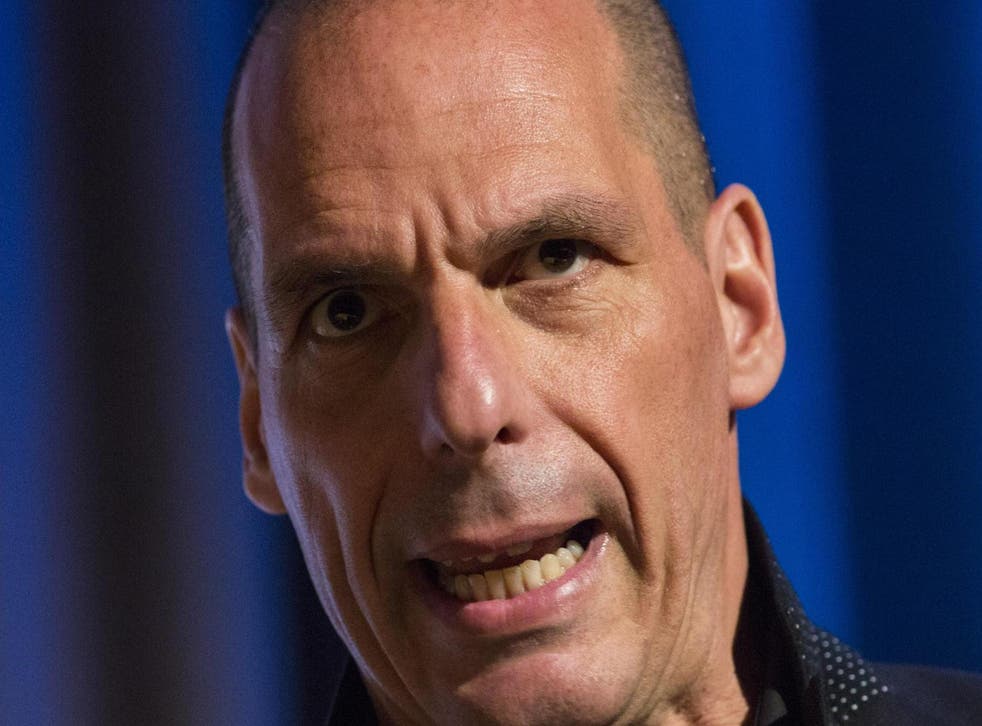 Former Greek finance minister Yanis Varoufakis has described Theresa May's Brexit negotiation tactics as "precisely wrong".
Mr Varoufakis, who in 2015 attempted to negotiate a settlement for Greece with the European Union, said the PM's main problems in the talks would stem from bureaucratic practices in Brussels, combined with a "technocracy that is desperately clinging on to its own exorbitant illegitimate power".
In an interview with The Times, the politician argues that European Commission President Jean-Claude Juncker will have to make an "example" of Britain, and warns that, no matter how stubbornly Mrs May insists on a deal beneficial to the UK, the EU will not comply.
Barnier: Brexit deal won't be quick or painless
"She's got it completely wrong," he said.
"You can be wrong and you can be precisely wrong. She is precisely wrong.
"Britain will have to be made an example of, any recalcitrant government that steps outside the modus vivendi will be crushed. You are going against a combination of a bureaucracy in Brussels and politicians who feel the ground under their feet is increasingly brittle, like Angela Merkel.
"The last thing you do is go in there and say: 'I'm triggering Article 50 and I am going to get my way'."
Mr Varoufakis' comments follow the reportedly disastrous meeting between the Prime Minister and Mr Juncker. He claimed Mrs May had unrealistic expectations from the negotiations, and left Downing Street "10 times more sceptical than [he] was before".
In a speech, the Prime Minister admitted that if talks did not go the UK's way "we risk the secure and well-paid jobs we want for our children and our children's children".
She went on to accuse EU politicians of meddling in the UK election and trying to wreck Brexit.
Mr Varoufakis said his meetings about Greece's future had been filled with frustration and that his hopes for reaching a compromise were ruined because the EU "loathes democracy".
He said there was no way Europe would allow a deal that left Britain in "a better place"
"There will be no negotiations, make no mistake," he said.
The politician, who held several academic teaching positions for economics all over the world, said Ms May should ask for a Norway-style agreement for five years as an alternative to a hard Brexit in order to give parliament time to iron out the specifics.
"The UK can't say no because it is an off-the-shelf agreement," he said.
"There is only one person in Europe who matters. Her name is Angela Merkel. If May said she wanted a Norway-style agreement, Merkel would probably say 'thank God', the hot potato would land in the lap of the next chancellor."
Norway has access to the EU Single Market without full membership, and Nick Clegg is in support of a similar model.
However, as a Norwegian former EU adviser points out, adopting such a stance would come at a democratic cost.
What experts have said about Brexit

Show all 11
Mr Varoufakis pointed out the strength of Germany's influence in the EU.
Ms Merkel told an audience at the EU's Brexit summit lasty week that "some in Britain still have illusions".
Join our new commenting forum
Join thought-provoking conversations, follow other Independent readers and see their replies