Thousands take part in pro-choice march ahead of Ireland's abortion referendum
Protesters are demanding the government repeal the Eighth Amendment to the Irish Constitution, which guarantees a foetus' 'right to life'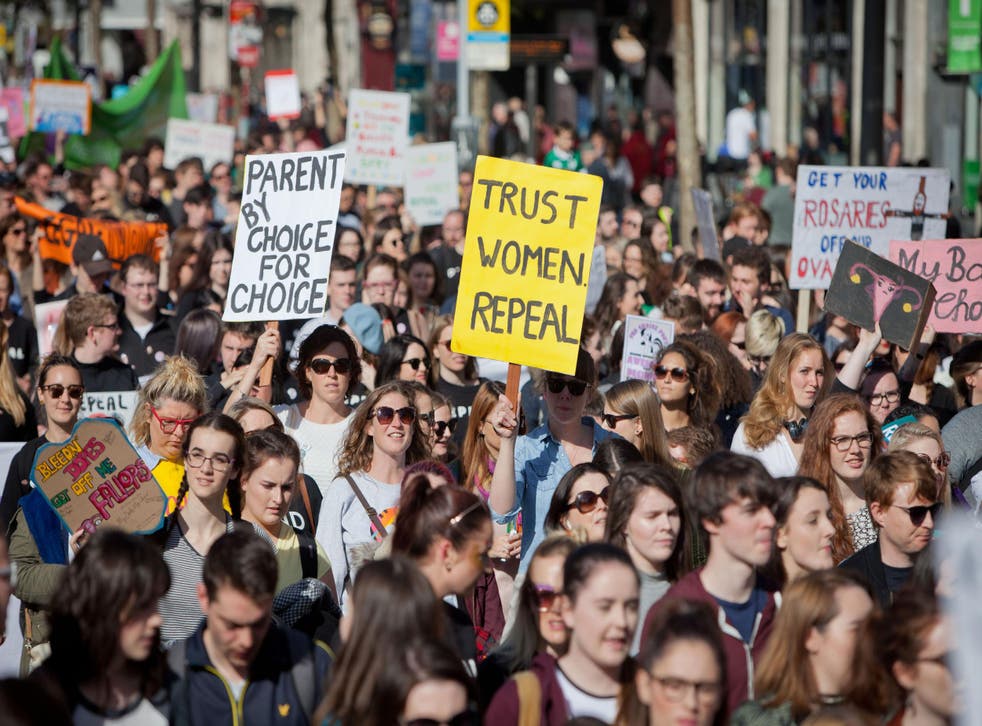 Thousands of people have taken part in protests demanding abortion rights for Irish citizens, after the Government announced last week a referendum on the issue would be held in 2018.
The sixth annual March for Choice is believed to have been the biggest to date. Thousands marched through Dublin city centre, while protests were also held in London, Manchester, Edinburgh, Glasgow, and Brussels.
Protesters are demanding the government repeal the Eighth Amendment to the Irish Constitution, which guarantees a foetus' "right to life".
The Eighth Amendment means abortion is illegal in virtually all circumstances in Ireland. In 2015, 3,265 women travelled from the Republic to England for a termination, according to official figures. Abortion is also effectively banned in Northern Ireland.
Linda Kavanagh, a spokesperson for the Abortion Rights Campaign, said: "The reality is we have an instrument of violence against women written into our constitution, violence that is enacted every day on all pregnant people in Ireland."
"The Eighth Amendment has caused untold misery and damage, and it's time we removed it once and for all."
In London, members of the London Irish Abortion Rights campaign made 205,704 chalk markings on the pavement outside the Irish Embassy, to commemorate the 205,704 Irish and Northern Irish women who have travelled to Britain for an abortion since the introduction of the Eighth Amendment in 1983.
Maeve O'Reilly, an organiser of the London protest, said: "We want to tell these women that we see them and we support them, and we want to show the Irish and Northern Irish governments that they cannot ignore this any longer."
The referendum on abortion is likely to take place in May or June next year, according to the Taoiseach, Leo Varadkar.
The decision was taken after a Citizens' Assembly, a body composed of 99 randomly chosen Irish citizens, recommended that women should have legal access to abortion.
However, pro-choice campaigners are concerned about the options voters will be given in the referendum. The Abortion Rights Campaign said it would "reserve judgement on the announcement of a stand-alone referendum on the Eighth Amendment until we know the question that will be put to the people of Ireland".
It is feared that voters may be given the choice to amend, rather than repeal the Eighth Amendment.
Register for free to continue reading
Registration is a free and easy way to support our truly independent journalism
By registering, you will also enjoy limited access to Premium articles, exclusive newsletters, commenting, and virtual events with our leading journalists
Already have an account? sign in
Register for free to continue reading
Registration is a free and easy way to support our truly independent journalism
By registering, you will also enjoy limited access to Premium articles, exclusive newsletters, commenting, and virtual events with our leading journalists
Already have an account? sign in
Join our new commenting forum
Join thought-provoking conversations, follow other Independent readers and see their replies