Thousands protest against Greek government's austerity measures
Greece has instituted a series of painful tax hikes, wage cuts and financial reforms in an effort to put its house in order
Nathalie Savaricas
Wednesday 01 May 2013 19:26 Comments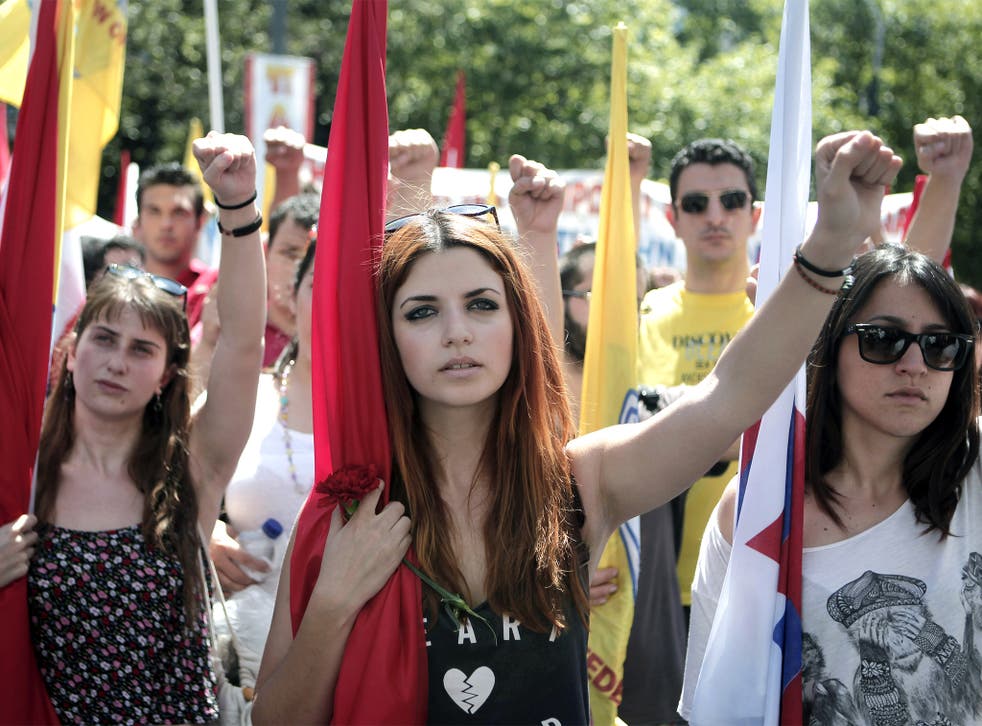 Thousands have descended on Athens as Greece went on general strike in protest at the government's austerity policies. Ferries were confined to port, trains were halted and public transport in various cities was disrupted. Hospitals were running on skeleton staff while archaeological sites and museums remained shut.
"May Day is a very important day for the working class, not only as a remembrance day ... but [so] workers can regain the rights we've lost for so many years," one protester said.
In exchange for €200bn (£170bn) of loans from the EU and the International Monetary Fund, Greece has instituted a series of painful tax hikes, wage cuts and financial reforms in an effort to put its house in order. But the measures proscribed by its lenders have pushed unemployment to 27.2 per cent - Europe's highest - and the country is now battling its fifth year of recession.
Pope Francis has weighed in to the austerity debate, urging governments to focus on job creation. "I call on politicians to make every effort to relaunch the labour market," he told crowds in St Peter's Square. "Work is fundamental for dignity... I think of people, not just young people, who are unemployed often because of an economic conception of society based on selfish profit outside the bounds of social justice."
Despite the growing desperation in Greece, the size of street protesters has dwindled. Organisers blamed the low turnout on the heat (the temperature in Athens topped 30C) and claimed a sense of resignation is now supplanting the anger. "We're taking hits from everywhere: our rights, our wages, taxation... It's all created a mood of abstention," public sector union leader Kostas Tsikrikas told The Independent. "Greeks are tired. For three years we're in the streets yet no elections or politician have changed anything. but we'll continue to fight."
Despite anger at his policies, Prime Minister Giorgios Samaras has achieved Greece's first primary budget surplus in more than 10 years. Yet his poll rating has continued to suffer, while the far-right Golden Dawn party has solidified its position as Greece's third-biggest party. In a latest move to garner support, Golden Dawn officials plan today to hand out food to Greeks only at Athens's Syntagma Square. Despite the city's mayor condemning the plan as "a gesture of intolerance and fascism", Golden Dawn insisted it planned to go ahead with the soup kitchen, saying: "Greece is still a democracy and no one can deny us of the right to assemble."
Register for free to continue reading
Registration is a free and easy way to support our truly independent journalism
By registering, you will also enjoy limited access to Premium articles, exclusive newsletters, commenting, and virtual events with our leading journalists
Already have an account? sign in
Join our new commenting forum
Join thought-provoking conversations, follow other Independent readers and see their replies