Tom Peck's Sketch: The thorniest question was whether a meal at 4pm is lunch or dinner
There was brief outrage when, according to the official schedule, British lunch formally became British dinner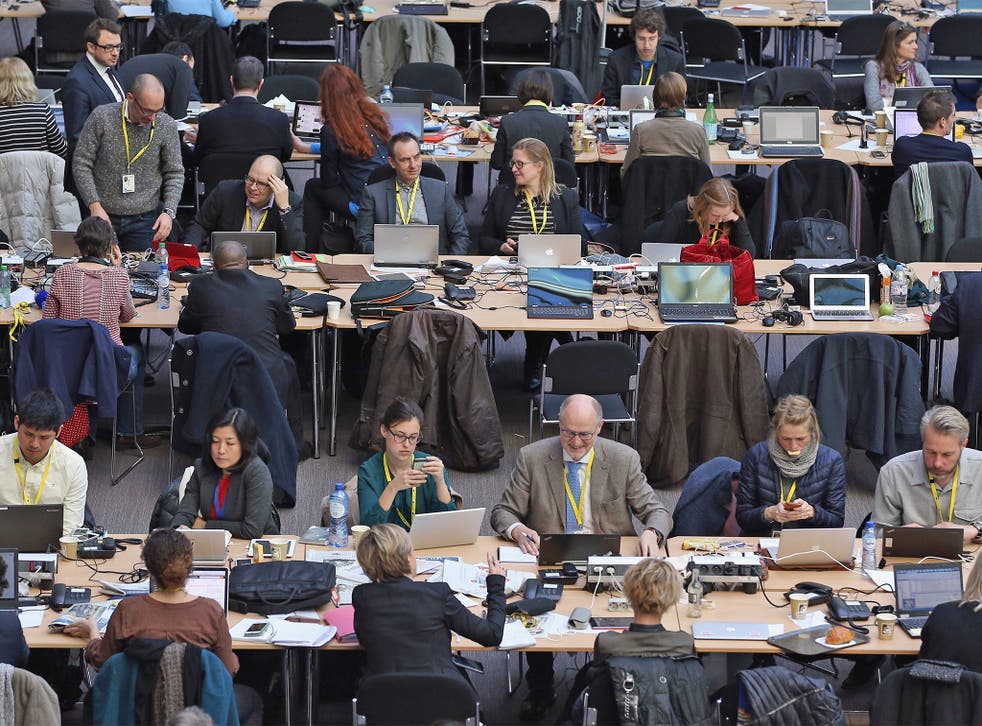 All day, the European Union's latest food mountain grew and grew behind the Justus Lipsius building. There was meant to be a "British breakfast", a final friendly meal before a historic agreement would be announced. Polish builders would cheerfully accept their child benefit having been slashed. But that was cancelled, so out went the bacon and eggs, the hash browns and the black pudding.
British brunch was next to go. Then British lunch, British high tea. There was brief outrage when, according to the official schedule, British lunch formally became British dinner, only for Downing Street to confirm the timing hadn't changed, but that European Commission members did not think a meal at 4pm could still be called lunch.
It was then that, with fish and chips, bangers and mash, cucumber sandwiches and scones with clotted cream and jam now clearly visible towering above the glass roof of the conference centre, the assembled heads of state were advised to book hotels for the night.
It's easy with hindsight, but the mistake had been in not simply calling it the British all-day breakfast. Not only would it have reflected a proud nation's thriving café culture, but sausages are easy to reheat.
As dinner parties go, it was as bad as it could get. "Come for a British breakfast," Dave had told them, then 12 hours later there they all were, still being told how much he loathed them, and they'd not even been given a thing to eat.
At least the assembled press packs of 28 different nations were being fed the occasional scraps. Not since Hercule Poirot made himself known on the Orient Express has the arrival of a Belgian been greeted with anything approaching the excitement of the Belgian Prime Minister's brief sortie into the media centre. Truly, it was a Barry Gardiner moment. (When the MP for Brent North went for a wee outside Jeremy Corbyn's office during the darkest hour of the never-ending reshuffle, it was mere minutes until he was being touted as the next UN Secretary General.)
Sky News's Faisal Islam sprinted vertically up the four-storey walls just for an unobstructed view of Prime Minister Charles Michel's bald head as he gravely announced: 'Le negotiations est ongoing."
Life's easier if you don't cause trouble. The Irish delegation arrived at 10 to four and left 20 minutes later. Why hang around if you've got no one to argue with? Angela Merkel popped out for chips.
The careful choreography of these charades was established some years ago. You arrive. Brief that no middle ground can be found. Warn that "you're prepared to walk away". Then when the deal miraculously arrives, there's more than enough credit to go around. When it got to 5pm, and David Cameron still wasn't on his way to the Eurostar for a historic "Friday cabinet", it was distinctly possible that something that wasn't meant to happen had happened.
The Czech delegation claimed to be "perplexed by the British approach of non-negotiation – quite unorthodox, to say the least".
Back in London, Grassroots Out, the Brexit splinter group for the particularly small-minded gentleman, had a party scheduled for 7pm. The renegotiation was meant to have been a confirmed failure by then.
If the emerging photographs could be taken as proof, the signs were indeed grave. A silent Cameron/Tusk stand‑off in front of a bowl of dilly flowers was unnervingly cold.
Who knows who had said what, but by then even a late-night pissed British doner followed by the traditional British cab queue punch-up was looking out of the question.
Register for free to continue reading
Registration is a free and easy way to support our truly independent journalism
By registering, you will also enjoy limited access to Premium articles, exclusive newsletters, commenting, and virtual events with our leading journalists
Already have an account? sign in
Join our new commenting forum
Join thought-provoking conversations, follow other Independent readers and see their replies