Torben Chris: Danish comedian posts photo of himself taking a bath with his two-year-old daughter in face of 'paedophilia' claims
The father thinks that having a bath with your child is 'hygge'; a Danish concept meaning cosy and fun
Emma Henderson
Wednesday 16 December 2015 17:37 Comments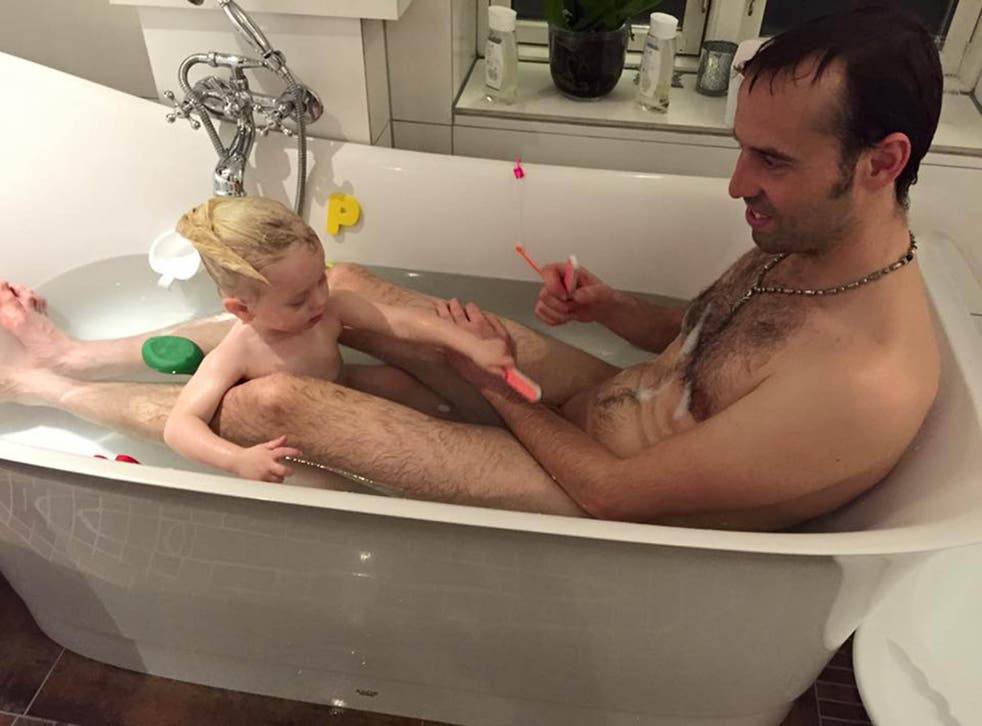 A Danish comedian posted a picture of him having a bath with his two-year-old daughter, condemning comments labelling parents as paedophiles for innocent things such as sharing a bath or shower.
Torben Chris's one man show, 'jydelogik' is a cynical show commenting on the Danish's prude attitude towards nakedness.
The comedy tour has led to other parents who have been called paedophiles to contact Mr Chris, sharing their experiences of the fear of nakedness, or 'nøgenhedsforskrækkelse,' as he calls it, and inspired Mr Chris to post his own picture.
One man who contacted the comedian said he had been called a paedophile after posting a photo of his 11-year-old daughter's French plait on her bare back on to social media.
Another said a stranger had called him a paedophile for bathing with his young daughter while one father had told him his wife thought it was innapropiate for their children to see them pee.
The comedian has received almost 60,000 likes on his Facebook post, which has been shared more than 6,500 times.
The post is full of positive comments congratulating Mr Chris and agreeing with his views.
One comment written by Charlotte Bogø read: "Amen! I would almost go so far as to say, as a parent, you must bathe with your child. Children need to see a naked body, see it naturally, how different bodies can look and how right it is.
"Otherwise we will end up with a totally disturbed generation who think everyone looks like a model without clothes on.
"And a father accused of paedophilia because he bathed with her child, is so far out that I don't even know what to write about it!"
Mr Chris instead thinks that having a bath with your child is "hygge", which is a Danish concept that means its cosy and fun, according to The Local news website.
But there were negative comments too. Bariş Balo Bicen wrote: Put on some underwear my friend. What good will your daughter get from seeing your genitals?"
Mikail Gümüs commented "The only person who isn't thinking straight is you and your types!!!! You're sitting there with your legs spread out in front of a two-year old girl. Doesn't it feel wrong??
"Was there not a single time where it felt wrong for the child?? Who on earth says your daughter wants to see you like this?? Poor child!!!"
In reply to the paedophile claims, Mr Chris said: "Children and adults enjoy being naked together.
"There is nothing wrong with a father who washes daughter's bottom or vagina when she's a child.
"On the contrary, it is bloody disgusting if nobody does it, and unfair if only the mother does it."
Register for free to continue reading
Registration is a free and easy way to support our truly independent journalism
By registering, you will also enjoy limited access to Premium articles, exclusive newsletters, commenting, and virtual events with our leading journalists
Already have an account? sign in
Join our new commenting forum
Join thought-provoking conversations, follow other Independent readers and see their replies