Tories' EU ally: Poland should not apologise for killing Jews
Leader of right-wing alliance says WWII massacre not as bad as Nazi atrocities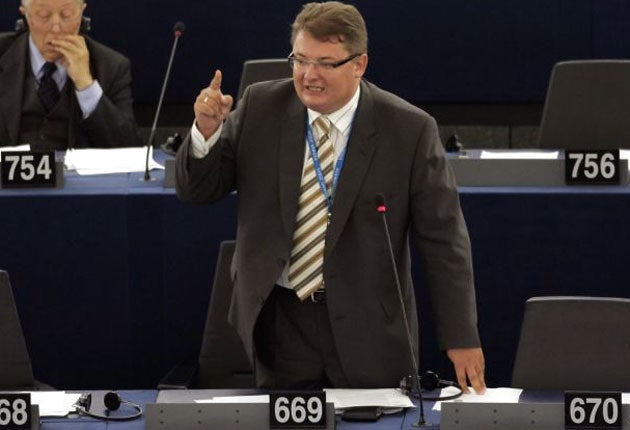 The Conservatives have faced renewed criticism over their decision to join a right-wing alliance in Europe after its Polish leader said his country should not have apologised for a massacre of hundreds of Jews.
Michal Kaminski, the leader of the European Conservatives and Reformists group (ECR), said he remained opposed to the 2001 apology his country's then president, Aleksander Kwasniewski, made for the killings, which were carried out by Polish inhabitants of the town of Jedwabne in July 1941. He said it was unfair to put the massacre "on the same level as the Nazi policy".
His comments will reignite the row over David Cameron's decision to leave the centre-right European People's Party (EPP), which included the parties of Nicloas Sarkozy and Angela Merkel, and join a new, fiercely anti-federalist group, led by Mr Kaminski. Mr Cameron made the commitment to win the votes of Tory Eurosceptics during his 2005 leadership campaign.
Commenting on the Jedwabne massacre in an interview with the Jewish Chronicle, Mr Kaminski said: "I think that it's unfair comparing it with a Nazi crime and putting it on the same level as the Nazi policy." He also likened the atrocity to Jewish collaboration with the Soviet Union. "If you are asking the Polish nation to apologise for the crime... in Jedwabne, you would require the whole Jewish nation to apologise for what some Jewish Communists did in eastern Poland," he said.
However, he strongly denied allegations of having a neo-Nazi past and anti-Semitic beliefs. "Being an anti-Semite is something which is contradictory to all my beliefs, starting with my religious beliefs as a Christian and ending with my political conservative views," he said.
Denis McShane, the Labour MP and former Europe Minister, demanded that Mr Cameron rethink his alliance with Mr Kaminski immediately. "Kaminski's defence of his outrageous position on the mass slaughter of Jews in Jedwabne in July 1941 is a disgrace," he said. "It is beyond belief that David Cameron is seeking to associate the Conservative Party with a man who sees no reason to say sorry for the mass killing of hundreds of Jews in wartime Poland, whether by Nazis or Polish anti-Semites. Kaminski stands condemned by his own mouth." A senior Labour source added: "It calls into question David Cameron's judgement when he moves away from the likes of Merkel and Sarkozy and closer to the likes of Kaminski."
It has also emerged that Mark Francois, the shadow Europe minister, has agreed to provide documentary evidence of the research his party carried out before joining the new grouping to the head of the Jewish Board of Deputies, Vivian Wineman. The pair had a meeting on Wednesday. A Tory spokesman would only say that it had been a "private meeting" held during the Tory Party conference in Manchester.
Before details of the interview emerged, William Hague, the shadow Foreign Secretary, defended Mr Kaminski yesterday. He said that allegations that Mr Kaminski had Nazi sympathies and was guilty of anti-Semitism were "just smears". He added: "He's just come back from a highly successful visit to Israel, he's a member of the European Friends of Israel, there is nothing remotely anti-Semitic about him."
The comedians Stephen Fry and Eddie Izzard had already increased the pressure on Mr Cameron over his alliance with Mr Kaminski's grouping. In an open letter to the Tory leader, they accused the Polish MEP of "homophobia".
Join our commenting forum
Join thought-provoking conversations, follow other Independent readers and see their replies