France and UK vow to make up for Trump's withdrawal of climate change funding
President Emmanuel Macron says France aims to close down all coal-fired power plants by 2021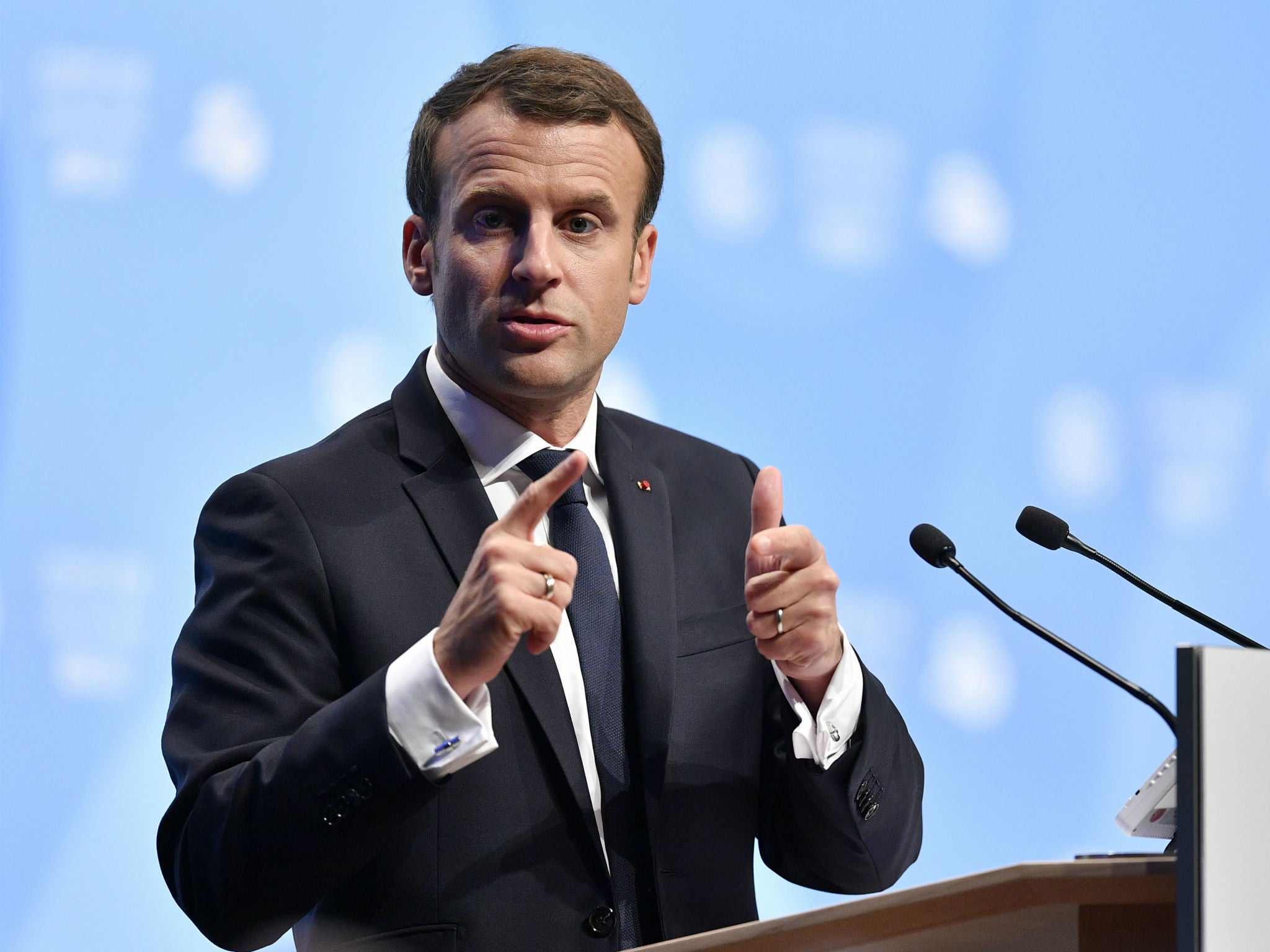 European leaders have urged more global action to combat global warming after US President Donald Trump pulled out of the 2015 Paris agreement - with both France and Germany promising more funding to make up the shortfall.
France's President Emmanuel Macron said France aimed to close down all coal-fired power plants by 2021 as part of action to limit greenhouse gas emissions.
Mr Macron, who will host a summit in Paris on 12 December about climate finance, said France would make up for a shortfall in US funding for the climate science research by the UN's Intergovernmental Panel on Climate Change (IPCC).
"They will not miss a single euro," he told delegates from nearly 200 nations attending a meeting in Bonn, who applauded. US contributions to the IPCC budget have been about €2m ($2.36m) a year in recent years.
The UK also announced that it would help the IPCC financially, with the Department for Business, Energy and Industrial Strategy (BEIS) announcing a doubling of funding.
German Chancellor Angela Merkel said the pact was only a start to reining in a rise in global temperatures, blamed for stoking more heat waves, floods and rising sea levels, and needed to be toughened.
"Climate change is by far the most significant struggle of our times," Ms Merkel said.
Ms Merkel said Germany needed to reduce its dependence on coal power in order to significantly cut emissions.
Ms Merkel's conservatives are seeking to form a new coalition government that includes the ecologist Greens, who are demanding steep cuts in carbon dioxide emissions by 2020.
"We know that Germany still uses coal to a large extent and coal, especially brown coal, should make a contribution to meet our (emissions reduction) goals," Merkel said.
10 photographs to show to anyone who doesn't believe in climate change
Show all 10
Mr Trump, who doubts climate change is primarily caused by man-made emissions, said in June that he would pull out of the Paris Agreement and instead promote the coal and fossil fuel industries.
Ms Merkel praised an alliance of US states, cities and companies called "America's Pledge" to compensate for Mr Trump's decision.
"I welcome this as it highlights the importance of climate protection in large parts of the U.S. regardless of the decision by President Trump to leave the Paris accord," she said.
Some environmental groups expressed disappointment that Ms Merkel did not set a date for phasing out coal, saying greenhouse gas emissions were harming vulnerable people around the world.
"She needed to come to Bonn and show she had heard the suffering of the people of the Pacific and around the world ... She did not deliver this," said Jennifer Morgan, executive director of Greenpeace.
Earlier, UN Secretary-General Antonio Guterres told delegates in Bonn that governments should put a price on carbon emissions and stop making bad bets on fossil fuels.
"Growing carbon markets in Europe and North America, and China's expected announcement of one of the world's largest emissions trading systems, are a good sign," he said.
"But to meet the Paris goals we need at least 50 per cent global coverage and a higher price on carbon to drive large-scale climate action," Mr Guterres said.
Reuters
Join our commenting forum
Join thought-provoking conversations, follow other Independent readers and see their replies