How the Zelensky phone call became Trump's impeachable moment
Analysis: Biden drama only latest episode in a series of Trump-related intrigues surrounding Ukraine, given its ties and tensions with former Soviet master in Moscow, writes Kim Sengupta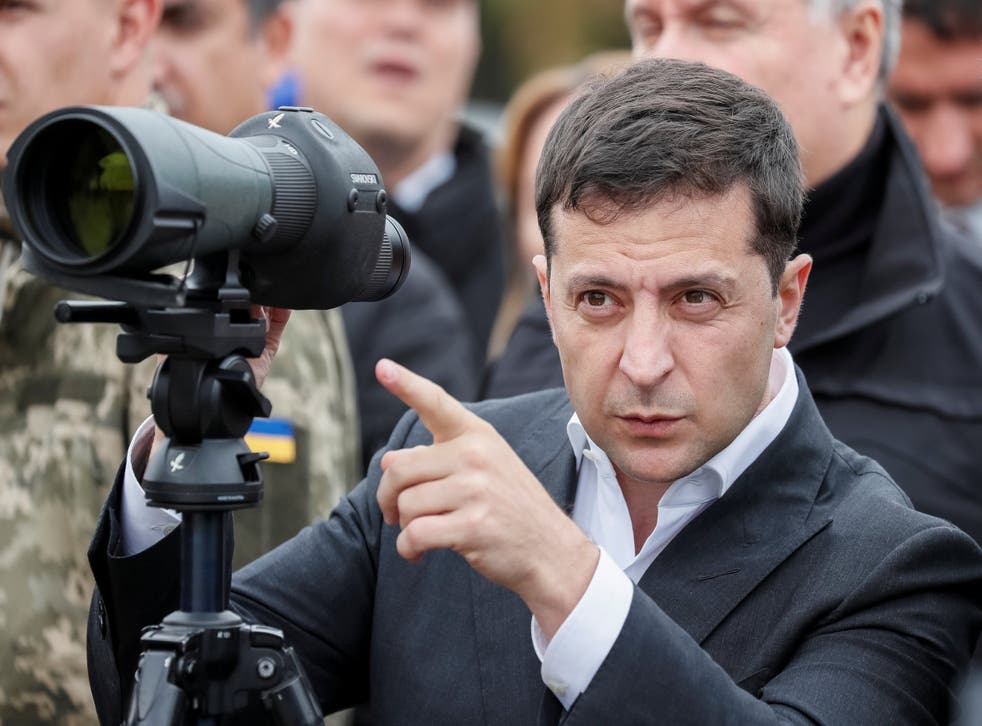 A conference in Kiev last month was the highly publicised stage for Volodymyr Zelensky's appearance before an international audience after swapping his job of a stand-up comedian for the presidency of Ukraine.
The annual Yalta European Strategy (YES) summit, hosted by billionaire Viktor Pinchuk, is a mixture of the formal and informal, with a "surprise" guest appearance by a well-known celebrity or public figure.
Donald Trump appeared by video link during his presidential election campaign four years ago. And Hillary Clinton and Bill Clinton, among other senior politicians, have been there in previous years.
This year's guest was Robin Wright, the actor who played the US president Claire Underwood in House of Cards – a tale of subterfuge, greed and corruption in the White House. During interviews she made clear her unfavourable view of Trump and pointed to the strange synchronicity between politics and make-believe in contemporary America.
Zelensky then appeared in a tableau about an actor playing a president, playing an actor, fact blurring with fiction – inspired by one of his previous TV roles – and accompanied by remarks about how Trump, the reality TV star, would get on with Zelensky, who has found success in reaching the masses through slapstick.
Everyone Trump has fired or forced out

Show all 13
Among the amused audience members was Kurt Volker, then the US special envoy to Ukraine, a man of great influence in the country and cultivated by the Kiev government in its attempts to get close to the Trump White House.
Last week the high-flying diplomat, a former ambassador to Nato, resigned; the first public casualty of the explosive new controversy of Trump and the Ukrainian connection. Since then Mike Pompeo, the US secretary of state, has also been caught up in the affair and is now facing questions about exactly how much he knew.
All this was yet to unfold while the conference was going on. But the tale of how the Trump administration had been allegedly blocking $250m (£200m) worth of military aid in an effort to get the Ukrainian authorities to investigate Joe Biden's son Hunter had been simmering away in the background.
But the funds had just been released, albeit after sustained bipartisan pressure in congress. Asked about the claims of attempted blackmail by the US president, Zelensky was adamant that his relations with Trump were "very good" and that he was "sure we will have a meeting in the White House soon, because I was invited".
One of Zelensky's senior aides confided, as we watched the president work the room, microphone in hand, that the military aid matter was now settled and one should not waste any more time on it.
But matters had been far from settled in Washington. Three Democrat-controlled house committees – Foreign Affairs, Intelligence and Government Reform – had announced that they would investigate whether a host of ethical and legal rules had been violated by the withholding of the defence package.
The committee chairs had said they will scrutinise a telephone call, now at the centre of accusations and recriminations, between the US president and Zelensky during which Trump told the Ukrainian president that he must reopen the Biden investigation if he wanted good relations with the US. It has now been claimed that Pompeo was in the room with Trump when the call was made, further stretching the accusations of complicity.
It has also been claimed that Volker was told by the White House to intercede with Zelensky, and that he did so. The committees said they would be also be looking into the activities of Rudy Giuliani, Trump's personal lawyer – on Monday he was subpoenaed by the House Intelligence Committee.
Giuliani had urged Zelensky soon after his election to focus on the Biden case – this much he has admitted. But the Ukrainian president is said to have refused, protesting that he did not want to get drawn into American internal politics.
The week after Zelensky had spoken of his "very good" relations with Trump, news emerged that a whistleblower, a CIA officer, had revealed his serious concerns to the US acting director of national intelligence about what Trump had said in the call.
Events have since moved at a remarkable pace, with impeachment proceedings starting against the US president and invectives flying between him and his many enemies, pointing to months of bitter acrimony ahead.
Volker is expected to be questioned by the house committees. Giuliani has gone on a counter-offensive, issuing a blizzard of statements and tweets, contradicting himself on whether he would appear before congress. He is now a man under siege, with house Democrats said to be relishing the chance to question him on a range of shady activities on behalf of Trump.
The Ukrainian links to the Trump saga, however, go back long before the Bidens. It is a recurring part of allegations that Trump was the Muscovian candidate for the White House in the 2016 election.
One of the most high-profile scalps in the investigation by Special Counsel Robert Mueller was Paul Manafort, Trump's campaign manager, who has been sentenced to seven and half years in jail for tax and bank fraud charges.
Manafort had previously been campaign manager for Viktor Yanukovych, the pro-Moscow Ukrainian president who fled to Russia after the revolution of 2014. A considerable amount of the evidence against Manafort was related to illicit payments he had received from Yanukovych's party.
Trump's pronouncements on the campaign trail that he would accept Vladimir Putin's annexation of Crimea, and claims of the hold the Kremlin may have on him with kompromat, had led to the post-Yanukovych government of Petro Poroshenko becoming deeply alarmed at the prospect of a Trump presidency.
Damaging information about Manafort, as well as other disturbing associations between the Trump campaign and Ukraine, began to appear in the international media. There was no shortage of the stuff, and many of the allegations proved to be true.
But to the beleaguered Trump team this looked like a concerted attempt to undermine its candidate and help Hillary Clinton.
Some of the most damning information about Manafort came from the "Black Ledger" published in full by journalist and MP Serhiy Leshchenko in August 2016, detailing illegal transactions by Yanukovych's Party of Regions.
(Key elements of the ledger had initially been reported by New York Times journalist Andrew Kramer.)
It had been claimed by Giuliani and other Trump supporters, without evidence, that the "Black Ledger" was a forgery and part of a plot to bring down Manafort, given his role in the Trump campaign.
After the Trump and Zelensky controversy erupted, Leshchenko said that: "I have no doubt that Yanukovych paid Manafort for his services out of the funds he robbed from Ukrainian taxpayers."
"Corruption is harmful whether it takes place in America or Ukraine. My desire to expose Manafort's doings was motivated by the desire for justice. Neither Hillary Clinton, nor Joe Biden, nor John Podesta, nor George Soros asked me to publish the information from the 'Black Ledger'".
Manafort was not the only link between Ukraine and the Trump campaign which raised worrying questions. There was also the case of the MP Andrii Artemenko and his interaction with Michael Cohen and Felix Sater.
Cohen is another casualty of the Mueller investigation. The US president's personal lawyer and fixer, who spectacularly fell out with his boss at the end, and expressed bitter regret at ever working for him, admitted campaign finance violations to "the principal purpose of influencing the 2016 election", and lying to a Senate committee.
Former criminal and federal informant Sater was a business associate of Trump who once chaperoned Ivanka and Donald Junior to Moscow and had enough influence there for Ivanka to be photographed sitting in Putin's chair (she says she has a vague recollection of this) and accompanied their father to numerous real estate meetings.
Artemenko, it was claimed, had given a secret plan to Sater and Cohen in January 2017 to be passed on to the Trump White House which would, in effect, formalise the dismemberment of Ukraine.
The proposal was that sanctions against Russia would be lifted, in return for Moscow leasing Crimea for an unspecified amount of time.
Artemenko, who had been stripped of his Ukrainian citizenship by the Poroshenko government, maintained that the plan had been approved by one of Putin's senior aides who had also provided him with evidence of widespread corruption in Ukraine.
Cohen passed on the Artemenko proposal to Michael Flynn, then the US president's national security adviser. Flynn was another senior member of the Trump entourage to be later indicted and convicted by Mueller.
Flynn resigned after revelations about meetings he had held with the Russian ambassador to the US, Sergey Kislyak. He plea bargained with the Mueller inquiry and admitted lying to the FBI. He is yet to be sentenced.
With US elections approaching next year, the Trump team had sought to turn the troublesome Ukrainian connection around to its advantage.
As well as seeking to pressurise Joe Biden, the possible Democratic Party candidate next year, through his son, it is pursuing a theory, propagated by Russian trolls and far-right conspiracy theories, that the Kremlin was framed over the hacking of the Democratic Party national computer.
This version of events holds that the US intelligence and security services had deliberately, and wrongly, concluded that the Russians were behind the hacking. The real culprit, instead, they allege, was a private company, Crowdstrike, which is run with an anti-Russian agenda.
Whistleblower complaint over Trump's Ukraine call was credible
Crowdstrike was a security firm hired by the Democratic Party to investigate the data breach and was the first of many, including western intelligence agencies, to find that Russia's military intelligence agency, the GRU, had carried it out.
According to the conspiracy theories, Crowdstrike has a Ukrainian base, and its founder, Dmitri Alperovitch, is a Ukrainian who set up Putin in revenge for invading his homeland.
Alperovitch, in real life, is of Russian extraction and a US citizen whose family came to America in the Soviet era. Crowdstrike is based not in Kiev, but California.
Every aspect of the Crowdstrike conspiracy tale has been disproved. But this has not stopped Trump from demanding that Zelensky looks into it, albeit in a somewhat incoherent manner, in the now infamous 25 July call.
"I would like you to find out what happened with this whole situation with Ukraine, they say Crowdstrike. I guess you have one of your wealthy people. The server, they say Ukraine has it," said the US president, according to notes of the conversation, released by the White House.
In another part of the call Trump tells Zelensky "they say" Mueller "started with Ukraine".
The chronology of the investigation does not actually support that. But it is true that the Ukrainian connection is a rich seam of intrigue in Russiagate.
Trying to manipulate and weaponise it now is a high-risk strategy for the US president and his team. We shall know whether it turns into a spectacular own goal or a highly successful plot twist as this drama continues to unfold.
Join our new commenting forum
Join thought-provoking conversations, follow other Independent readers and see their replies