Why is Donald Trump so hostile to Nato and are his claims justified?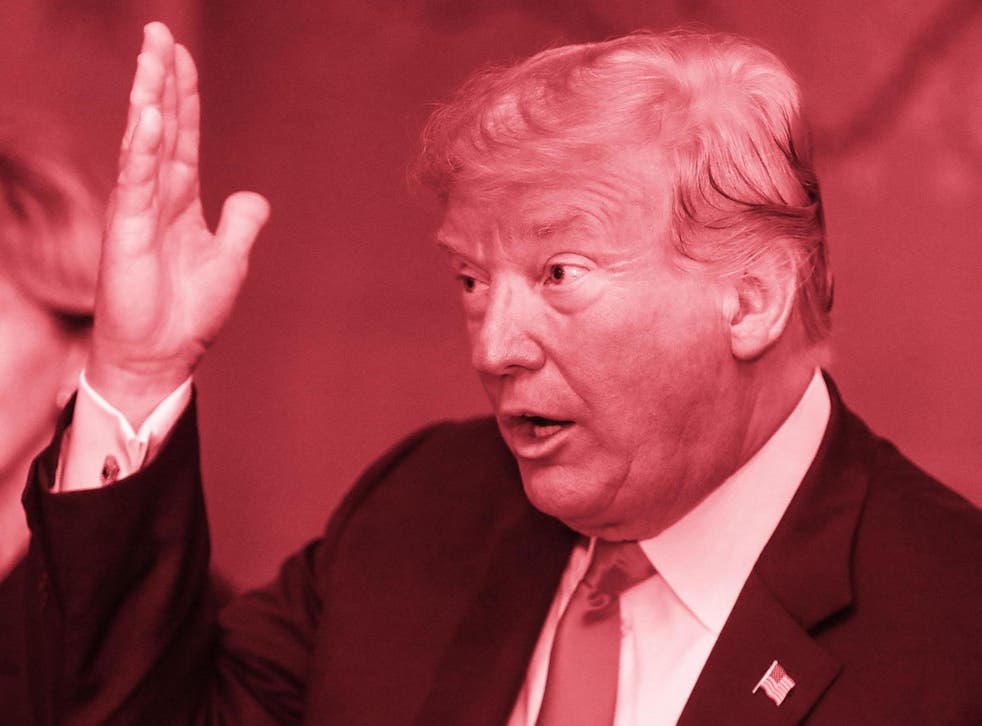 US president Donald Trump attends a meeting ahead of a Nato summit at the US embassy in Brussels, Belgium, on 11 July 2018
(Stephanie Lecoq/EPA)
Donald Trump is currently in Brussels for a two-day Nato summit with world leaders and secretary general Jens Stoltenberg, having been highly critical of the 28-member military alliance in recent years.
The US first joined the collective under President Harry Truman in 1949 but the current occupant of the White House argues it has been "obsolete" since the close of the Cold War.
In particular, President Trump insists Nato represents a "bad deal" for America because the majority of its states are failing to honour their financial commitments to its defence budget, leaving Washington to cover the tab for protecting Europe and Canada.
But how much truth is there behind the bluster?
Is Germany really being held 'captive' by Russia?

Mr Trump kicked off this morning's summit by haranguing Germany over a coffee and croissants breakfast, intended to serve as a simple photo opportunity, for being held "captive" by Russia.

The president damned Berlin's $11bn (£8.3bn) deal for the construction of Gazprom's Nord Stream 2 twin pipeline, delivering gas from Russia to central Europe under the Baltic Sea, as "inappropriate".

The 1,200km pipeline will run from Ust-Luga to Greifswald but Mr Trump suggested it was wrong for Germany to do business with "the country that we are supposed to be protecting you against".

Critics, of whom Mr Trump is not the only one, believe the infrastructure project will give Moscow too much control in the region and enable it to hold its neighbours to ransom with the threat of stemming supply or raising import fees.

Speaking to CNBC after the event, Germany's defence secretary Urusula von der Leyen responded coolly to the president's tirade: "I think we can cope with it."

"If we look at the gas pipeline, Germany is an independent country where energy supply is concerned, we diversify," she said.

Donald Tusk, president of the European Council, warned President Trump on Monday to appreciate his allies, a lesson he so far appears to be ignoring despite meetings scheduled with German chancellor Angela Merkel at the summit and with Russian president Vladimir Putin in Helsinki next week.

Are member states really failing to pay their dues?

Nato members agreed to pay 2 per cent of their gross domestic product (GDP) towards the alliance's defence budget at a meeting in Newport, Wales, in September 2014, pledging to reach that target by 2024.

President Trump first raised doubts about their commitment to this goal in an interview with The New York Times in March 2016, during the presidential election campaign.

He repeated the charge at the opening of the organisation's new headquarters in Brussels on 25 May last year: "I have been very, very direct with Secretary Stoltenberg and members of the alliance in saying Nato members must finally contribute their fair share and meet their financial obligations.

"But 23 of the 28 member nations are still not paying what they should be paying and what they are supposed to be paying for their defence."

"This is not fair to the people and taxpayers of the United States and many of these nations owe massive amounts of money from past years. And not paying in those past years."

Again this morning, he attacked those not paying their dues as "delinquent".

And the president appears to have a point. By 2017, only the US, UK, Greece, Poland and Estonia had met the pledge.

Mr Trump's annoyance with Germany in particular, whose GDP is the biggest among members other than the US, seems justified, given that the US accounted for 71.1 per cent of Nato's total defence expenditure last year, adding $686bn (£518bn) to the war chest. That's 3.57 per cent of its GDP.

The UK, which contributed £42bn compared to Germany's £34bn, appears to share his view, with former defence secretary Michael Fallon telling CNBC this week: "Half the alliance - 16 of the 29 countries - don't even spend 1.5 per cent, let alone the 2 per cent that we all agreed on four years ago in Wales".

"Four years on, and not enough European countries are making progress towards it and they need to do that and the president's criticisms are quite valid."

Luxembourg, Belgium, Spain and Slovenia are among the worst offenders, all failing to pay more than 1 per cent of GDP at present.

Is there any danger of the US failing to aid its allies under attack?

All 28 member states pledge to support a fellow Nato ally militarily should they come under attack under Article 5 of the body's founding agreement, the North Atlantic Treaty.

President Trump initially appeared reluctant to repeat the pledge, telling The New York Times that US involvement under his watch would be conditional. America would support its allies "if they fulfil their obligations to us", he told the newspaper.

After apparently dropping the recitation from his Brussels speech last May, skipping past the key paragraph in his pre-prepared speech, forcing former White House employees Sean Spicer and HR McMaster to scramble and insist US commitment was "implicit".

He did finally say it out loud in Warsaw last July, although his lack of enthusiasm for the oath was palpable.

"Words are easy, but actions are what matters. And for its own protection, Europe – and you know this, everybody knows this, everybody has to know this – Europe must do more," he said.

One of the most revealing insights into Mr Trump's attitude to Nato came from Tomas Valasek, Slovakia's former ambassador to the alliance.

"His heart is not into alliance. He has a zero-sum view of the world. He believes in no permanent friendships, no permanent allies," Mr Vasalek told National Public Radio in the US.

"That's not the sort of mindset that prepares him well for sort of standing by the side of an ally in case of a crisis."
Register for free to continue reading
Registration is a free and easy way to support our truly independent journalism
By registering, you will also enjoy limited access to Premium articles, exclusive newsletters, commenting, and virtual events with our leading journalists
Already have an account? sign in
Register for free to continue reading
Registration is a free and easy way to support our truly independent journalism
By registering, you will also enjoy limited access to Premium articles, exclusive newsletters, commenting, and virtual events with our leading journalists
Already have an account? sign in
Join our new commenting forum
Join thought-provoking conversations, follow other Independent readers and see their replies