Trump casts long shadow as Putin seeks bond with world leaders at showpiece forum
Russian president seeks to build bridges with world powers at hometown economic forum amid Western-imposed sanctions campaign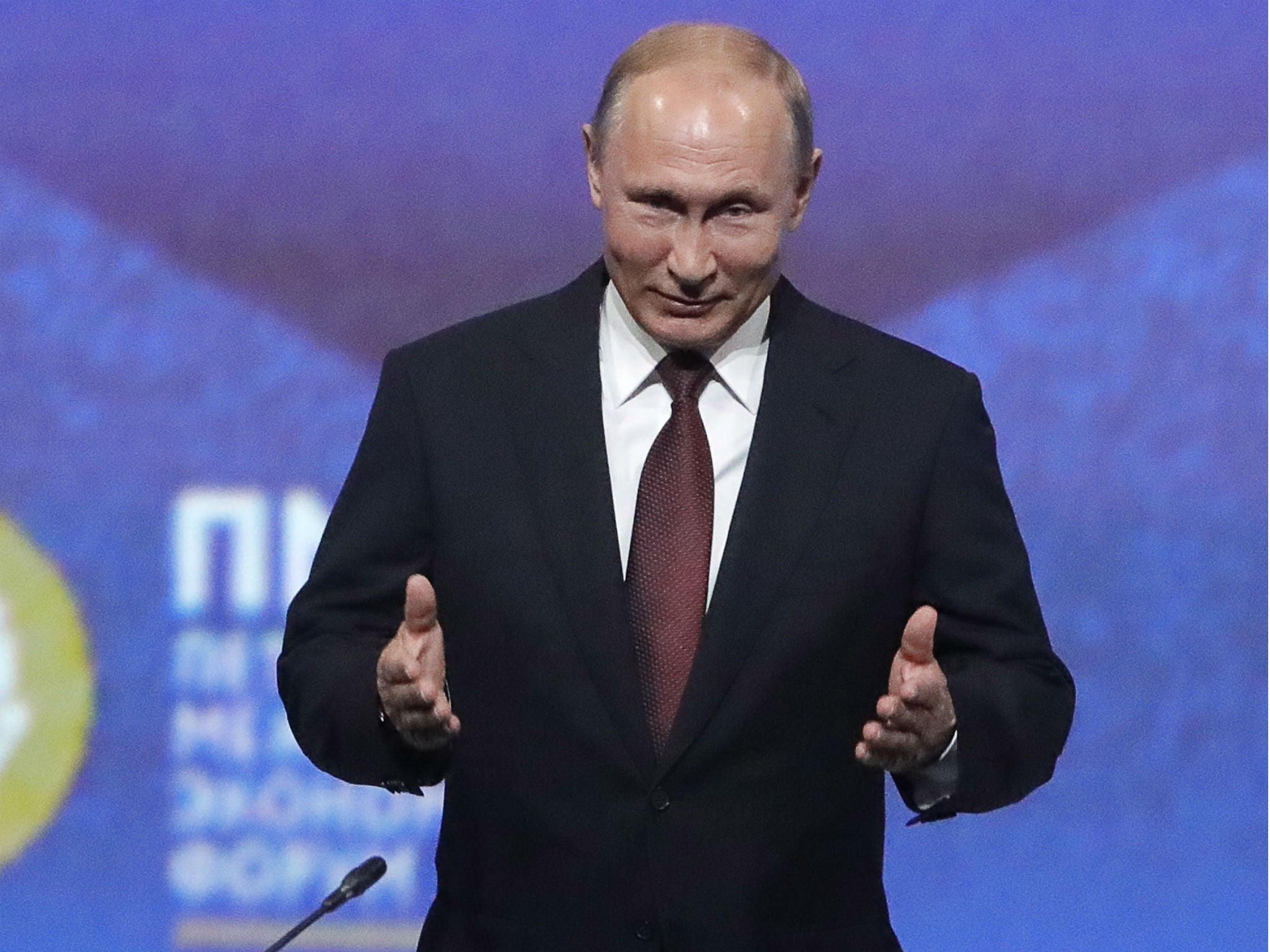 It was meant to be Russian president Vladimir Putin's big triumph, a demonstration of his geographical pulling power.
Countries representing a third of the world's GDP had assembled in an all-star panel – at the president's showcase economic forum in his hometown of St Petersburg. Japanese prime minister Shinzo Abe and China's vice president Wang Qishan were there, while International Monetary Fund chief Christine Lagarde and French president Emmanuel Macron also made bold statements by attending.
Mr Putin made much of US president Donald Trump's foreign policy choices, and the global line-up at the Russian president's forum was indicative of the unease many nations feel at some of Mr Trump's actions. Mr Putin's position was strengthened by statements from Mr Macron and Mr Abe about cooperation with Russia, despite a raft of US and European sanctions against Russia.
Mr Putin warned that the US exit from the Iranian nuclear deal could trigger dangerous instability. "We can't sort things out with North Korea. Do we want another problem on the same scale?" Mr Putin asked.
But the news that the Netherlands and Australia were holding Russia liable for the downing of flight MH17 over eastern Ukraine in July 2014 – and the deaths of 298 people onboard – was the uninvited elephant in the room.
When questioned by a moderator, Vladimir Putin repeated his spokesman Dmitry Peskov's earlier denials, almost exactly. Russia was not privy to an investigation, so could not accept its conclusions, he said. Ukraine was to blame because it did not shut down airspace around a war zone. And the committee had ignored all of Russia's arguments.
It was "most certainly" not a Russian missile, the president added.
Russia has rejected the conclusions of the joint investigation team established to look into the tragedy. At the same time, its government has failed to explain how a Russian-manufactured missile was found by the site. On Thursday, lead investigator Fred Westerbeke said the Kremlin had failed to answer a single question put by the investigating team.
The panel sidestepped the issue of MH17, but was forthright in criticising the US administration.
World news in pictures
Show all 50
Ms Lagarde talked about multilateralism as the basis of post-war security. By acting unilaterally, the US president risked a "repeat of the tragedy of the first half of the 19th century", she said. Mr Qishan said "no one wins in a trade war". Mr Putin described the US president as a rule breaker: "If no one respects the rules, the only thing left is force and tragedy."
Emmanuel Macron, meanwhile, drew a straight line between the US decision to relocate its Israeli embassy to Jerusalem and the deaths of dozens of Palestinians killed by Israeli forces amid clashes on the Gaza border.
In his first visit to Russia as president, Mr Macron has presented himself as a bridge between Moscow and Europe. At a press conference on Thursday, the French leader referenced Dostoyevsky and Pushkin. On Friday, he flaunted quotes by Tolstoy and Solzhenitsyn.
"When history becomes complicated, it needs to be simplified," he said. "We need to create new mechanisms of cooperation. It might bring us closer together."
In an obvious charm offensive, the French president said the leaders could look to sport to navigate choppy international waters: "I know how much you like judo, with its self-control and respect for opponents. I like football, a cooperative game. We should try to make international politics a cooperative game."
From frosty beginnings – Mr Putin supported Mr Macron's rivals in the campaign – the Kremlin has warmed to the French leader. Spokesmen talk about Mr Macron in unusually respectful terms. They talk about him as a direct negotiator; a potential link to the far more difficult women in London and Berlin.
"We often exchange opinions on the telephone," Mr Putin revealed at Thursday's press conference. "Our talks are businesslike and open."
But the wider relations are at historic lows, with Ukraine, Syria and a number of other issues providing formidable obstacles to their normalisation. Meanwhile, the sanctions regime, now showing real teeth, is eating into the Russian economy. After two years of recession and falling wages, the country hovers around low growth.
Mr Putin lashed against sanctions in his own speech, describing them as the result of the "protectionism", "arbitrariness" and "connivance" of Russia's foes.
The St Petersburg International Economic Forum, Russia's Davos-style annual showcase, serves up many reminders of the sanctions regime. Many of its participants are under either US or European restrictions.
Mr Putin said that Russia understood the need to move away from confrontation with the West – if only to secure access to international finance. As for Mr Trump and the US, he said: "We certainly can't be happy with the level and nature of Russia-US relations... We are ready for dialogue. It long has become overdue."
But if it came down to it, Russia would continue to sacrifice profits for what it considered the greater good.
"Every nation has national interests and priorities," he said. "But if we have a choice of sovereign state or restrictions, we will always go for the first one."
Join our commenting forum
Join thought-provoking conversations, follow other Independent readers and see their replies