Trump-Putin meeting: First joy, but now worry as Moscow fears backlash against US president will bring 'problems'
'Trump's opponents will use everything and anything to get rid of him,' says one Russian senator
Oliver Carroll
Moscow
Wednesday 18 July 2018 21:30 Comments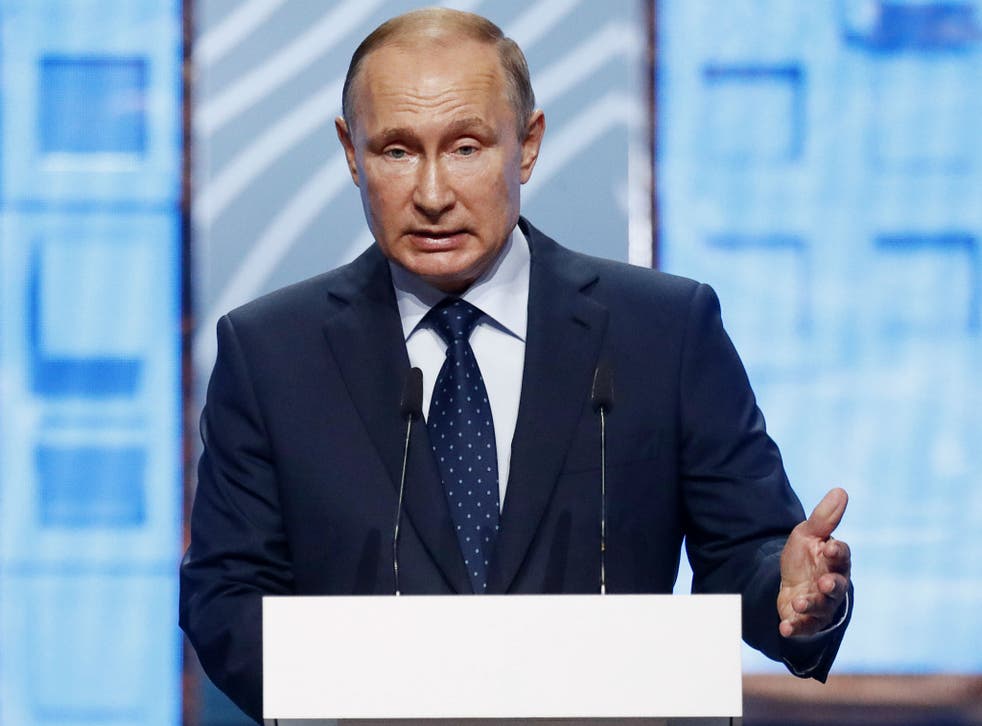 After declaring Monday's summit with Donald Trump an overwhelming success, there is growing alarm in Moscow that the backlash in the US may, in fact, cause relations to deteriorate further.
The US response to President Trump's performance in Helsinki seems to have come as a surprise to Russia's leaders. Immediately following the talks, Russia's usually lugubrious Foreign Minister Sergei Lavrov called the outcome "better than super." In the US, the headlines struck a different tone – shouting "treason", "shame" and "tragic mistakes."
Arnold Schwarzenegger, in comments widely reproduced in Russia, called the US president "a wet noodle" and "fanboy."
The Russian media has been supportive of the US president throughout – even after his bizarre retraction of the failure to blame Russia for election meddling.
On Wednesday, state-owned news network Russia 24 claimed Trump was "being eaten alive" by the viciously "Russophobic" American establishment. Perhaps tellingly, the channel raised the possibility of a further escalation in sanctions – describing them as the "compulsive instrument" of Mr Trump's opponents.
They wheeled out several analysts for the occasion.
Trump dodges question on Russian meddling in US election in 2016
Alexander Asafov insisted that it was only natural for an American president to trust his intelligence communities. Mr Trump had the right to change his positions when under the attack of a "collective Charlie Hebdo."
"It was a permissible correction that does not change the essence of the matter. I think that Trump has successfully begun his 2020 presidential campaign," he said.
Another analyst, Igor Shatrov, said it was easy to mistake "would not" for "would" in the presence of Vladimir Putin: "After meeting our president anything is possible. It may well have have been dyslexia brought out by the charisma of our president."
But away from the TV sets, Russia's leaders are concerned, says the independent analyst Maria Lipman.
Before the meeting, there were hopes of a constructive breakthrough. The "emotional" response of the US media to Mr Trump's blustering performance now made it impossible.
Trump in Helsinki: Putin meeting and protests

Show all 16
"The Russians were very pleased that Trump made Putin look like one of the two most important men in the world, which is important for him," she told The Independent.
"But everyone understands that it will now be very difficult for Trump to make any overtures to Russia."
Andrey Kortunov, director general of the Moscow-based International Affairs Council, said the Russian political establishment, initially greatly cheered by the summit, now wonders if it could have offered more.
"Privately, many people are telling me it would have been a good idea to give Trump more grounds to claim victory," says Mr Kortunov.
"They thought Mr Putin's concessions on Syria would be enough, but that wasn't so."
Moscow will continue to try to help the US president get around opposition at home, said Mr Kortunov. But it was not entirely sure how to do so – at least, without giving away principled positions and political capital.
Moreover, there was worry that the Kremlin could soon be dealing with a lame-duck president.
"If Democrats gain control of at least one house in the November's mid-term elections, impeachment becomes a possibility," he said.
"At a minimum, that weakens Trump. Even now, his administration has given up responsibility for sanctions, one of the most sensitive areas of US policy for Russia."
Senator Frantz Klintsevich, a member of the Russian upper chamber's defence and security committee, told The Independent that Russia was preparing itself for US relations to get worse – at least in the short run.
"There are going to be problems. Trump's opponents will use everything and anything to get rid of him," he said. "In the end, they will lose because Trump is president and can explain what he is trying to achieve. And because Russia has caught up with the American military."
Mr Klintsevich is not the only influential Russian politician to clearly pin his sail to the Trumpian mast. On Monday, Vladimir Putin did so too – with an admission that he rooted for Mr Trump in the 2016 elections.
It was here, wrote the analyst Dmitry Trenin in a much-cited column, that any pretence of Russian claims not to interfere in internal US matters was shattered.
"It was at this moment, when the Kremlin and White House turned to dialogue … that the hybrid war between the US and Russia reached a new level".
Register for free to continue reading
Registration is a free and easy way to support our truly independent journalism
By registering, you will also enjoy limited access to Premium articles, exclusive newsletters, commenting, and virtual events with our leading journalists
Already have an account? sign in
Register for free to continue reading
Registration is a free and easy way to support our truly independent journalism
By registering, you will also enjoy limited access to Premium articles, exclusive newsletters, commenting, and virtual events with our leading journalists
Already have an account? sign in
Join our new commenting forum
Join thought-provoking conversations, follow other Independent readers and see their replies