Trump appears to be planning for a historic Putin summit
Trump's hawkish adviser John Bolton is expected to arrive in Moscow as early as next week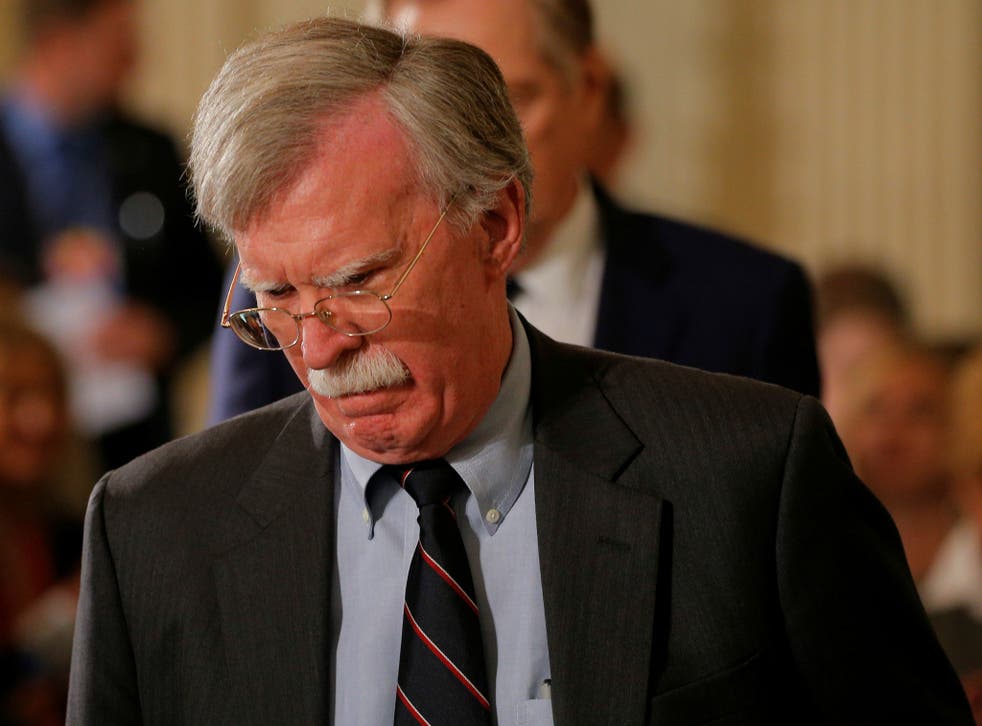 As ties to traditional allies fray, US President Donald Trump seems to be gearing up for a major summit with Vladimir Putin.
On Thursday, the Kremlin said it was "aware" of a forthcoming Moscow visit by the White House's national security adviser, John Bolton. According to the Interfax news agency, that visit could come as early as next week, with Mr Trump following soon thereafter.
Two dates are said to be under consideration: either before the Nato summit beginning on 11 July in Brussels, or after the president's UK visit two days later. One of the more likely locations is Vienna, the headquarters of the OSCE, of which both Russia and the US are members.
Earlier this week, the Kremlin insisted there were "no plans" for a meeting before the Nato summit. But the prospect of a reversal has apparently worried European leaders.
The Times quoted a "senior Western diplomatic source" as saying an early Trump-Putin meeting, before the Nato summit, would "cause dismay and alarm" in Europe. A Whitehall source talked of "fear" for the future of Nato.
Presidential spokesman Dmitry Peskov said he had "no comment" on the Times article. It was "unlikely to represent the views of the British people," he added.
The choice of Mr Trump's national security adviser for the Moscow visit has raised eyebrows. Mr Bolton is known for hawkish views on Russia and has criticised the White House for failing to extract a price from Vladimir Putin for alleged interference in US elections. The secretary of state, Mike Pompeo, would have been a more obvious choice.
But the choice was likely to be practical, said the former Kremlin adviser and security expert Vladimir Frolov. It was not a "Nixon to China" moment, he said, referring to the right-wing US president's unexpected 1972 visit to communist China.
"Pompeo is busy with North Korea," he said. "Besides, Bolton is not [Nixon's secretary of state] Kissinger – he is coming to execute Trump's irresistible urge to meet with Putin."
Relations between Moscow and Washington have been strained since Mr Trump took office. They have been characterised by sanctions, tit-for-tat diplomatic expulsions, trade tensions and growing mistrust.
But while official ties have diminished, the relations between the leaders have remained warm. The Russian leadership has pointedly refrained from criticism of the US president, blaming instead the "wrecking activities" of Congress. President Trump has on his part refrained from serious criticism of Russia.
In recent weeks, the US president even argued for Russia's reinstatement into the G7 group of leading economic nations. Russia was expelled from the then-G8 in 2014 following the annexation of Crimea. Mr Trump's comments went pointedly against the official position of G7 partners.
It is not clear how much his move represented US policy, or was an improvised snub to European leaders ahead of trade negotiations. That will become clear as soon as Mr Bolton opens his briefcase in Moscow, said Mr Frolov.
Anti-Putin protests: hundreds of demonstrators arrested in Russia

Show all 22
"Bolton's aim, most likely, will be to agree on a flowery statement with the sole practical agreement to launch substantive talks and unfreeze channels of communications," he said.
"But even that will be interpreted as a big win for Putin."
Register for free to continue reading
Registration is a free and easy way to support our truly independent journalism
By registering, you will also enjoy limited access to Premium articles, exclusive newsletters, commenting, and virtual events with our leading journalists
Already have an account? sign in
Register for free to continue reading
Registration is a free and easy way to support our truly independent journalism
By registering, you will also enjoy limited access to Premium articles, exclusive newsletters, commenting, and virtual events with our leading journalists
Already have an account? sign in
Join our new commenting forum
Join thought-provoking conversations, follow other Independent readers and see their replies