How a wild conspiracy theory and Ukraine anti-corruption drive led to Trump impeachment proceedings
In the process of dissecting the fantasy of Joe Biden's wrongdoing, few emerge with honour, writes Oliver Carroll, in Kiev
Thursday 03 October 2019 17:03 Comments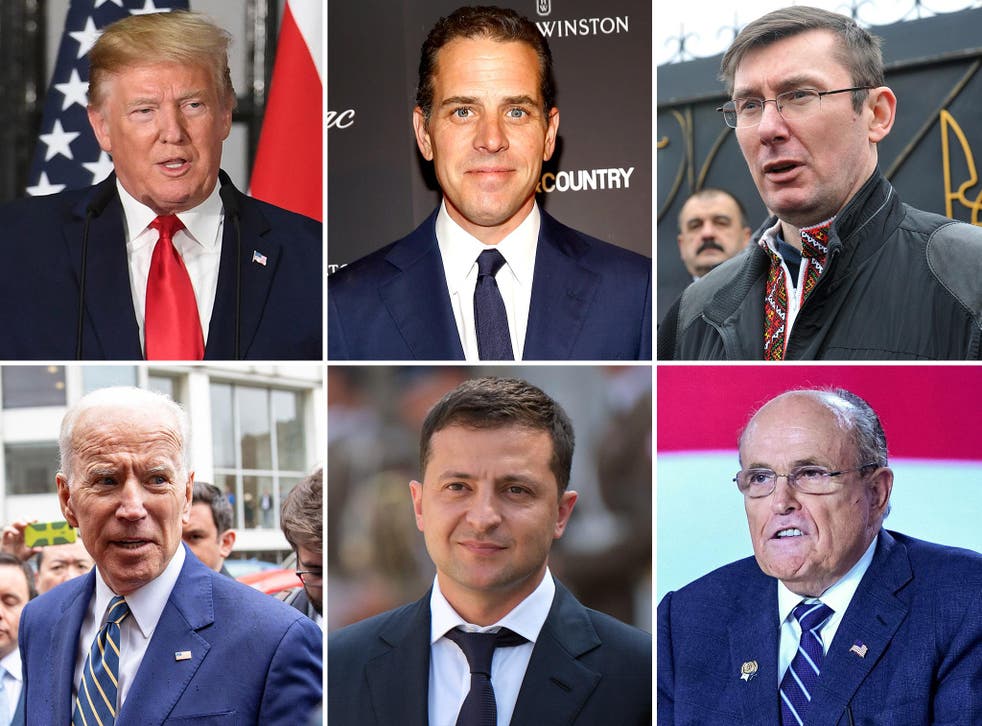 Even at the time, Hunter Biden's decision to accept a $50,000 per month directorship at a little known Ukrainian gas company felt like an unwise gamble.
His dad, vice-president Joe Biden, was the man in charge of America's Ukraine policy, with all kinds of potential conflicts of interest. The company, Burisma, was the subject of several investigations centred around the activities of its founder, Mykola Zlochevsky. There were no shortage of warnings.
A rounded man with a love of Rolls-Royces and the high life, Hunter's new paymaster appeared almost a caricature of wild east cronyism.
From his perch as energy minister to the now-disgraced president Viktor Yanukovych, Zlochevsky saw his undeclared, Cyprus-registered company grow to become the largest private gas company in Ukraine. At various points, he stood accused of illegal enrichment, benefitting from the illegal distribution of drilling permits, false accounting and not paying taxes.
In the months after the EuroMaidan revolution disposed of the Yanukovych regime, Zlochevsky found himself a wanted man. He feared for his business. He feared for his life. Pushed out of Ukraine, Zlochevsky also seemed out of step with the times.
But somehow, over the next two years, with the help of his international board, and Bell Pottinger, the infamous and now-defunct British PR firm, Zlochevsky recovered his standing.
Everyone Trump has fired or forced out

Show all 13
Criminal cases were closed, one after the next. Outwardly respectable organisations such as the Adam Smith Institute became partners. There was talk of a listing on the London Stock Exchange; a place at the top table of Europe. There were charity events and glitzy functions, not least the massive energy forum that Burisma hosted in Monte Carlo in 2016.
Hunter Biden was one of the many guests at that event, seen schmoozing alongside Zlochevsky and the likes of Prince Albert II of Monaco.
By 2018, industry insiders say Burisma had begun to be recognised for good management practices and clever procurement.
But all that, and Hunter Biden's huge gamble, came falling down this summer in the wake of scandal and an impeachment inquiry in the United States.
Donald Trump is, of course, the main focus of that inquiry: his apparent attempt to pressure Ukraine into opening an investigation into the Bidens as a quid-pro-quo for military support. It is also clear that Trump has only incoherent conspiracy theories to call on in his demand for a probe.
But in dissecting that fantasy, no one emerges with great honour.
To recap, the Trumpian narrative alleges that Joe Biden used the threat of blocking a billion-dollar IMF loan to remove Viktor Shokin, Ukraine's chief prosecutor. He did so, the allegation goes, to prevent Shokin from investigating wrongdoing by his son's firm.
While the first part of the claim is true – Biden himself boasted of the fact, perhaps unwisely – the second part is incomprehensible.
Simply put, there were no active investigations into Burisma at the time of Shokin's removal in 2016. If anything, Shokin served as a barrier to a real investigation into the company. When, for example, Britain's Serious Fraud Office froze $23m (£19m) of Zlochevsky's assets after a money laundering investigation, it was Shokin's office that produced an exonerating letter that Zlochevsky then used to unfreeze the cash. Internal prosecutor reports seen by Bloomberg confirmed that Shokin declined to pursue an investigation at all stages.
Neither does the narrative fit with the logic of the time. It is hard to describe this as a personal vendetta pushed by vice-president Biden. A much wider community – the European Union, the International Monetary Fund, and a wide range of anti-corruption actors – were pushing for Shokin's removal. President Petro Poroshenko, a patron and long-time associate, was one of very few resisting it.
This is not a scandal of Kiev's making – or asking. Many Ukrainians are surprised to see the name of Burisma pushed to international front pages. They are even more astonished at seeing their former chief prosecutor portrayed as an anti-corruption warrior.
"We were very angry that three separate general prosecutors failed to investigate Burisma properly," says Daria Kaleniuk, the founder of Ukraine's Anti-Corruption Action Centre, an organisation that has examined Burisma's dealings in forensic detail. "But we are frankly amazed that a corrupt prosecutor is now being described [by Donald Trump] as a good prosecutor."
Another prominent anti-corruption expert suggested that the prosecutor office's limited focus on Burisma was likely never wholesome in the first place.
"The fact that some investigations were opened did not mean the prosecutor had any intentions of pursuing them," says Oleksa Shalaisky, founder of the Nashi Hroshi anti-corruption watchdog.
"It was the modus operandi of the time. They would open a mass of investigations into Yanukovych-linked companies, but none of them were actually real, just invitations to talk, to settle. And most people did exactly that."
Burisma's success in seeing criminal investigations against it closed over 2014-16 could fall into such a pattern. But Zlochevsky also had a clear advantage over his competitors: an all-star international board, with the son of America's Ukraine enforcer at its centre.
Zlochevsky was not the first Ukrainian oligarch to look to protect his assets with prominent western backers. But looking back, his 2013-14 management shakeup, timed before the violent end of Maidan, looks extraordinarily prescient. The first political heavyweight he recruited was former Polish president Alexander Kwasniewski, who joined in January. Biden came on board three months later, after the end of Maidan.
The transformation of Burisma's management structure is reflected in its Cyprus accounts, seen by The Independent. These show that expenditure on directors rocketed from $40,000 in 2013 to $2.5m in 2014.
For anti-corruption expert Shalaisky, the presence of men like Biden and Kwasniewski on the Burisma board amounted to owning a "discount card" against any future extortion attempts.
There was one other troubling possibility, Shalaisky adds: that the Bidens were aware of attempts by the prosecutors' office to extract bribes. In other words, if any significant conflict of interest existed, it was that Joe Biden removed Shokin with personal knowledge of the prosecutor office's attempts to extract rent.
"If that is the case, it may have been an anti-corruption move, but the Biden family could not be described as neutral bystanders," Shalaisky says.
Other sources suggest it was highly unlikely that Zlochevsky would have made Hunter Biden aware of any improper approaches. One source, who acted as an advisor to Burisma, and who met Biden Jnr on two of his Kiev visits – The Independent understands these numbered up to five – said the American appeared to have a very limited role in the organisation.
"Hunter probably knew who Shokin was, but Burisma was not a 24/7 job to put it mildly," the source tells The Independent. "I'm not sure Hunter had any real responsibility. He was interested in the company's business in European markets and Saudi investment. That's all we talked about and it seemed to be his only area of influence."
Anti-corruption expert Kaleniuk, while agreeing that extortion was the general "business model" of Ukraine's prosecutor office, cautions against fuelling "perceptions" and "further conspiracies."
"Hunter Biden did a very bad thing in taking the job, and perhaps US institutions need to look into what he knew or didn't know," she says. "But we also need to keep to the facts. The main fact is that Joe Biden was firing a prosecutor who was dumping – not progressing – investigations."
It is not yet clear quite how the Shokin conspiracy theory first came to Trump, ready to be wheeled out in the now infamous telephone exchange with Zelensky on 25 July.
By the time of the call, the narrative was at least eight months old. It dates to at least October 2018, says Kaleniuk: this was the moment she first received "tendentious" questions from the controversial right-wing commentator John Solomon. Solomon has fuelled the conspiracy theory with early, excited, and generally inaccurate columns in the Washington publication The Hill.
At some point, perhaps also in 2018, the story was picked up by Trump's lawyer Rudi Giuliani. It was then amplified by several uncritical articles in the New York Times, and, perhaps most astonishingly, by Yuriy Lutsenko, Shokin's replacement as prosecutor general.
We know that Guiliani was in contact with Lutsenko on the subject of the Bidens from at least January 2019, meeting at least twice, calling many times besides. According to Sergii Leschenko, a journalist and former Zelensky advisor, Lutsenko also furnished Guiliani with a document detailing dubious allegations against the Bidens.
Lutsenko has not commented on the document, but on a trip to the United States in January, he hinted that the Bidens had a case to answer.
At the time, the under-fire prosecutor was almost certainly trying to use the Trump administration to secure his own position. It was already clear Lutsenko was about to lose the protection of his patron Petro Poroshenko – he would fall to a landslide in April. Lutsenko, with many enemies and few allies, understood he had very little other support to fall back on.
In May, Guiliani announced he would be flying to Kiev to meet Lutsenko and president-elect Zelensky. But that meeting was abruptly cancelled – an apparent response to a snub first reported by The Independent. Soon after the aborted visit, prosecutor Lutsenko switched positions.
Speaking with Bloomberg in May, he declared that he saw no evidence of wrongdoing by the Bidens. In several interviews this week, he repeated that position – much to the consternation of his one-time ally Giuliani.
Lutsenko, who has temporarily left Kiev for London, declined to talk to The Independent, citing previous interviews to other outlets that had "failed to put across his position".
A source in the former Ukrainian government suggested to The Independent that it was unlikely Guiliani or Lutsenko were involved in the earliest stages of the theory. That source instead pointed to grand designs of an oft-cited bogeyman, Russia, but failed to offer clear evidence in support of that theory.
Volodymyr Zelensky looks worried as Trump mentions Ukraine relationship with Russia
The investigative outlet OCCRP has meanwhile suggested that two Soviet-born US businessmen Lev Parnas and Igor Fruman were key actors in channelling the Biden narrative to Guiliani.
Whatever the truth of the source's assertions, the scandal has clearly not played out to Ukraine's advantage. Many in Kiev now worry about the prospect of losing bipartisan support in the conflict with Russia.
For Ukraine's rookie president Volodymyr Zelensky, there are no easy choices, says the independent political analyst Vladimir Fesenko.
Either Zelensky can deny Trump his investigation, and risk losing the support of a president who was never really keen on Ukraine in the first place. Or he can open the investigation, give Trump what he wants, and risk losing the support of the Democrats for a generation.
"So far the position seems to be to stay as close to neutral as possible," Fesenko tells The Independent. "They will start an investigation if there is an official request from Washington, but not otherwise."
Kaleniuk says it is a "tragedy" that Ukraine had been dragged into American politics.
"Everyone now believes Ukraine is some kind of corrupt swamp," she says. "In fact, the only reason we are reading this story is because previously corrupt untouchables are now feeling the heat and looking for ways to save themselves.
"The stakes for them are huge, and unfortunately they've found no shortage of corrupt cliques across the ocean who are ready to help."
Register for free to continue reading
Registration is a free and easy way to support our truly independent journalism
By registering, you will also enjoy limited access to Premium articles, exclusive newsletters, commenting, and virtual events with our leading journalists
Already have an account? sign in
Join our new commenting forum
Join thought-provoking conversations, follow other Independent readers and see their replies