TTIP: European Commission attempts to resurrect deal as countries go cold on plan
Jean-Claude Junker calls for all 28 member states to reconfirm their commitment to controversial agreement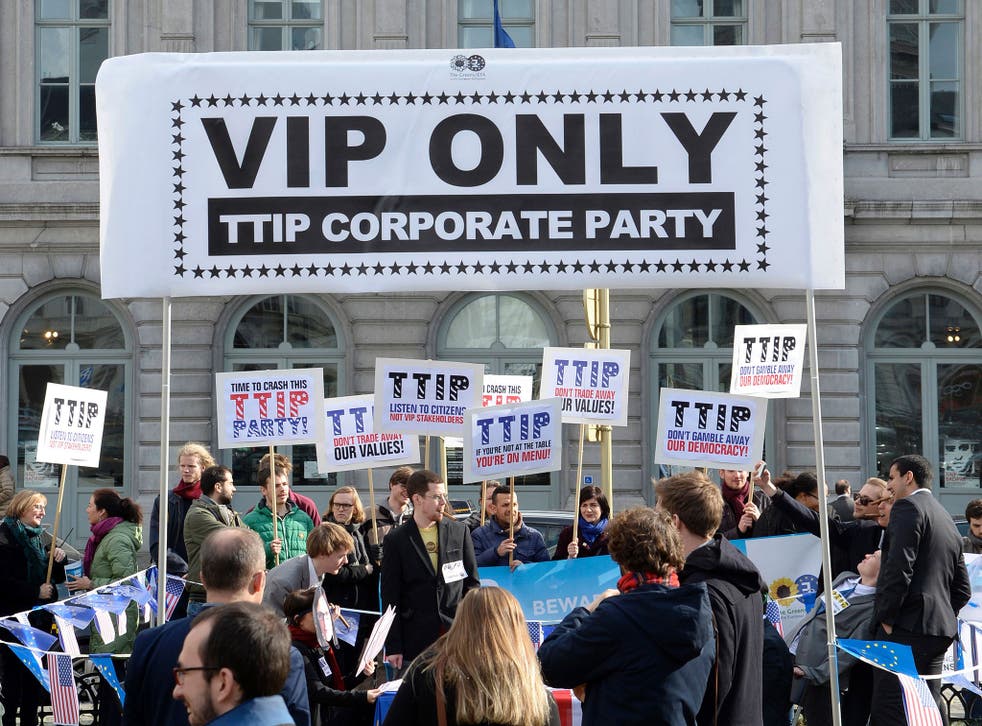 The European Commission is attempting to rebuild support for its controversial TTIP trade deal with America – amid concern countries across the continent are going cold on the plan.
President of the Commission Jean-Claude Junker travelled to Paris to speak to a convention of French mayors in a bid to firm up support ahead of an EU leaders' summit later this month.
Frustrated by hardening opposition from Germany's influential socialists and the French government, Mr Juncker has called for all 28 member states to reconfirm their commitment to the deal at that summit.
The commission argued that all countries must show they are "rowing in the same direction". Ironically the British Government is one of the biggest supporters of the deal – despite huge opposition at home.
The Commission now fears that unless political support for concluding the deal increases it will not be signed before Barack Obama leaves office – potentially leaving it dead in the water.
Donald Trump is opposed to the plan while Hillary Clinton, facing a challenge from the left, has abandoned her support for a similar Pacific trade pact.
Speaking in Stockholm on a European tour to push TTIP, Michael Froman, US President Barack Obama's trade tsar, warned there was no "Plan B" if talks were not concluded this year.
"We either work together to help set the rules of the world or we leave that role to others," he said.
Officials on both sides of the Atlantic now believe the window is closing for a deal to be reached and approved in legislatures in Europe and the US before the end of the year. EU officials say they want to agree a working text by July.
TTIP controversy: what an FOI request revealed

Show all 14
But that appears to be an uphill battle.
In France there is wide scale opposition to the deal due to fears it could harm farming sector and lessen protections for French wines, cheeses and meats.
François Hollande, the French president has said: "There can be no question of sacrificing our interests to get a deal. Geographical indications contribute to preserving agricultural quality in our country. They help keep our farming activity on our land."
In Germany, Sigmar Gabriel the economy minister, last week criticised Chancellor Angela Merkel in a newspaper interview over her enthusiasm to conclude TTIP this year.
"To put it mildly, there are a lot of mixed signals out of Europe in recent weeks and we are trying to sort through them," a senior US official told the Financial Times.
"We are hoping that the message out of Brussels at the end of June will provide clear evidence of a broad European commitment to TTIP."
Register for free to continue reading
Registration is a free and easy way to support our truly independent journalism
By registering, you will also enjoy limited access to Premium articles, exclusive newsletters, commenting, and virtual events with our leading journalists
Already have an account? sign in
Register for free to continue reading
Registration is a free and easy way to support our truly independent journalism
By registering, you will also enjoy limited access to Premium articles, exclusive newsletters, commenting, and virtual events with our leading journalists
Already have an account? sign in
Join our new commenting forum
Join thought-provoking conversations, follow other Independent readers and see their replies