Turkey coal mine explosion: Tear gas fired at protesters as unions stage nation-wide strike
Three days of mourning begin today for the victims of the Soma mine disaster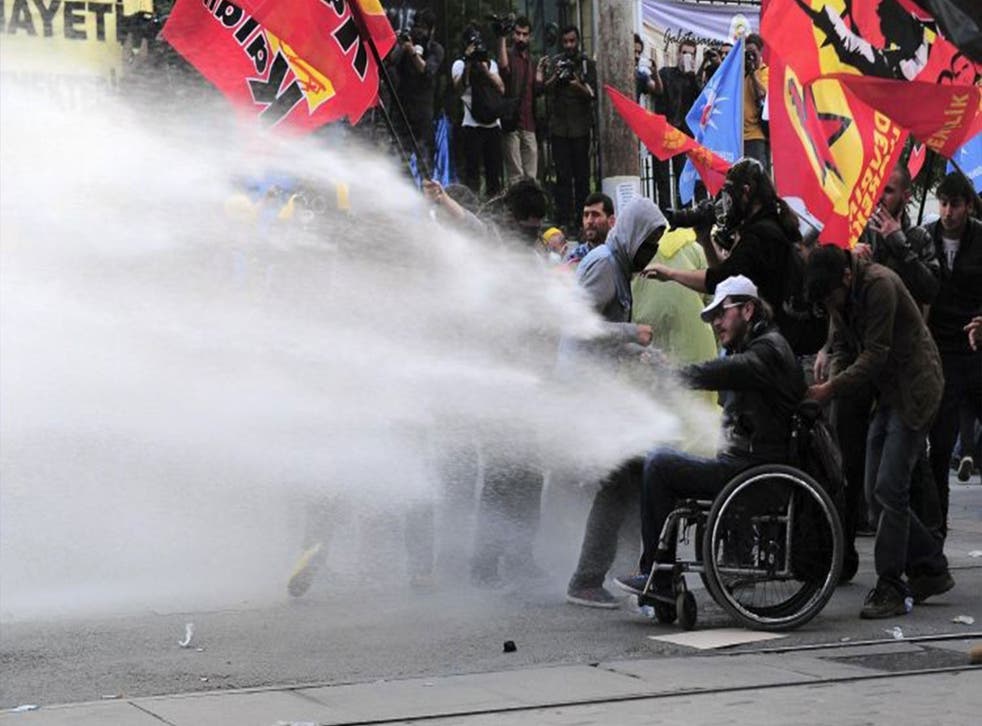 Anti-government protests have erupted across cities in Turkey as the death toll from an explosion in a coal mine swelled to at least 282, in the worst mining disaster in Turkish history.
Turkish police fired tear gas and water cannons at thousands of protesters in Istanbul as unions staged a one-day nationwide strike over what they say are poor safety standards since the formerly state-run facilities were leased to private companies.
Amid wails of grief and anger, rescue workers coated in grime trudged repeatedly out of the mine on Wednesday with stretchers of bodies as hopes faded for the 120 miners still trapped in the town of Soma.
Eight more bodies were recovered from the mine on Thursday. Energy minister Taner Yildiz told reporters that rescue efforts are now focusing on two areas inside the mine where a blaze is still raging and hindering the operation.
Three days of national mourning began today, while the head of the Confederation of Revolutionary Trade Unions called on citizens to wear black.
Anti-government protests broke out in Soma, as well as Istanbul and the capital, Ankara. Prime Minister Recep Tayyip Mr Erdogan was heckled as he visited the town and spoke during a news conference, where he defended Turkey's mining safety record by saying: "These are ordinary things. There is a thing in literature called `work accident'... It happens in other work places, too."
In pictures: Violent clashes in Turkey erupt after mine explosion kills over 280

Show all 20
Protesters shouted "murderer!" and "thief!" and Mr Erdogan was forced to seek refuge in a supermarket, surrounded by police. In Turkey's capital Ankara police fired water cannons and tear gas at 800 protesters marching to the Energy Ministers office and the town's ruling party offices were also attacked.
In Istanbul, hundreds of demonstrators gathered outside the headquarters of mine owner Soma Komur Isletmeleri A.S. Police used tear gas and water cannon to break up a group who tried to march to the city's iconic Taksim Square to denounce poor safety conditions.
Rescue operations were brought to a halt for several hours on Thursday morning to allow high concentrations of gas underground to be cleared. Officials said 363 miners had been evacuated, but no survivors have been brought out since Wednesday morning. There were 787 people inside the mine at the time of the explosion, approximately four miles from the entrance and two miles underground.
Tensions were high as hundreds of relatives and miners jostled outside the entrance Wednesday, waiting for news amid a heavy police presence. Rows of women wailed uncontrollably and men knelt sobbing or simply stared in disbelief as rescue workers removed body after body, some charred beyond recognition.
Fences were erected and police stood guard outside Soma's hospital, where scores of the injured were being treated. Some residents said the men were being pressured by the mining company not to talk about the blast.
The death toll has topped a 1992 gas explosion that killed 263 workers near Turkey's Black Sea port of Zonguldak. It also left 150 miners still unaccounted for.
Register for free to continue reading
Registration is a free and easy way to support our truly independent journalism
By registering, you will also enjoy limited access to Premium articles, exclusive newsletters, commenting, and virtual events with our leading journalists
Already have an account? sign in
Register for free to continue reading
Registration is a free and easy way to support our truly independent journalism
By registering, you will also enjoy limited access to Premium articles, exclusive newsletters, commenting, and virtual events with our leading journalists
Already have an account? sign in
Join our new commenting forum
Join thought-provoking conversations, follow other Independent readers and see their replies