Turkey coup: 58,000 sacked or suspended from jobs as President Erdogan continues purge
President says the aim of the crackdown is to 'cleanse all state institutions'
Harry Cockburn
Wednesday 20 July 2016 15:59 Comments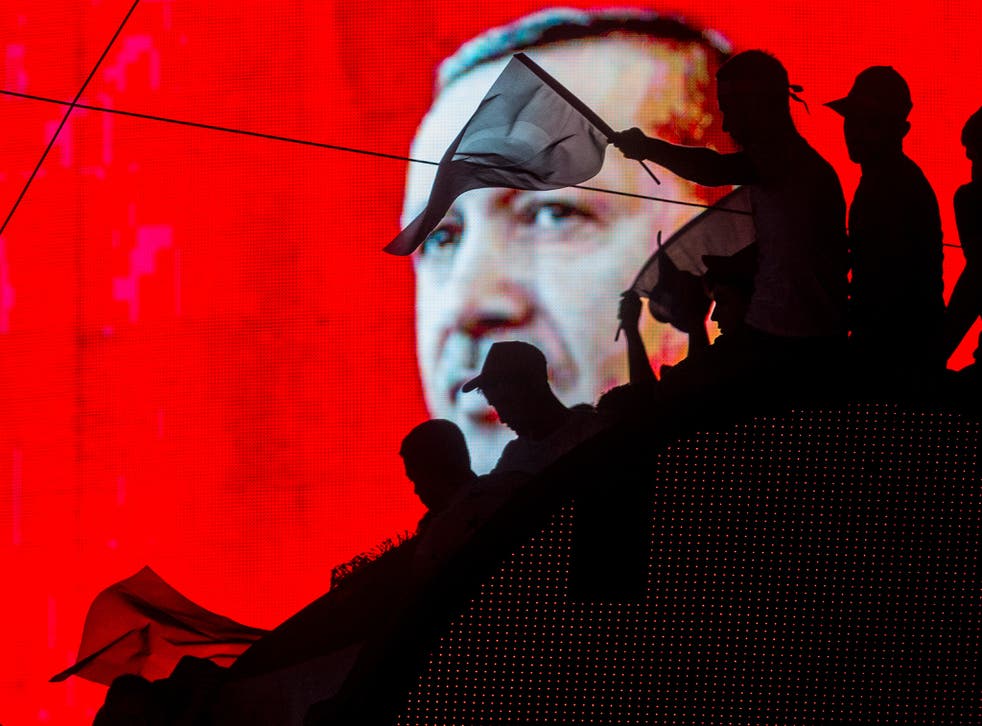 More than 58,000 soldiers, police, judges, teachers and government workers have been detained, suspended or placed under investigation since the recent failed military coup.
In the wake of the botched uprising, President Recep Tayyip Erdogan has swiftly moved to entrench his power, arresting, sacking and suspending swathes of Turkey's workforce.
The president said the aim of the crackdown is to "cleanse all state institutions" of those suspected of involvement with the coup or with what he calls "the parallel state" – a reference to the movement run by Mr Erdogan's former ally and current nemesis Fethullah Gülen. The Turkish government blames the coup on the Gülen movement which it says has infiltrated Turkey's military and civilian infrastructure.
Mr Gülen and his supporters have denied involvement in the coup.
On Tuesday the President refused to rule out the reintroduction of the death penalty for the "terrorists" who plotted the coup. No one has been executed in Turkey since 1984, and the penalty was officially abolished in 2004. But the president has signalled he may be willing to backtrack amid the crackdown on those who launched the coup.
"Why should I keep them and feed them in prisons, for years to come? That's what the people say," Mr Erdogan said.
Human rights organisation Amnesty international has warned that bringing back the death penalty is "not justice".
In a statement the organisation said: "The sheer number of arrests and suspensions since Friday is alarming and we are monitoring the situation very closely.
"The coup attempt unleashed appalling violence and those responsible for unlawful killings and other human rights abuses must be brought to justice, but cracking down on dissent and threatening to bring back the death penalty are not justice."
But the President's spokesman, Ibrahim Kalin, said all the arrests had been legal. He said: "There's nothing exceptional or surprising that several thousand people would be arrested," the Guardian reports.
In pictures: Turkey coup attempt

Show all 17
Various senior military figures have been arrested, including the President's chief military aide Ali Yazici, and the Second Army commander, General Adem Hudati.
According to the BBC, current estimates for those who have been detained, suspended or thrown out of their jobs include:
7,500 soldiers detained
More than 100 generals and admirals detained
8,000 police suspended, including 1,000 arrested
3,000 members of the judiciary suspended including 1,481 judges and 262 military judges and prosecutors
15,200 education ministry officials sacked
21,000 teachers in private institutions have reportedly had their licences revoked
1,577 university deans (faculty heads) forced to resign
1,500 finance ministry staff sacked
492 clerics, preachers and religious teachers sacked
393 social policy ministry staff sacked
157 prime minister's office staff sacked
100 intelligence officials suspended
Register for free to continue reading
Registration is a free and easy way to support our truly independent journalism
By registering, you will also enjoy limited access to Premium articles, exclusive newsletters, commenting, and virtual events with our leading journalists
Already have an account? sign in
Join our new commenting forum
Join thought-provoking conversations, follow other Independent readers and see their replies