Erdogan celebrates ever-stronger grip on power as Turkey marks anniversary of failed coup
As the government holds rallies and parades, members of the Turkish public are apprehensive at the way the ruling party has used the attempted uprising to crack down on opposition figures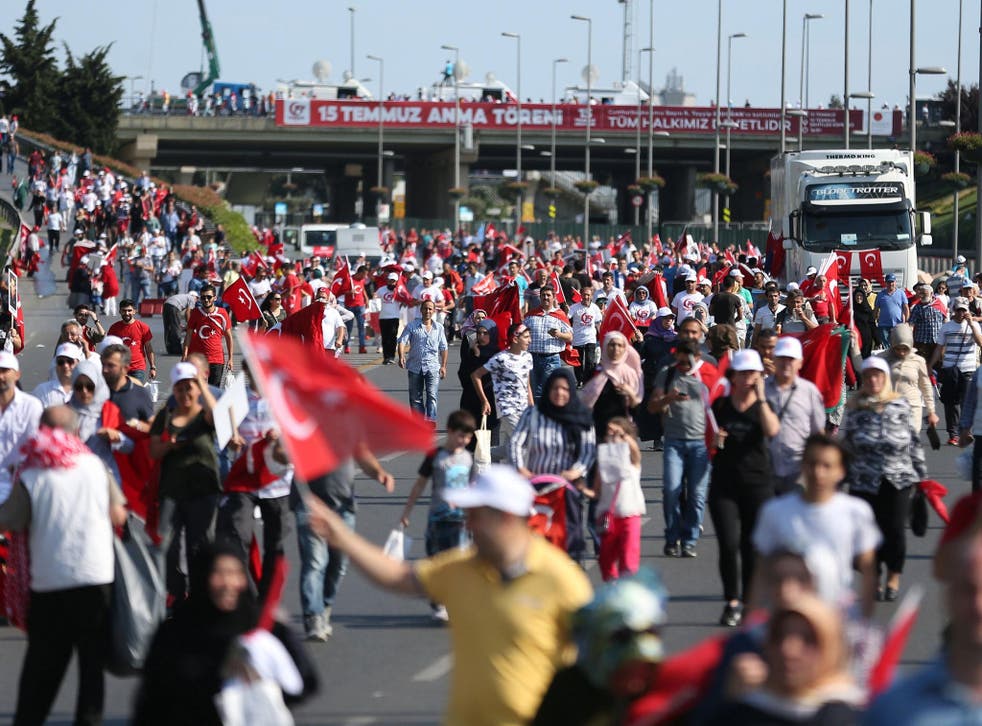 Commemoration of the failed coup of last summer has started in Turkey with unveiling of memorials, rallies and marches, sermons in mosques and a special session of parliament scheduled for the early hours of the morning, the time when it was hit by an air strike in what became the symbol of a shocking assault on democracy.
There are celebrations of the victory over the plotters, accused of being followers of the exiled cleric Fethullah Gulen, and mourning for the 249 who died and 2,200 wounded in an extraordinary night of violence and passion in which unarmed protesters took to the streets against the aircraft, tanks and helicopter gunships of the mutinous troops.
But what happened on 15 July last year, and its aftermath, has left a nation divided and traumatised. More than 50,000 are in prison, 150,000 have lost their jobs, others have fled to exile abroad. It has also left, among President Recep Tayyip Erdogan and his followers, a sense of anger and resentment against enemies, real and perceived, home and abroad.
Mr Erdogan, who has amassed huge power after a referendum earlier this year, bestrides the political topography of this nation. The President has been constantly in the media as the anniversary approached; his ministers and civil servants have lauded him in countless speeches; his face stares down from hundreds of posters on walls. The focal point of the commemoration would be a speech to parliament by the President at 2.32am tomorrow morning – the precise hour and minute when bombs began to fall on the building.
The President will also unveil a large monument dedicated to "martyrs" opposite his palace in Ankara and another near Istanbul's former Bosphorus Bridge, which has been renamed the "July 15 Martyrs Bridge" to honour those who died resisting the coup.
The enemies of Mr Erdogan and his supporters range from the "Fethullah Terrorist Organisation"; the PKK, with a full-blown military conflict now under way against Kurdish separatists; and Isis, which has carried out a series of murderous attacks in Ankara and Istanbul among other places.
But opposition politicians, lawyers and journalists, members of the armed forces and the police are also on the enemies list. On Friday, the government announced it had sacked another 7,000 police, civil servants and academics for suspected links to Mr Gulen. Earlier in the week 14 more army officers were arrested and warrants were issued for 51 people, including 34 former members of the state broadcaster, TRT. Among others detained were Ali Avci, a film producer whose works have included a documentary about President Erdogan and one on the failed coup.
Dissent had been muted following waves of arrests. But hundreds of thousands gathered at a protest rally in Istanbul last Sunday. Kemal Kilicdaroglu, the leader of the opposition Republican People's Party, who had headed a "march for justice" to the city from Ankara declared it was a "rebirth for us, for our country and our children".
President Erdogan was scathing in his response. He accused the CHP and its followers of being "terrorist lovers". The protesters, he charged, "launched a march for terrorists and their supporters. This is something they never thought about doing against terrorist groups. They can convince no one that their aim is justice….They walked 450 kilometres in this march of theirs: did they spend four and half minutes of that time thinking about those killed by terrorists?"
The CHP protest that the ruling AKP party is spreading smears trying to exclude the opposition from the anniversary. Deputy leader Bulent Tezcan stated: " They have organised a special programme in parliament. The AKP leader, his deputy, the MHP, a nationalist party, and the speaker will give speeches, but the leaders of other parties will not. No one has the right to divide parliament, to make arbitrary choices in parliament by deciding on who gets to speak."
Western governments and human rights groups have repeatedly criticised the purge which has taken place following the coup as well as the conduct of the referendum voting. Mr Erdogan and his supporters charge that the attacks are motivated by hypocrisy and racism. Despite extradition requests to the US, Mr Gulen continues to live in Pennsylvania: Gulenists are given refuge in Europe, they complain.
"These allegations of torture and mistreatment you see in the West are lies. Prisoners who are supposed to be dying from terminal illnesses turn up in court looking healthy and even fat," said Mr Erdogan. "We allow out prisoners dignity. You see prisoners in US and Europe and they are taken to court in prison uniform. Here they wear their own clothes, they turn up in suits. When we ask for evidence of mistreatment, they cannot provide it, what does that show? Turkey has always been willing to take into account constructive criticism. But we will not refrain from speaking up in the face of slander and injustice."
Mr Erdogan and his supporters have spoken of "foreign hands" behind the coup plot. Western governments, they charge, had been slow in condemning the coup against a democratically elected government, waiting to see which side won.
"We saw that the self-proclaimed advocates of democracy and those who like to talk about human rights and the rule of law at every opportunity kept their silence in the face of the coup plotters. It was no coincidence that statements condemning the coup attempt came long after the struggle between our nation and the coup plotters had failed," maintained Mr Erdogan.
In pictures: Turkey coup attempt

Show all 17
"What they did not realise was that we as a country are totally united, people believe in what we are doing and support all actions necessary to ensure safety of our citizens and safeguard the future of our democracy."
Mr Erdogan does, undoubtedly, have the support among large swathes of the population. Pembe Abdelhamid was preparing with her family to go on a march to parliament for the President's speech. "He saved our country, there can be no doubt about that. The Gulen people may have won if something happened to him that night. But Allah protected the President and the President protected us. We are going to have a rally for the martyrs and veterans [protesters] of 15 July and then it is fitting that the President speaks. The government needs to guide the country," she wanted to stress.
That guidance, for 52-year-old Mrs Abdelhamid would include social measures and "more respect" for Turkey's Muslim roots. She was not allowed to wear her headscarf as a civil servant under laws which were changed by the AKP government. "Rights like those have been taken away from us and should be restored," she said. "Governments in the past had tried to make us something we are not. But we are Turkish and should keep our traditions. But it is not just about that, We need strong laws to be safe against danger, against terrorism. People in Europe are suffering from terrorism, why don't they understand this?"
But others are gravely concerned. For Doruk Kundakci, a 33-year-old graphic designer, the coup has been used to bring in oppressive measures. "I was protesting that night like so many others. We thought it was the military taking over again and we have had enough of military regimes from the past. But this coup has now been hijacked by Erdogan and the AKP to put people in prison, drive them out of their jobs. They are using the law against not just Gulenists but everyone. And, don't forget, Gulen and the AKP were allies before they fell out," he said.
"I have got friends who have been arrested who have nothing to do with Gulen or PKK or anything: no one knows who may fall under suspicion, people are very careful what they say. This anniversary should have been used as a symbol of defeating fear, the fear brought by the coup. But, instead, fear has been brought back in another form into our lives, and some want to celebrate that, which is a shame for our country."
Register for free to continue reading
Registration is a free and easy way to support our truly independent journalism
By registering, you will also enjoy limited access to Premium articles, exclusive newsletters, commenting, and virtual events with our leading journalists
Already have an account? sign in
Register for free to continue reading
Registration is a free and easy way to support our truly independent journalism
By registering, you will also enjoy limited access to Premium articles, exclusive newsletters, commenting, and virtual events with our leading journalists
Already have an account? sign in
Join our new commenting forum
Join thought-provoking conversations, follow other Independent readers and see their replies