Turkey coup: Soldiers say they were 'not aware they were part of coup attempt'
They said commanders told them they were taking part in military manoeuvres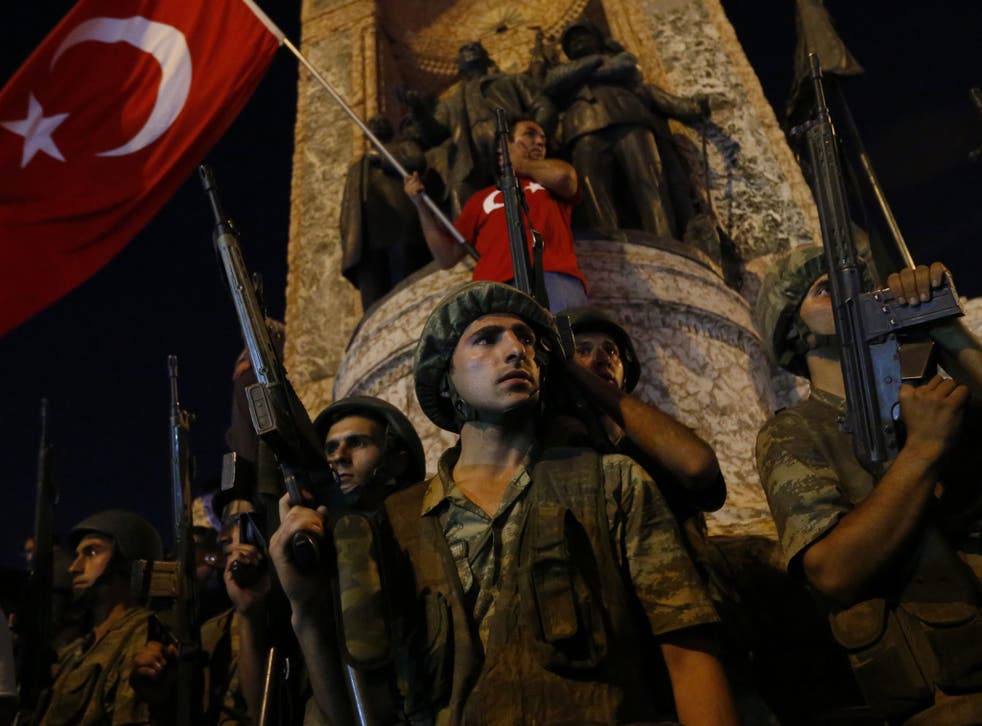 Some of the soldiers who were detained at a military headquarters in Turkey have reportedly told interrogators they were not aware they were part of a coup attempt.
They had been told by commanders they were taking part in military manoeuvres, the Turkish Hurriyet newspaper has reported.
Some soldiers said they understood they were part of a coup when they saw civilians climb on tanks.
In pictures: Turkey coup attempt

Show all 17
NTV television has shown footage of a Turkish colonel and other soldiers being taken into custody at military headquarters.
The video shows them being hand-searched by special forces police, their hands behind their heads.
Some are later seen kneeling on the ground, their hands still held behind their heads.
Turkey's president has told the nation that his government is in charge after a coup attempt brought a night of explosions, air battles and gunfire that left dozens dead.
At least 161 people were killed in the country's overnight military coup attempt, it has been announced, while more than 1,400 people were wounded in the chaos.
More than 2,800 people have been detained.
Most of those arrested were from lower military ranks, an official said.
Turkey's state-run Anadolu Agency said all soldiers involved in the attempted coup at the military headquarters in the capital, Ankara, have been taken into custody.
The report said anti-terrorism police will now conduct a "detailed search" at the headquarters.
President Recep Tayyip Erdogan warned coup supporters that "they will pay a heavy price for their treason to Turkey", according to a transcript of his remarks provided by his office.
"Those who stain the military's reputation must leave. The process has started today, and it will continue just as we fight other terrorist groups."
Additional reporting by AP
Register for free to continue reading
Registration is a free and easy way to support our truly independent journalism
By registering, you will also enjoy limited access to Premium articles, exclusive newsletters, commenting, and virtual events with our leading journalists
Already have an account? sign in
Register for free to continue reading
Registration is a free and easy way to support our truly independent journalism
By registering, you will also enjoy limited access to Premium articles, exclusive newsletters, commenting, and virtual events with our leading journalists
Already have an account? sign in
Join our new commenting forum
Join thought-provoking conversations, follow other Independent readers and see their replies