Why is Turkey only having its first lockdown now?
Measures will be in place until 17 May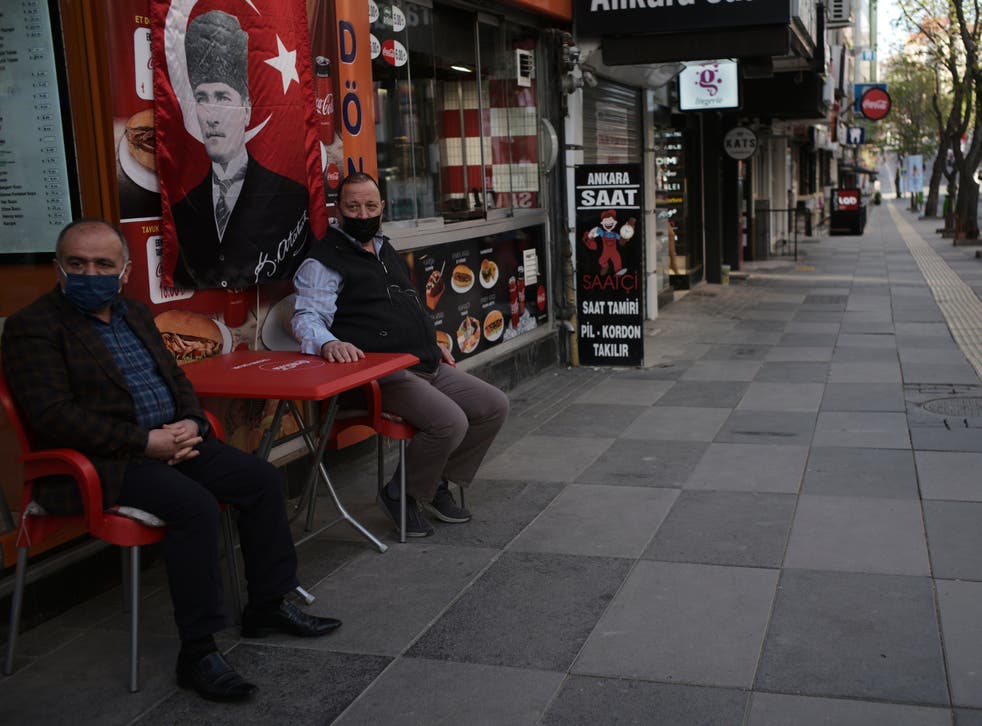 Facing Europe's highest infection levels, Turkey will enter a lockdown on Thursday that will see schools and businesses shut for nearly three weeks.
Announced on Monday, the new restrictions will limit travel and instruct people to stay at home until 17 May.
The new measures are the most stringent the country – which has so far avoided entering a full lockdown – has seen.
Why is it Turkey's first lockdown?
Turkey's government has so far avoided imposing full lockdowns because of the hit the country's economy would take.
Similarly to several European countries, Turkey's third wave has been its worst one, with new cases peaking at more than 60,000 a day in April.
Cases and deaths shot up after the government began a period of "controlled normalisation" in early March.
Although daily case numbers have since dropped, the country of 82 million is still recording some of the highest infection levels in the world and Europe's worst.
Announcing the lockdown on Monday, President Tayyip Erdogan said daily infections have to be reduced to under 5,000 to avoid "heavy costs" to its economy as most of Europe begins to unlock.
"At a time when Europe is entering a phase of reopening, we need to rapidly cut our case numbers to below 5,000 not to be left behind. Otherwise we will inevitably face heavy costs in every area, from tourism to trade and education," Mr Erdogan said on Monday.
The restrictions will be implemented "in the strictest manner to ensure they yield the results we seek", he said.
What are the measures?
Compared with previous restrictions the country has seen over the course of the pandemic, the lockdown will have a significant impact on daily life.
All schools will be closed for face-to-face teaching, with lessons moving online, and Turks will have to stay at homes other than for essential shopping trips and seeking medical help.
In an unprecedented move that has seen drinkers rush to liquor stores, alcohol sales have also been halted for the 17-day lockdown that coincides with the final stretch of Ramadan.
Strict measures will be imposed on transport too. Intercity travel will require official approval, while public transport will enforce capacity limits.
How far along is its vaccine rollout?
More than 22 million of Turkey's 82 million people have so far been vaccinated.
Turkey's rollout has mainly relied on the Chinese Sinovac vaccine, alongside lower numbers of the Pfizer-Biontech jab.
Following the success of a local initiative, the government is preparing to send out "vaccination persuasion" teams nationally to speak to older people who have turned down their invitation to get the shot.
The move has boosted uptake by about 30 per cent in a district in Turkey's south-east.
What about its tourism sector?
It is hoped that the strict and short lockdown will mean Turkey avoids a second summer of lost tourism revenue.
Foreign tourists will be exempt from the country's lockdown rules in Turkey, tourism minister Nuri Ersoy said on Tuesday.
"They freely tour with their passports, visit museum and archaeological sites. Being a tourist is advantageous in Turkey," Ersoy said in remarks reported by Turkey's state news agency.
As with many European countries which rely heavily on the revenue generated by their tourism industries, Turkey has also announced that travellers do not have to be fully vaccinated in order to visit the country.
Rather than present a "vaccine passport", Turkey is asking travellers to show a negative Covid PCR test result taken within 72 hours of travel. Greece, Spain and Portugal are among those adopting a similar policy in order to give their economies a much-needed boost over the summer months.
Alongside a more relaxed position on entry requirements, Turkey recently lifted its suspension on direct flights from the UK.
However, Turkey still requires arrivals from the UK to quarantine for at least 10 days – if they receive a negative PCR result on day 10 – rising to 14 days if they don't submit to a further test.
Join our new commenting forum
Join thought-provoking conversations, follow other Independent readers and see their replies