Turkey divided over headscarf ban decision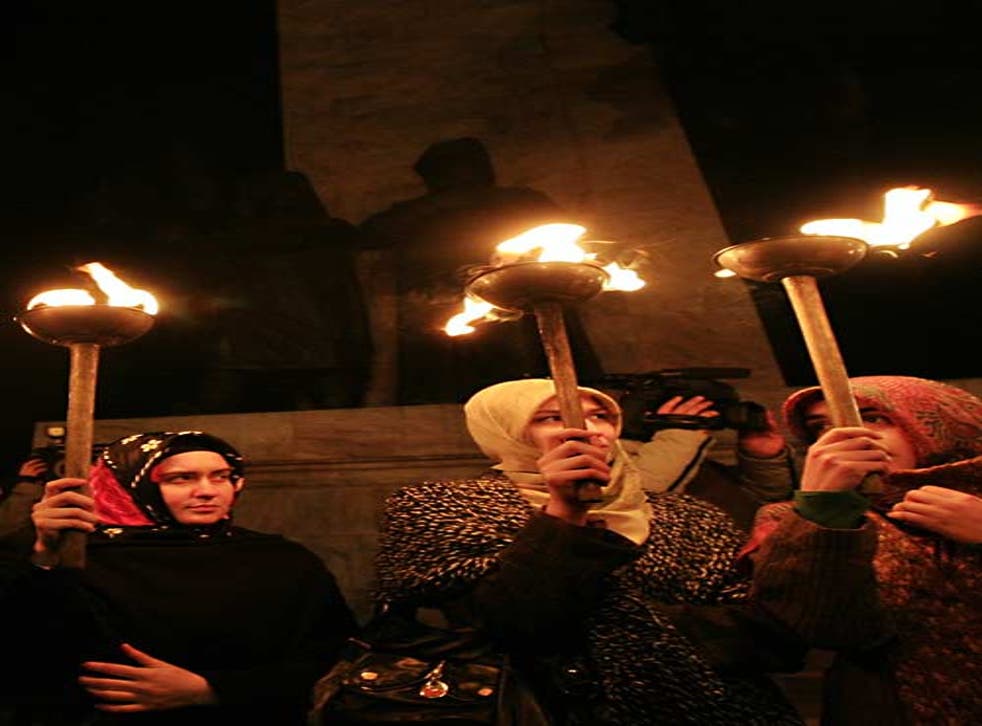 A small square of coloured material returns to the centre of Turkey's political stage this week as the government prepares to end the controversial headscarf ban.
The ruling Justice and Development Party (AKP), which has its roots in political Islam, has been under intense pressure from its conservative supporters to abolish the ban since it first came to power in 2002. And now it has struck a deal with a right-wing nationalist party over the issue.
The two parties meet in the capital Ankara today to fine-tune changes, and analysts expect the package to be put to a parliamentary vote this week. Together, they have enough votes to change the constitution.
In the past the move would have been vetoed by the President, but the man in the high office is now Abdullah Gul, the former AKP foreign minister, whose selection last year sparked snap elections and a simmering political crisis.
He appears certain to back the move. "Universities should not be places of political controversy," he said ahead of today's meeting. "Beliefs should be practiced freely." Polls suggest most Turks agree with him.
For a vocal minority, though, the headscarf is direct challenge to Western lifestyles, a symbol of ignorance and backwardness. When 500,000 secularists marched in Ankara and Istanbul in spring last year to protest against the government's plans to elect Mr Gul president, and the army issued coup threats on its web-site, it was in part because his wife covers her head.
The ban is based on a ruling made by the Constitutional Court in 1989 but has only been vigorously enforced during the clamp-down on political Islam that followed the 1997 military-led expulsion of an Islamist party from power. It is widely seen as unjust.
"All citizens should have equal rights," said Ayla Kerimoglu, the spokeswoman for Hazar, an Istanbul-based group that provides educational services to veiled women. "Instead, we're made to feel like strangers in our own country."
Perhaps the most controversial aspect of the ban is that it leaves considerable leeway for university rectors. While a few turn a blind eye to covered girls, some even ban students who try to sidestep the ban by putting wigs on when they arrive on campus. In 2005, a university in the north-eastern city of Erzurum sparked a furore when guards refused to allow headscarf-wearing mothers to attend their children's graduation ceremony.
But supporters of the ban remain adamant. The planned constitutional amendment is part of "a trend towards religious dictatorship", said Sabih Kanadoglu, a former supreme court chief prosecutor. The head of a secularist opposition party, Deniz Baykal, predicted "a major constitutional crisis".
The Prime Minister, Recep Tayyip Erdogan, has rejected claims that his party was seeking to erode secular traditions. "We have a society in which those who cover up and those who do not both defend the democratic and secular state," he said on Saturday.
Join our new commenting forum
Join thought-provoking conversations, follow other Independent readers and see their replies