'We are under siege': The voters pushing to end Erdogan's 20 years of power
In one Istanbul neighbourhood, Kurds explain to Borzou Daragahi why they are supporting Erdogan's main rival in the forthcoming presidential election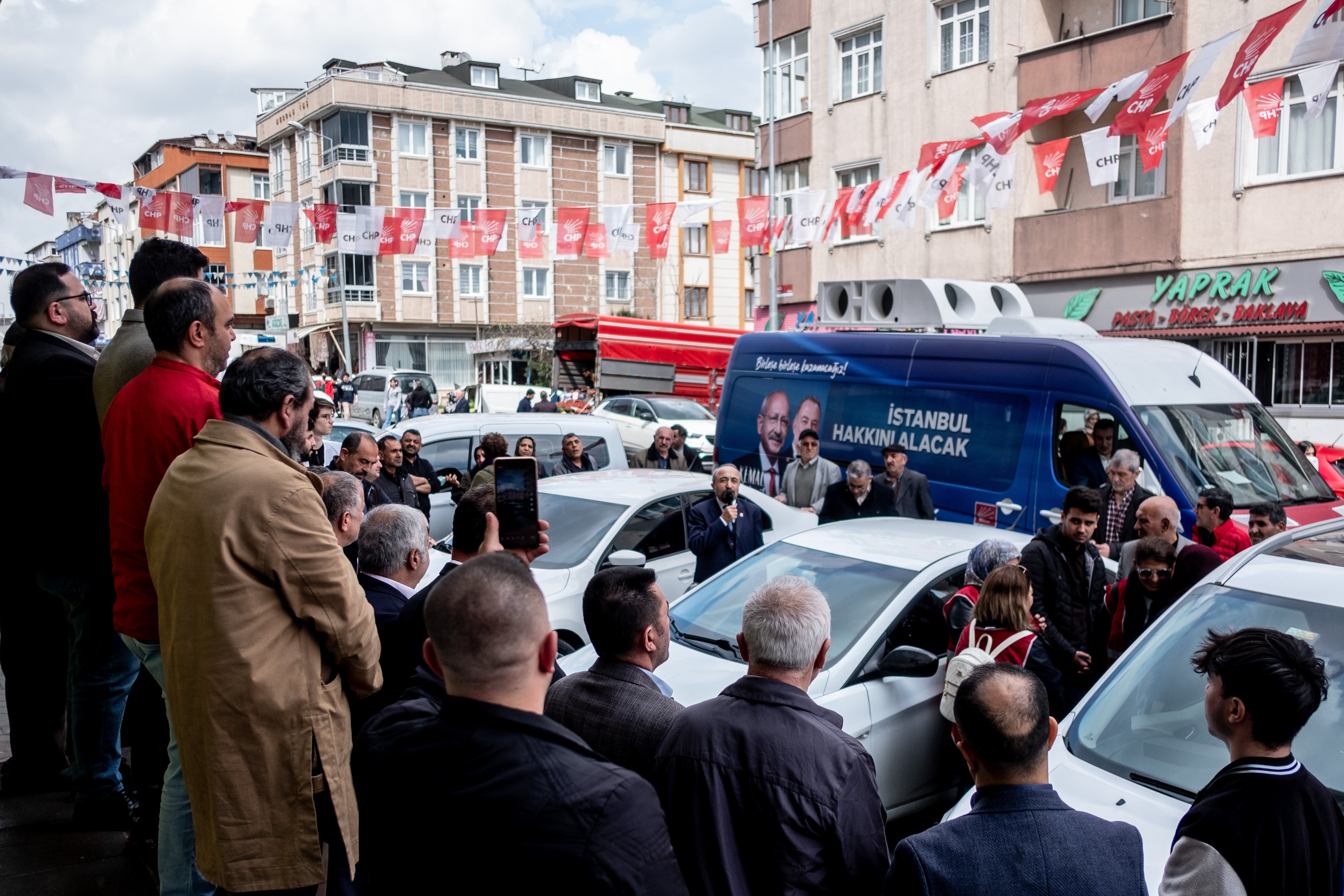 A crowd gathers in the commercial centre of Sultangazi, one of Istanbul's historically Kurdish neighbourhoods, where the Republican People's Party (CHP) is opening a new campaign office. It comes just ahead of presidential and parliamentary elections that are seen as crucial in deciding Turkey's future – with the party's leader, Kemal Kilicdaroglu, regarded as a real threat to the current president, Recep Tayyip Erdogan.
The location is important. The CHP was established a century ago by Turkey's secular founder, Mustafa Kemal Ataturk, with a strong tradition of nationalism that alienated much of the country's Kurdish minority. But Turkey's Kurds are in the middle of a historic political realignment. An overwhelming number of residents encountered in Sultangazi say they will vote for Kilicdaroglu, as they aim to end Erdogan's two-decade domination of the country's politics. Kilicdaroglu is backed by a six-party opposition alliance and has the explicit endorsement of Turkey's second-biggest opposition party, the pro-Kurdish HDP.
"People are excited and enthusiastic to vote because they have great expectations," says Zubeida Ince, a local leader of the HDP, which is campaigning this year under the banner of the Green-Left Party. This is thanks to a pending court case that, in a sign of the crackdown Erdogan has instigated in recent years, alleges links between the HDP and Kurdish militants. "Our voter base is very political, and they know how to operate on the ground," Ince says.
There is visible change afoot, and the shift is in large part attributable to Kilicdaroglu's efforts to reinvent the CHP as a party with a broader support base.
"CHP used to be non-votable for Kurds, but not any longer," says Sezgin Tanrikulu, a Kurdish member of the CHP who is now running for office as the top candidate in the southeastern city of Diyarbakir, the largest Kurdish-majority city in Turkey. "We did a lot of work over the last 10 years."
Erdogan continues to draw support from a significant, but arguably shrinking, core of pious Kurds who identify with his appeals to faith and tradition. But it is no mystery why many other Kurds, who make up perhaps a fifth of Turkey's population, have soured towards Erdogan.
Kurds have their own distinct language and culture, and have resisted decades of efforts – including those made by the CHP – to assimilate.
After courting the Kurdish vote for much of his political career, Erdogan, together with the Islamist-rooted Justice and Development Party (AKP) he co-founded, shifted course in 2015 and partnered with the ultra-nationalist Nationalist Movement Party (MHP) of Devlet Bahceli. It has an even worse history of animosity towards Kurdish aspirations than the CHP.
After the instigation of the AKP-MHP partnership, a sometimes violent crackdown ensued on Kurdish political parties and institutions. Scores of elected officials were removed from their posts. Anti-riot vehicles and water cannons were turned on protesters in neighbourhoods like Sultangazi. Cultural and educational organisations were shuttered. Selahattin Demirtas, the charismatic 50-year-old lawyer emerging as the leader of the country's Kurds and leftists, was jailed.
Late last month, authorities rounded up 150 people, including journalists and politicians, and charged them with being members of the outlawed Kurdistan Democratic Party (PKK), which Turkey, the US and the EU consider a terrorist organisation.
Kurdish neighbourhoods like Sultangazi – and rural districts heavily populated by Kurds – remain under intense surveillance. In cafes where old men play backgammon, many are afraid to speak about politics, worried that undercover plainclothes security officials may be scouring the area.
"People are scared to speak. We are under siege," says Ince, who has been in and out of prison for years. "You either have to shut up and submit or go to jail."
In recent years, the CHP has been courting Kurds and others by endorsing an inclusive centre-left message. In 2021, a leading CHP official travelled to northern Iraq and met with representatives of the Barzani clan, which leads Iraqi Kurds in the self-rule region that has emerged as an important commercial and strategic partner to Turkey.
Perhaps more importantly, under Kilicdaroglu, the party convinced its own long-time secular base that a partnership with Kurds was the way to defeat Erdogan. Demographic and cultural shifts helped. Hyphenated identities are more accepted in Turkey, as well as worldwide. Younger voters are less fixated on issues of ethnic identity than their parents and grandparents are, and open bigotry towards ethnic minorities is less tolerated.
"People today are not like the old people," says Vedat Demir, a 27-year-old Kurdish rapper and textile worker in Sultangazi. "I am very much a part of this country."
The first successful test of the partnership was in 2019, when Istanbul's secular old guard – known as White Turks – and Kurds allied in an effort to propel the CHP's Ekrem Imamoglu to victory over the candidate of the AKP.
Kurds, angry at Erdogan, put aside their long-time hostility to the CHP and voted in droves for Imamoglu. "We showed [Erdogan] in Istanbul that the people are bigger than one man," says Ince. " We decided to show him by voting for the CHP."
That Istanbul election was also a turning point for secular Turks, convincing them that Kurds could be a useful political partner, says Tanrikulu. "White Turks saw defeating Erdogan as the most important thing, and they see Kurds as the most important bulwark against the Islamists," he says.
Erdogan himself appears intimidated by the alliance of the Kurds and White Turks who have long opposed him, and has begun to lash out. In a speech on 1 May, Erdogan warned that Turks would refuse to hand power to a president supported by armed Kurdish separatists.
"My nation will not hand over power to them if they are elected president by the support they get from Qandil," he said, referring to the northern Iraqi mountains where PKK guerillas are headquartered.
Kilicdaroglu's identity as a member of Turkey's religious Alevi minority, from a historically ethnic Kurdish region of the country's east, may also endear him to some Kurds, while it could turn off some pious Sunni Kurds.
But all the questions about ethnicity and faith, cultural values and political orientation that have characterised Turkish history over the last century may be moot in the forthcoming election. Among Turkish and Kurdish voters, dissatisfaction with the economy is running at an all-time high. Turkey is undergoing its worst economic crisis in decades, and many blame Erdogan.
In Sultangazi, voters say they are unable to make ends meet. Prices for food and rent have rocketed across the country. One voter says she cannot remember the last time she was able to purchase meat.
"We can't buy anything; we can't afford anything," says a 70-year-old retiree, who does not want to give his name. He is living on a monthly pension equivalent to £225. Meanwhile, rents have risen to more than £400 for a basic flat. "People can't afford even going out to a cafe because they can't afford tea."
With the economic crisis has come a flood of social problems, such as broken homes and criminality – including drugs and gangs.
Tekin Tan, a 55-year-old operator of a tobacco and liquor shop, says he was shocked when a boy who looked no more than 10 years old walked into his shop and asked to purchase cigarette papers. He was shocked, but he believes it as a by-product of a society going backwards, pulled down by a terrible economy and a lack of action from those in power.
"There is no justice. There is so much corruption," he says. "We want change."
Join our commenting forum
Join thought-provoking conversations, follow other Independent readers and see their replies