Turkey elections: Voters hopeful for change on pivotal polling day for country's future
Early estimates suggest high voter turn-out for election that could see rare success for opposition parties to President Recep Tayyip Erdogan's ruling AKP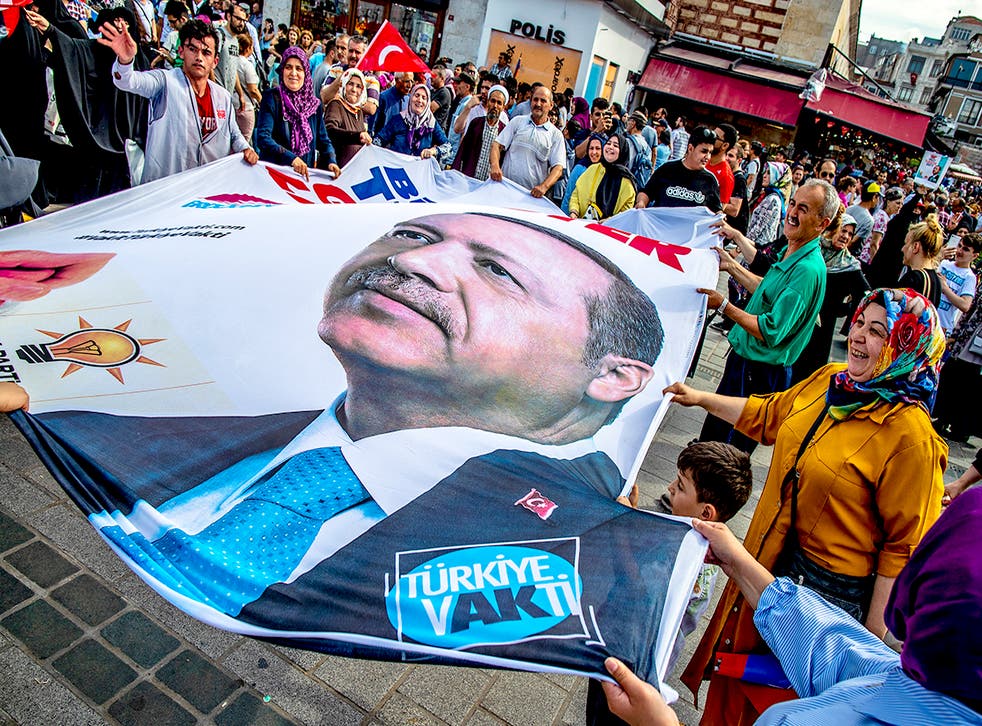 The lines to the polling stations started forming early and continued to grow. Some came with their families, carrying babies and pushing elderly relations in wheelchairs. There were women in designer dresses, others in headscarves; young men in World Cup football shirts, and some elderly gentlemen with traditional fez hats on their heads. All had turned up to vote in one of the most pivotal elections in Turkey's modern history.
"We are voting for our children's future; that is the reason we voted the way we did, we thought hard about it and I think we made the right decision", said Nejat Bayan as he and his wife Pinar deposited their ballot papers. "There are a lot of things wrong right now, and strong action is needed, so these elections are crucial and we need the right result."
After supporting Recep Tayyip Erdogan and his ruling Justice and Development Party (AKP) all their adult lives, Mr Bayan and his wife were joining their daughter Buse in voting for the opposition Republican People's Party (CHP) and its candidate Muharrem Ince in the parliamentary and presidential elections. And they were doing so in one of the staunch AKP loyalist centres in Istanbul, at a polling station, Piyale Pasha Elementary School, where a young Recep was once a pupil.
Three out of ten people at that polling place and one nearby stated that they had switched their votes from the AKP to other parties. One of them was 62-year-old Hasamettin Adnan, a retired shopkeeper who had been among those hard-hit by the rapidly worsening economy. "It is awful, really awful" he said. "My pension is 1,000 Liras a month (£160), and my rent is 1,000 Liras a month now. So it is a big struggle, what am I suppose to do, steal? Start begging?" He had moved from AKP to the Peoples' Democratic Party (HDP) which has a predominantly Kurdish base. "One man has been in power for too long, he has also changed the system [the constitution], it is time to change the government" he held.
Whether the move away from the president and his party is a reflection of a wider trend remained to be seen. However, doubts have grown every day since Mr Erdogan called a snap election 17 months early, about whether he would win, with an opposition which has been galvanised and have shown surprising unity, co-ordinating tactics and directing their members to vote strategically.
Mr Erdogan's opponents claim that they may win the majority in parliament pushing back the AKP-led ruling coalition, and force him into a second round run-off in the presidential vote where Mr Ince is likely to be his opponent. State media later reported that with a fifth of votes counted in the presidential election Mr Erdogan was in the lead.
World news in pictures

Show all 50
Victory would give Mr Erdogan more power than any of his predecessors after a narrow referendum win last year. That result, mired in accusations of fraud, concentrated authority in the office of the president at the expense of parliament and the judiciary. The opposition want to review these constitutional changes which they claim will create an autocracy.
Casting his own vote in Istanbul, Mr Erdogan maintained that the country was experiencing a "democratic revolution". While a group of supporters in the street chanted his name, he said: "With the Presidential system, Turkey has set the bar high concerning efforts to reach beyond the level of contemporary civilisation."
Early estimates for voter turn-out were standing at as high as 85 per cent of the electorate in many areas. More than 56 million eligible voters can make their choices in around 180,000 ballot boxes around the country. But it is what happens to these ballot boxes which have raised concerns about rigging of the results.
"There are worried that there will be manipulation, the count would not be fair, the result will not reflect how well the opposition does" Sezgin Sari, a 29 year old translator of text books wanted to stress. "People are trying to prevent this, we have observers from different parties, the ballot boxes will be tracked: let's hope all this works."
Within a few hours of the polls opening, reports were coming of alleged fraud by Mr Erdogan's supporters. A video was posted showing a ballot box being opened in Suruc district near the Syrian border, and disturbances temporarily stopping voting in the area, where police also found four bags of stamped ballot paper in a car.
Meral Aksener, the presidential candidate for the nationalist Good Party (İYİ) said: "We are urging the incident on Suruc very closely. I urge state officials to save the honour of the state." Mr Ince declared, "We need 36 hours of mobilisation to ensure that there is no electoral fraud."
Foreign observers are in Turkey to monitor the election. Both President Erdogan and the Prime Minister, Binali Yildirim, had criticised teams from the West, including from the Organisation for Security Cooperation in Europe (OSCE) with Mr Yildirim claiming they "behave like spokespeople of radical political structures. We think this means interference in elections one way or another."
The president and his supporters have avoided criticism, so far, from the monitoring team from the Shanghai Co-operation Organisation Secretariat, which has Russia, China and India as members. The officials were inspecting polling stations in Istanbul and Ankara. Krishna Kengappa, one of the officials in Istanbul said a report would be produced on their conclusions on Monday.
Some voters, while acknowledging the risk of fraud, were focusing on strategic voting. Ozlem Dinles, an artist, is backing HDP in the parliamentary poll, but will support Mr Ince of the CHP if there is a second round in the presidential vote. "The aim is to get change, move Erdogan so we must find a way to that through voting. I have become more and more optimistic that this is possible" she said.
The optimism was also prevalent at a polling station in Nisahantasi, a middle class enclave and a firm CHP base. A businessman in the tourism field said, "When Erdogan called the election I thought it will all be over very quickly, with the first round. But the opposition has learned to work together and we believe a second round will take place and Erdogan will go." His partner, a food writer, added, "Yes, this really is happening, we can see the opposition gaining support and Erdogan's support slipping". Neither wanted to give their names however, there is fear of retribution if the optimism does not turn into reality.
For Bahri, a taxi driver, the removal of Mr Erdogan was wistful thinking by his enemies. "He is going to win, I know that is going to happen. Seven out of ten people who use my taxi say they will vote for him and I will as well," he declared. "Europe had been stifling us, and now we are stifling them, and for that we need Erdogan." It was nothing personal against Europe, Bahri wanted to add, "After all, I myself have just got an Oxford diploma in taxi driving."
Register for free to continue reading
Registration is a free and easy way to support our truly independent journalism
By registering, you will also enjoy limited access to Premium articles, exclusive newsletters, commenting, and virtual events with our leading journalists
Already have an account? sign in
Register for free to continue reading
Registration is a free and easy way to support our truly independent journalism
By registering, you will also enjoy limited access to Premium articles, exclusive newsletters, commenting, and virtual events with our leading journalists
Already have an account? sign in
Join our new commenting forum
Join thought-provoking conversations, follow other Independent readers and see their replies