Turkey's Erdogan threatens to cut ties with US over jailing of banker
Ankara accuses America of meddling in its internal affairs after conviction of banker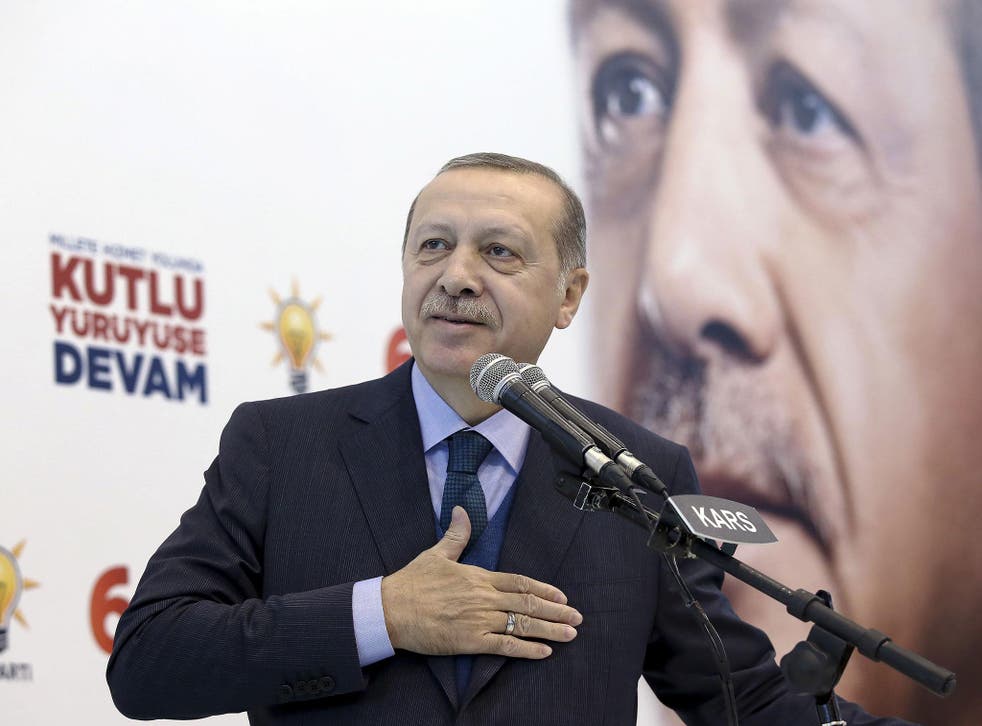 Turkey's President Recep Tayyip Erdogan has threatened to cut bilateral agreements between his country and the US after denouncing America's justice system.
A US court convicted a Turkish banker on Wednesday following a trial that included testimony of corruption by top Turkish officials.
In his first public comments on the verdict, Mr Erdogan cast the case as a US plot to undermine the government and economy of Turkey - a key Nato ally.
"If this is the US understanding of justice, then the world is doomed," Mr Erdogan told a news conference before his departure to France for an official visit.
He continued: "The bilateral accords between us are losing their validity. I am saddened to say this, but this is how it will be from now on."
The trial saw a jury convict Mehmet Hakan Atilla, an executive at Turkey's majority state-owned Halkbank, of evading Iran sanctions.
Some of the court testimony implicated senior Turkish officials, including Mr Erdogan. Ankara said the case was based on fabricated evidence.
President Erdogan watches on as staff beat up protestors in Washington
Turkey's foreign ministry on Thursday condemned the conviction as unprecedented meddling in its internal affairs. The row has unnerved investors and weighed on the Turkish lira, which hit a series of record lows last year.
The court case has put pressure on relations between Washington and the biggest Muslim country in Nato, which were already strained after a failed 2016 coup in Turkey, which Mr Erdogan blames on followers of a cleric who lives in the US.
Only last week the US and Turkey lifted all visa restrictions against each other, ending a months-long visa dispute that began when Washington suspended visa services at its Turkish missions after two local employees of the US consulate were detained on suspicion of links to the coup.
Turkey protests: Erdoğan is Turkey's Mrs Thatcher - and he's not for turning either

Show all 3
Atilla was convicted on five of six counts, including bank fraud and conspiracy to violate US sanctions law. The case was based on the testimony of a wealthy Turkish-Iranian gold trader, Reza Zarrab, who cooperated with prosecutors and pleaded guilty to charges of leading a scheme to evade US sanctions against Iran.
In his testimony Zarrab implicated top Turkish politicians, including the President. Zarrab said Mr Erdogan, then prime minister, had personally authorised two Turkish banks to join the scheme.
Turkey accused US court officials of ties to Fethullah Gulen, the cleric Turkey blames for the coup attempt. The bank has denied any wrongdoing and said its transactions were in line with local and international regulations.
"The United States is carrying out ... a chain of plots, and these are not just legal but also economic plots," Mr Erdogan said.
Additional reporting by Reuters
Register for free to continue reading
Registration is a free and easy way to support our truly independent journalism
By registering, you will also enjoy limited access to Premium articles, exclusive newsletters, commenting, and virtual events with our leading journalists
Already have an account? sign in
Register for free to continue reading
Registration is a free and easy way to support our truly independent journalism
By registering, you will also enjoy limited access to Premium articles, exclusive newsletters, commenting, and virtual events with our leading journalists
Already have an account? sign in
Join our new commenting forum
Join thought-provoking conversations, follow other Independent readers and see their replies