Turkey 'fires 1,700 military officers and closes dozens of media groups' after attempted coup
Generals and admirals include those dismissed from the military and 45 newspapers, 16 television stations and 23 radio stations have been ordered to close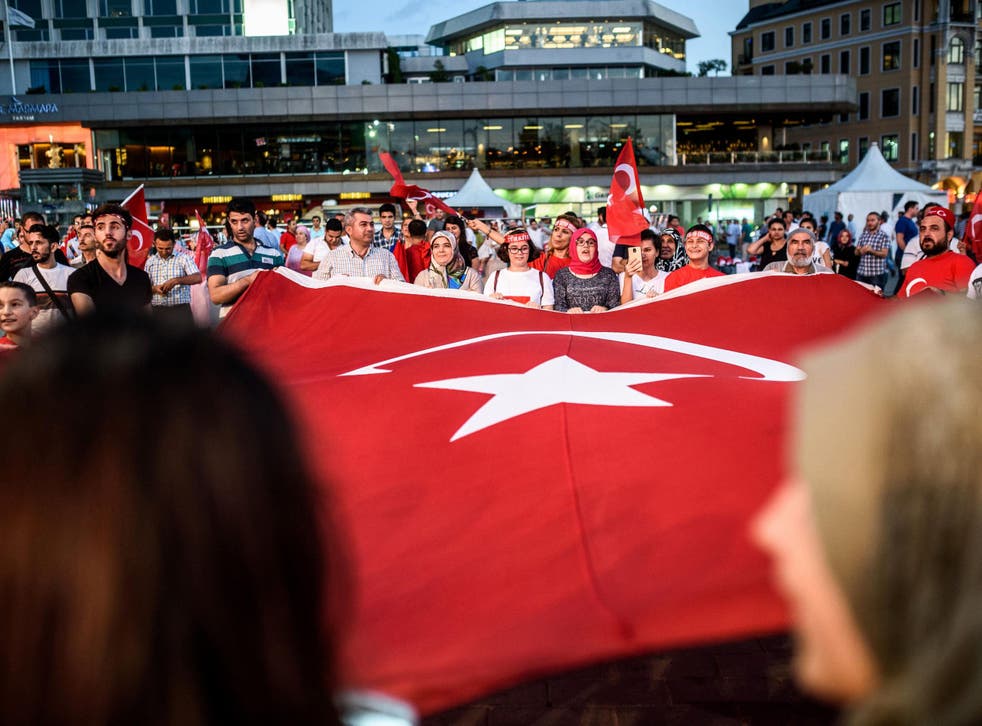 At least 1,700 officers have been formally discharged from Turkey's military and dozens of media organisations have been closed down after the recent failed coup.
Those discharged on Wednesday included 1,099 officers and 436 junior officers, the state-run Anadolu news agency reports. In addition, 87 land army generals, 30 air force generals and 32 admirals have also been dismissed over their alleged links to the attempted coup.
The discharge of generals, many of whom are under arrest, comes ahead of a meeting of Turkey's Supreme Military Council, which is expected to agree to drastic changes in the country's armed forces.
Meanwhile, 45 newspapers, 16 television stations, 23 radio stations, three news agencies and 15 magazines have been ordered to close by the Turkish government, according to a decision printed in the Official Gazette.
The media outlets to be shutdown were not named, however a list obtained by the CNN-Turk included mainly regional titles and also some national media, AFP reports.
These include the Cihan news agency, the pro-Kurdish IMC TV and the opposition daily newspaper Taraf. The Zaman newspaper and Today's Zaman English language paper are also to be closed. Like Cihan, the papers were part of a holding linked to Fethullah Gulen until being put into state administration earlier this year.
Authorities have sacked, suspended or detained some 60,000 people, mainly public-sector employees, after a failed coup by a small faction in the military. They are accused of sympathizing or belonging to a religious group led by Gulen, an Islamic preacher in self-imposed exile in the United States.
Earlier, authorities issued warrants for the detention of 47 former executives and senior journalists of Turkey's Zaman newspaper for alleged links to Gulen, who denies any involvement in the coup attempt.
In pictures: Turkey coup attempt

Show all 17
The media watchdog Reporters Without Borders lambasted the closing of media outlets, saying they have taken on "increasingly alarming proportions".
Johann Bihr, who heads the organization's Eastern Europe and Central Asia desk, said: "Criticizing the government and working for media outlets that support the Gulen Movement do not constitute evidence of involvement in the failed coup."
On Monday, Turkish Airlines said it fired 211 employees over their links to the Islamic transnational Gülen movement.
The state-run company sacked the workers, including management and cabin crew, as part of a purge of state institutions.
Separately, landline operator Turk Telekom, which is 30 per cent state-owned, sacked 198 people on Friday in "cooperation with the security forces" and said some managers had been summoned by prosecutors for testimony in connection with the coup investigation, according to e-mailed statements.
More than 240 people were killed and 2,000 injured in violence surrounding the coup attempt on 15 July.
Last week, Turkish President Recep Tayyip Erdogan declared a state of emergency in the country for three months. He said the measure was being taken to counter threats to Turkish democracy and was not intended to curb basic freedoms.
Additional reporting by agencies
Join our new commenting forum
Join thought-provoking conversations, follow other Independent readers and see their replies