Turkey threatens sanctions against Netherlands as diplomatic crisis deepens
German Chancellor Angela Merkel denounces Nazi comparisons as 'completely unacceptable'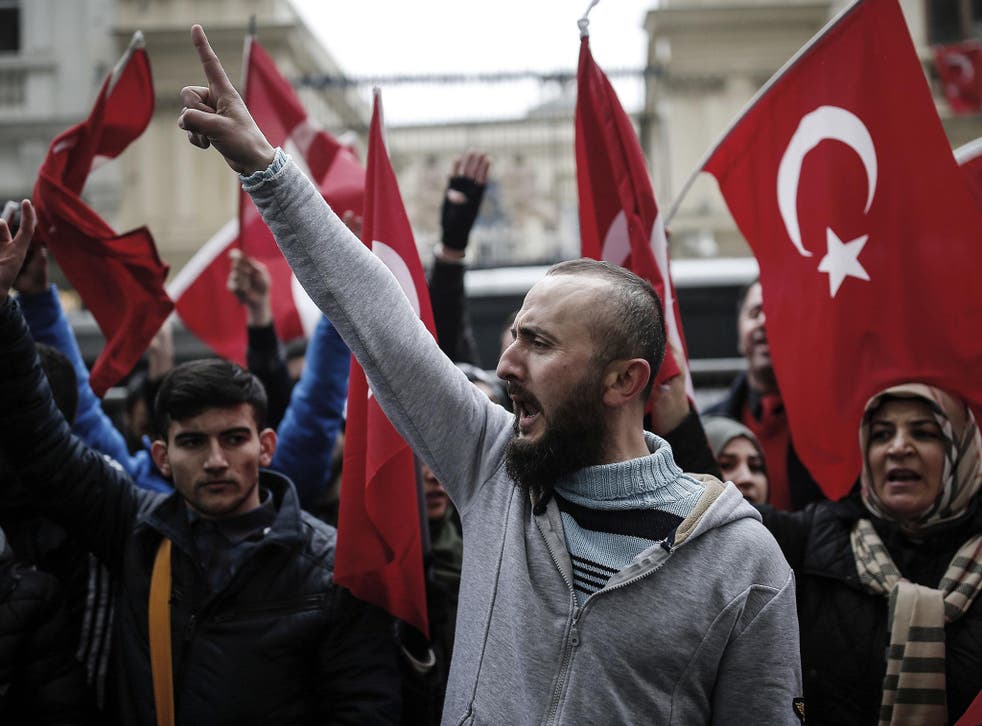 Turkey has threatened sanctions against the Netherlands after accusing Dutch police of "disproportionate force" against protesters.
As the diplomatic row over Ankara's political campaigning continued to increase, Turkey's EU Minister Omer Celik said the country will "surely have sanctions" against the Netherlands.
His comments came after Turkey's Foreign Ministry summoned a Dutch diplomat to formally protest the expulsion of a Turkish minister and what it said was a "disproportionate" use of force against demonstrators.
Hundreds of pro-Turkey protesters clash with police in Rotterdam
The ministry said it handed Dutch diplomat Daan Feddo Huisinga two formal protest notes, the first condemning the treatment of Family Minister Fatma Betul Sayan Kaya after she was escorted out of the Netherlands and the second protesting the "inhumane and derogatory" treatment of Turkish protesters and calling for those responsible to be punished.
Dutch police used dogs and water cannons to disperse hundreds of protesters who gathered outside the Turkish consulate in Rotterdam.
In addition to Ms Kaya being escorted out of the country, Foreign Minister Mevlut Cavusoglu was denied permission to land to campaign for the referendum.
President Recep Tayyip Erdogan, who is seeking support from Turks in a referendum to greatly increase his powers, has said the Netherlands is acting like a "banana republic" and should face sanctions for barring his ministers from speaking in the Dutch port city of Rotterdam.
He also accused Germany of "reverting to fascism" and called the Dutch "Nazi remnants".
World news in pictures

Show all 50
German Chancellor Angela Merkel said the Netherlands has her "full support and solidarity" and denounced Turkey's Nazi comparisons as "completely unacceptable".
The Dutch government did not immediately react to the news Turkey had summoned its top diplomat, but updated its travel advisory for Turkey, warning travellers about the heightened diplomatic tensions.
Dutch populist Geert Wilders described Turks in the Netherlands as a "fifth column" and said: "If your loyalty lies elsewhere then get out. No dual citizenship anymore. And shut the borders."
Nato Secretary General Jens Stoltenberg urged Turkey and the Netherlands to "show mutual respect, to be calm and have a measured approach".
"Robust debate is at the heart of our democracies but so is mutual respect," Mr Stoltenberg said.
"To contribute to deescalate the tensions, defuse tensions and deescalate the situation, it's important that we now focus on everything that unites us."
Register for free to continue reading
Registration is a free and easy way to support our truly independent journalism
By registering, you will also enjoy limited access to Premium articles, exclusive newsletters, commenting, and virtual events with our leading journalists
Already have an account? sign in
Register for free to continue reading
Registration is a free and easy way to support our truly independent journalism
By registering, you will also enjoy limited access to Premium articles, exclusive newsletters, commenting, and virtual events with our leading journalists
Already have an account? sign in
Join our new commenting forum
Join thought-provoking conversations, follow other Independent readers and see their replies