Turkey mine explosion: Workers accuse owners of culture of bullying and cutbacks
As police detain 24 managers of Soma mine where 301 men died, workers say there were insufficient checks and no safety drills
Isabel Hunter Comments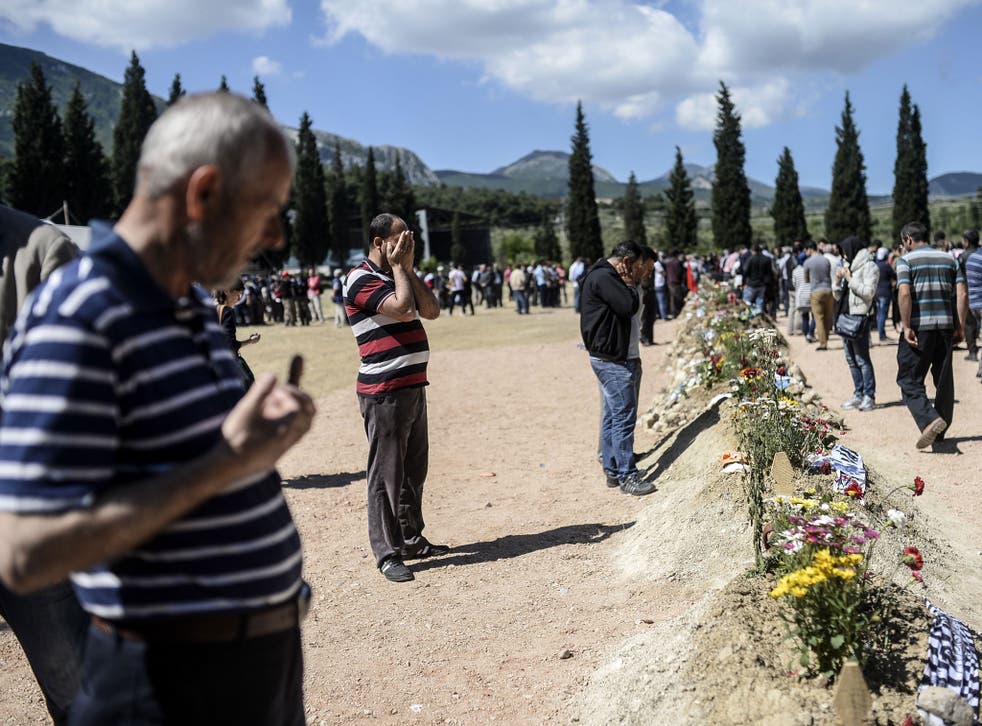 Turkish miners have rejected government and company claims that the Soma mine where hundreds died last week was safe and subject to proper inspection.
On Friday, the mine company management denied claims of negligence but yesterday workers accused mine owners of operating in a culture of bullying and cost-cutting which caused regular injuries and deaths. The mine company said in a statement last week: "We are facing such an accident for the first time in the history of the mining sector. A fire that has never been seen before and cannot be explained technically has taken place."
On a plastic chair outside the local general store, Alkan Uslu, 35, sits with a broken leg, his crutches propped up beside him.
He broke it three months ago, he says, in a work accident in the same mine where an explosion killed 301 of his colleagues on Tuesday.
Since the tragedy, miners like father-of-four Mr Uslu have insisted the mine had extremely poor inspection standards, faulty equipment and did not hold safety drills.
In pictures: Violent clashes in Turkey erupt after mine explosion kills over 280

Show all 20
They say the company cultivated a culture of intimidation by punishing those who reported safety violations, covering up sloppy practice before inspections and docking a day's pay for those "not working hard enough".
Police detained 24 people, including mining company executives and personnel of Soma Holding, as part of an investigation into last week's mine disaster.
In a separate action, the head of Soma Coal Mine Company, Alp Gürkan, is being sued for fraud.
But the miners are dissatisfied with the prosecutions, believing those responsible will get away with "murder".
"I don't even believe these people can be brought under custody and I'm sure they'll get off," Oran Aydoglu, 31, a Soma miner told The Independent. "Anyway, it's the government that's responsible, there's no doubt about it. If the mine had been properly checked before, then this wouldn't have happened.
"There's a set of rules above ground and there are different rules below ground because nobody follows them," said Mr Aydoglu.
On Saturday night, around 300 men marched through the town of Kinik in protest over the disaster. "The unions don't represent us!" they cried, followed by "Tayyip [Recep Erdogan] is a murderer!"
Another miner, Sefa Köken, 30, monitoring the gas levels, but said the machines always showed gas levels at a dangerous level, a claim that has been independently corroborated by other miners. "The monitor was always showing red," he said. "I would have no idea if there was a methane build-up, because there was always too much gas."
Mr Köken said he was forced to quit his job in a neighbouring mine, operated by a different company after he raised safety concerns with his boss. "In 2007 a miner died in an accident underground," he said. "I tried to report the exact circumstances of the death, even though the bosses didn't want me to, so they forced me to quit."
Another miner, who survived Tuesday's blast, said he was instructed to seal unsafe entrances when inspectors came to visit. Soma mine was privatised in 2005 and workers claim there was a marked change in how it was operated, especially with regards to safety regulations.
"This all happened because of the lack of safety and inspections when it was privatised," said one miner from Elmadere. Elmadere is an idyllic hamlet where children play in the narrow winding streets. Eleven men died from the village's tiny population of 286 voting adults, many of whom work in mining after their long tradition of agriculture was no longer profitable.
The accusation that the inspectors enjoyed a cosy relationship with the mine company is often repeated.
Men from several towns told The Independent that the inspectors knew the owners, and would "sacrifice a lamb and have a barbecue" on their visits, without making thorough checks.
"The inspectors only come to the first 300 metres, but we're working 1.5-2 kilometres underground," said Mr Uslu, the group of men surrounding him – miners both working and retired – chime in with agreement.
At the mouth of the mine, which is now being bricked up, the sign reads "Safety First" and the irony is not lost on the men who passed underneath it each day.
Register for free to continue reading
Registration is a free and easy way to support our truly independent journalism
By registering, you will also enjoy limited access to Premium articles, exclusive newsletters, commenting, and virtual events with our leading journalists
Already have an account? sign in
Join our new commenting forum
Join thought-provoking conversations, follow other Independent readers and see their replies