Turkey to launch groundbreaking restrictions on plastic bags in fight against pollution
Turkey consumes 440 plastic bags annually per person, far higher than European countries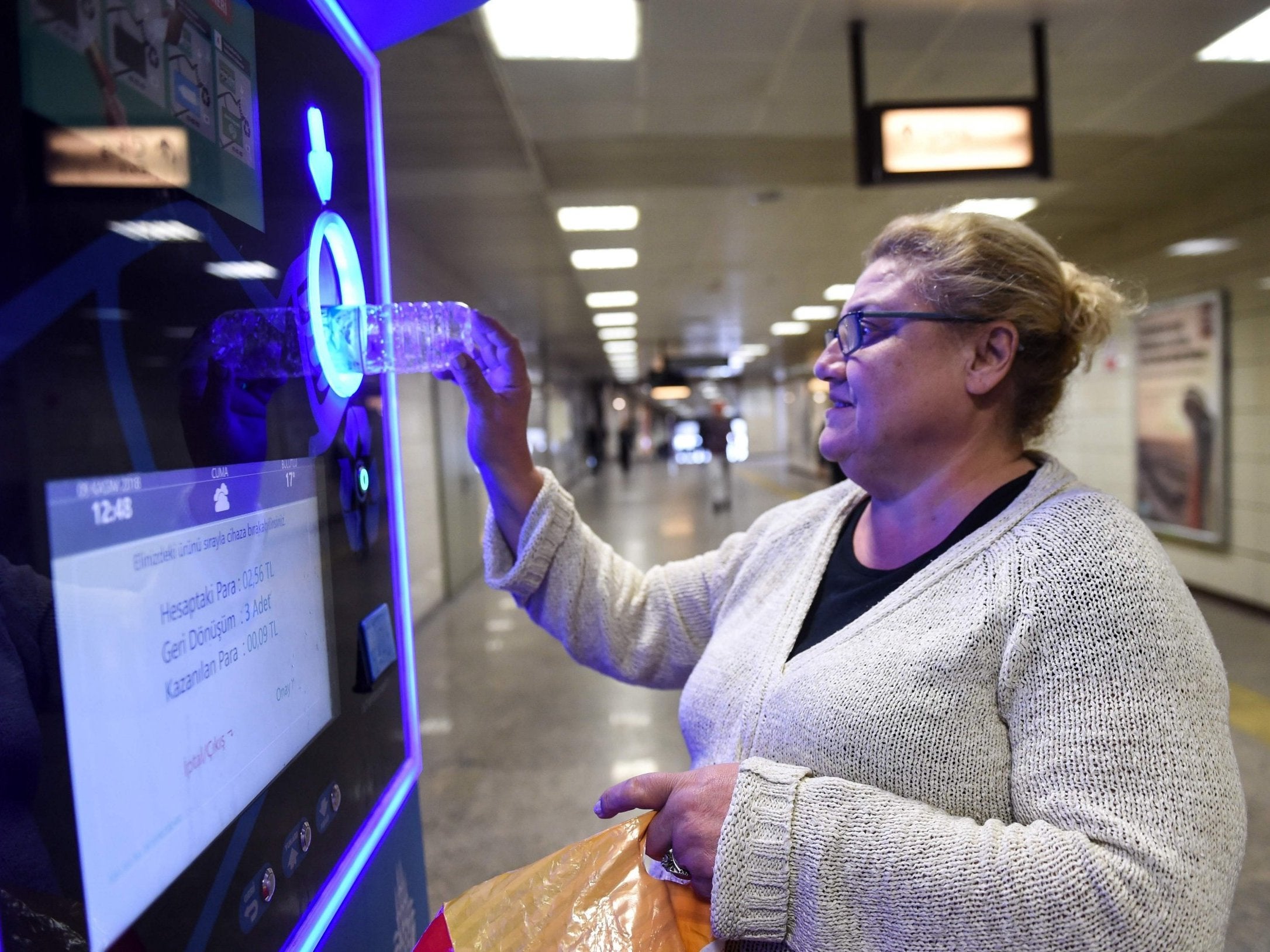 Turkey is trying to break its addiction to plastics, implementing a law next year that will do away with free plastic bags at grocery stores.
And a top Turkish celebrity has been enlisted to try and encourage the use of her own tote bag as an alternative.
An estimated one trillion plastic bags worldwide are used annually. Billions of plastic bags are destroying the planet's environment and killing sea creatures. Taking up to 1,000 years to degrade, they are amassing in the oceans and making their way into the food chain and ultimately, into our stomachs.
"I'm a mother. I have three children," Turkish actor Tuba Unsal, told The Independent. "I have to do something for their future, for their lives. The way we are using our natural resources is very silly. We have to do something."
Ms Unsal, a television and screen star and former model with a large following on Instagram, is working with the European Union to raise awareness about the harmful effects of plastic bags, and present her own simple alternative: a khaki canvas bag with the words "10,000 plastic bags strong".
She appeared at an event on Monday alongside Christian Berger, the European Union's ambassador to Turkey, to drum up public awareness about Turkey's upcoming rules.
"Both in the EU and Turkey, we've agreed on the need to address this issue, particularly in the oceans," Mr Berger told The Independent on the sidelines of the event.
Turkey ranks 108th out of 180 in an assessment of environmental performance by Yale Centre for Environmental Law and Policy. It is also is a particularly egregious consumer of plastic bags, with 440 used per person every year compared with 15 to 25 used in some European nations.
Turkey's minister of Environment and Urbanisation Murat Kurum has promised a crackdown, with compulsory charges for plastic bags at supermarkets and shops in line with other European countries. Under new amendments, shops are obliged to sell the bags for about a quarter of Turkish lira, or about 4 pence ($.05), or face a fine. But no deadline has been set to fully implement the plan.
Turkish environmentalists and their international backers may have gotten the government on board, but could still face opposition from the same types of entrenched industrial interests that have hampered similar efforts in other countries.
Mr Berger acknowledged potential resistance, but noted that finding alternatives to plastic bags can also be lucrative. "Producing canvas bags like this is innovation and can lead to profits in other areas," he said.
Ms Unsal presented a two-and-a-half minute video she and a director put together to raise awareness about the use of plastics. It will be distributed across social media channels.
Moment turtle has plastic bag removed from throat
"Plastic causes death of more than 1.1 million of animals and other beings living in the sea," she says, looking into the camera and dressed in a plastic dress. "On average a human eats 70,000 micro-plastics every year. Bon appetit!"
Ms Unsal said she has recruited friends in Turkey's influential entertainment business – famous worldwide for soap operas and TV series that are translated into multiple languages.
Awareness about hazards of plastic is already rising in Turkey. A pilot project launched by the Istanbul municipality lets public transportation passengers pay for rides with empty plastic bottles.
Mr Berger noted that many also doubted Turkey would do away with smoking in public places. But since the ban was rolled out in stages a decade ago, smoking has all but disappeared from restaurants and work spaces.
"It might look like a Sisyphean task," said Mr Berger. "But you have to do something."
Join our commenting forum
Join thought-provoking conversations, follow other Independent readers and see their replies