President Erdogan accuses Germany of reverting to 'Nazi practices' amid row over blocking Turkish rallies
'We don't want to see the Nazi world anymore. We don't want to see their fascist actions'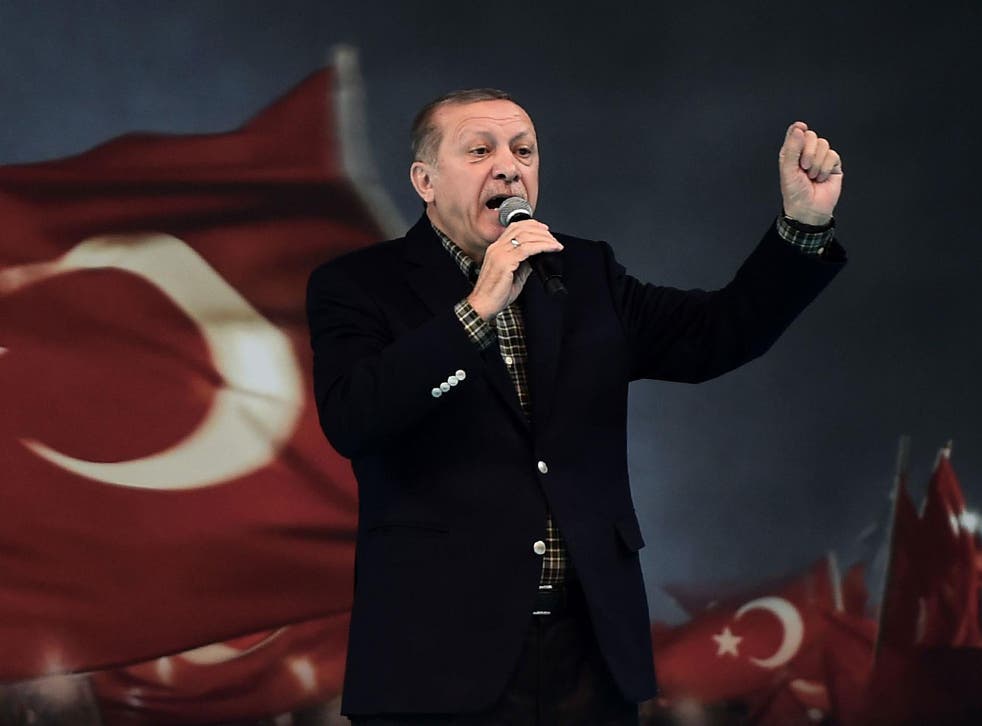 Turkish president Recep Tayyip Erdogan has accused Germany of "Nazi practices" days after a local authority prevented a Turkish minister from addressing a rally.
Last week, German authorities withdrew permission for two rallies by Turkish residents in German cities amid growing public outrage over Ankara's arrest of a Turkish-German journalist.
The planned rallies were part of a Turkish government campaign to win support among Germany's 1.5 million-strong Turkish community for sweeping new presidential powers going to referendum in April.
"In Germany, they are not allowing our friends to speak," Mr Erdogan said at a rally in Istanbul. "Let them do so. Do you think that by not allowing them to speak the votes in Germany will come out 'no' instead of 'yes'?"
He added: "Germany, you don't have anything to do with democracy. These current practices of yours are no different than the Nazi practices of the past."
President Erdogan and opposition unite in Turkey rally
Relations between the two NATO partners deteriorated sharply after a failed July coup bid against Mr Erdogan, when Ankara accused Berlin and other capitals of failing to condemn rogue military elements quickly or convincingly enough.
Mr Erdogan, who has been accused by critics of increasingly authoritarian tendencies, has accused Germany of harbouring enemies of Turkey, from Kurdish militants to coup organisers.
He has been sharply criticised in western Europe for mass dismissals and arrests of suspected conspirators, from judges to journalists.
Berlin has demanded the release of a German journalist arrested in Turkey last week, whom Mr Erdogan described as a "German agent".
World news in pictures

Show all 50
"We will talk about Germany's actions in the international arena and we will put them to shame in the eyes of the world," Mr Erdogan said.
"We don't want to see the Nazi world anymore. We don't want to see their fascist actions. We thought that era was in the past, but apparently it isn't."
Julia Kloeckner, a deputy leader of German Chancellor Angela Merkel's Christian Democratic Union, told the German daily Bild Mr Erdogan's Nazi comparison was "a new pinnacle of immoderation."
"Mr. Erdogan is reacting like a stubborn child who can't get his own way," she told the paper.
Ms Kloeckner said Mr Erdogan must apologise for the Nazi comparison: "True statesman do not speak in such terms."
Register for free to continue reading
Registration is a free and easy way to support our truly independent journalism
By registering, you will also enjoy limited access to Premium articles, exclusive newsletters, commenting, and virtual events with our leading journalists
Already have an account? sign in
Register for free to continue reading
Registration is a free and easy way to support our truly independent journalism
By registering, you will also enjoy limited access to Premium articles, exclusive newsletters, commenting, and virtual events with our leading journalists
Already have an account? sign in
Join our new commenting forum
Join thought-provoking conversations, follow other Independent readers and see their replies