Critics of Turkey's President Recep Tayyip Erdogan tell of intimidation ahead of crucial referendum
Many followers of US-based cleric Fethullah Gulen face apparent death threats in the wake of an aborted coup last year that Turkish authorities blame on Mr Gulen – with fears increasing ahead of this Sunday's referendum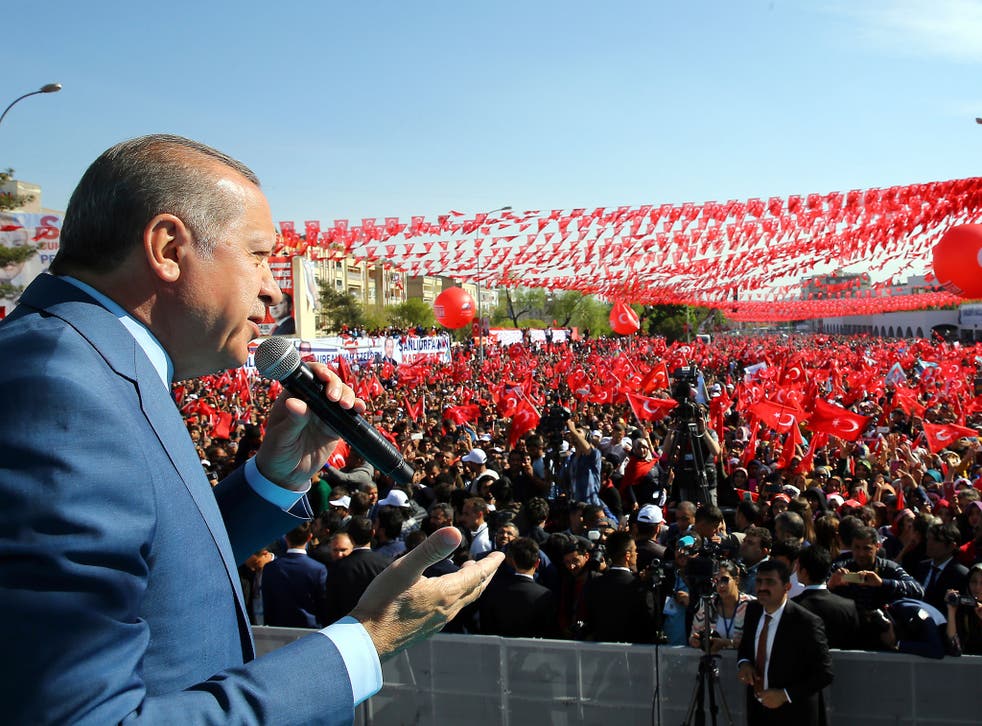 Ercan Karakoyun looks twice over his shoulder when he leaves his Berlin home to make sure nobody is following him.
He is a follower of Muslim cleric Fethullah Gulen, whom Turkish President Recep Tayyip Erdogan blames for an attempted military coup in Turkey last summer. Mr Karakoyun, 37, who is the public face of the Gulen movement in Germany, says he has received several death threats since the aborted overthrow.
The hostility hasn't escalated past the anonymous threats, but Mr Karakoyun's experience is one happening across Europe as Turkey's government tries to root out and punish the US-based Mr Gulen's supporters both within Turkey and abroad, with a crucial referendum at the end of the this week.
"The witch-hunt against us has reached a new level," Mr Karakoyun, the son of Turkish immigrants and spokesman for the Gulen-affiliated Dialogue and Education Foundation in Germany says.
Surrounded by religious books in the foundation's Berlin office, he recounts how German police contacted him last week and warned him not to travel to Turkey.
Mr Karakoyun was among more than 300 individuals and dozens of institutions on a list the Turkish foreign intelligence agency MIT gave its German counterpart. MIT asked to have those named put under surveillance.
To Ankara's irritation, German officials instead contacted and cautioned the individuals on the list, which included at least two German legislators.
"Unfortunately, of course, intelligence organisations share such information with each other. This should not be leaked to any side. But it is clear that this information in Germany was given to government sources and they used it," Turkish Prime Minister Binali Yildirim said. "This is, first of all, not ethical. It does not fit intelligence practices."
In pictures: Turkey coup attempt

Show all 17
Mr Gulen has been based in the United States since 1999 in self-imposed exile. His movement, centered on Islamic teachings, ran schools and dormitories that grew into a worldwide network in which, Turkey says, his followers were groomed and eventually infiltrated state organs, including the judiciary, police and military.
Turkish authorities say the coup-plotters arrested on the night of the coup were Gulen supporters. Among the evidence they have offered against them is an encrypted messaging application that prosecutors have claimed the coup-plotters used to communicate with each other.
In Turkey, tens of thousands of Mr Gulen's followers have lost their jobs or landed in jail. Mr Erdogan has also called on nations to crack down on the Gulen movement's large network of schools and charities outside of the country.
The tension between supporters of Mr Gulen, who has rejected any involvement in the failed coup, and Mr Erdogan's allies, has become especially heated in recent weeks. Mr Erdogan's government has been campaigning in Germany and other European nations to try to win support for a referendum on Sunday that would expand the president's powers.
The post of president used to be mostly ceremonial, but under the new system – if voters assent – Mr Erdogan will be able to stand in two more election cycles, which means if he wins the 2019 and 2024 polls he could potentially stay on as a powerful head of state until 2029. He could also return to the leadership of the Justice and Development party (AKP), which he co-founded, and which holds the overwhelming majority in parliament.
An estimated three million expatriate Turks were eligible to cast ballots in what is expected to be a close vote. About half live in Germany.
Turkish officials' attempts to rally support for the referendum in other European countries caused widespread irritation in Germany. Several of their planned public events were cancelled. Mr Erdogan accused German officials of acting like Nazis, sniping that in turn prompted Chancellor Angela Merkel to publicly condemn his comment.
Tensions also flared In the Netherlands when the Dutch government blocked two Turkish ministers last month from addressing political rallies. Turks who gathered outside the country's consulate in Rotterdam briefly clashed with police after Turkey's family affairs minister was prevented from entering the building and escorted back to the Germany border.
Hundreds of pro-Turkey protesters clash with police in Rotterdam
Similar scenarios have played out elsewhere in Europe. In Denmark, more than 500 children have left 14 schools that the Turkish government singled out as being closely related to Gulen. In Germany, where the movement operates dozens of schools, educational centres and youth clubs, many families also have pulled out.
A senior Austrian legislator presented documents last month claiming to show a Turkish global surveillance network, aimed at undermining organisations loyal to Mr Gulen. Germany's interior ministry said last week that prosecutors are investigating 20 people suspected of spying for Turkey in Germany on people thought to be Gulen supporters. Turkey has rejected previous accusations of using a network to spy on Mr Erdogan's critics, with a senior government official calling the most recent claims "completely false".
Several calls and emails for comment on these allegations by the Union of European Turkish Democrats, which is close to Erdogan's AKP, went unanswered.
Gulen followers are not the only ones complaining about threats from Erdogan supporters.
Sevim Dagdelen, a Turkish-German MP with The Left party, says she received death threats after speaking out publicly against Mr Erdogan. After Turkish newspapers published her picture and berated her as a traitor, people in Germany attacked or insulted her on the street, she says. She has been put under police protection and warned not to go out with her children in public.
The parliament member can also no longer travel to Turkey, even though she is her party's expert on the country.
Ms Dagdelen, the daughter of Turkish guest workers who came to Germany in the 1960s, calls on the German government to help protect dissidents of the Erdogan regime both in Germany and Turkey, but expresses little hope that the situation would improve soon.
"I don't believe that Erdogan will let himself be influenced by the outcome of the referendum in April," she says. "He has already made the decisions regarding his agenda a long time ago – namely to turn Turkey into an oppressive Islamist regime."
Associated Press
Join our new commenting forum
Join thought-provoking conversations, follow other Independent readers and see their replies