Turkish referendum on a knife edge as polls put 'yes' vote slightly ahead
Voters in Turkey go to the polls on Sunday to decide whether to change the constitution and create an executive presidency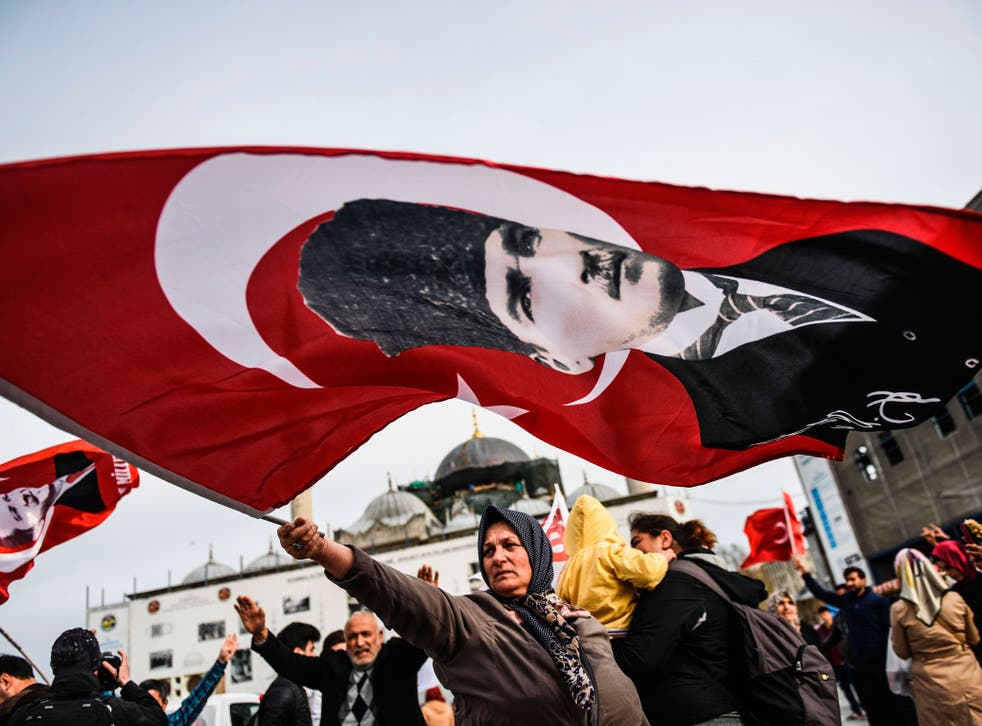 Two new Turkish opinion polls show a narrow majority of Turks, between 51 and 52 per cent, would vote "yes" in the referendum and extend the powers of current President Recep Tayyip Erdogan.
Voters in Turkey go to the polls on 16 April to decide whether to change the constitution and create an executive presidency. Voting for Turks living abroad finished on Sunday.
A survey by pollsters Anar put the "yes" vote at 52 per cent. Its poll was conducted face-to-face with more than 4,000 people from 5 to 10 April in 26 provinces. The number of undecided voters has fallen to 8 per cent, it said, adding that that had led to a two percentage point boost for "yes" since the start of March.
Similarly, the Konsensus polling company put the "yes" vote at 51.2 per cent after the distribution of undecided voters. It conducted its survey face-to-face with 2,000 people from 2 to 8 April in 41 provinces.
Mr Erdogan said this week that Turks living overseas had turned out strongly to vote, which pollsters say could benefit him.
The Turkish President has also spent much of his recent campaign attacking the head of the main opposition Republican People's Party (CHP), which is spearheading the "no" camp. Mr Erdogan has accused its leader, Kemal Kilicdaroglu, of lying, language Mr Kilicdaroglu has said is not fitting of a president.
On Tuesday, Mr Erdogan ridiculed the opposition leader for losing the last seven elections. "The people don't like you, they don't embrace you. The truth is plain," he said during a televised meeting with university students.
The referendum campaign has damaged Turkey's ties with some European allies. Mr Erdogan has described the banning on security grounds of some rallies by Turkish ministers in the Netherlands and Germany as "Nazi-like" tactics.
Germany has called the references unacceptable. But Mr Erdogan has continued undeterred, repeatedly accusing Germany of harbouring members of the outlawed Kurdistan Workers Party (PKK), an accusation Berlin has denied.
"Germany is currently sheltering terrorists. I say it openly. When I say they have resurrected Nazism they go crazy. Why do you go crazy? That's what you've done, that's why I say it," Mr Erdogan said at Tuesday night's event.
World news in pictures

Show all 50
On Wednesday, the PKK claimed responsibility for a bomb attack on a police compound in South-east Turkey that killed three people, saying more than two tonnes of explosives were planted in a tunnel under the complex.
The blast on Tuesday tore through the compound in Diyarbakir, the largest city in the mainly Kurdish South-east.
Authorities initially said the explosion appeared to have occurred during repairs to an armoured vehicle but later said it was a terrorist attack.
The PKK, which has waged an armed struggle against the Turkish state for more than three decades, is considered a terrorist group by Turkey, the United States and Europe.
"It turned out that the explosion was the result of a terrorist attack," the Turkish Interior Minister Suleyman Soylu told broadcaster Haberturk on Wednesday. "They dug a tunnel and placed the explosives in the ground."
The Diyarbakir governor's office said the attackers dug a 30-metre tunnel from the basement of an adjacent building. Forensic investigations showed that about 1 tonne of explosives and diesel were detonated by timer, it said.
One officer and two civilians were killed in the blast. Four wounded people remain in hospital.
The governor's office said five people suspected of direct links to the incident had been arrested. Another 172 people "thought to be in relation with terrorists" were also detained, it said without giving details.
Reuters
Join our new commenting forum
Join thought-provoking conversations, follow other Independent readers and see their replies