Turkish parliament speaker prompts outrage with call to replace secularism with religious constitution
Speaker Ismail Kahraman said the new constitution should drop references to secularism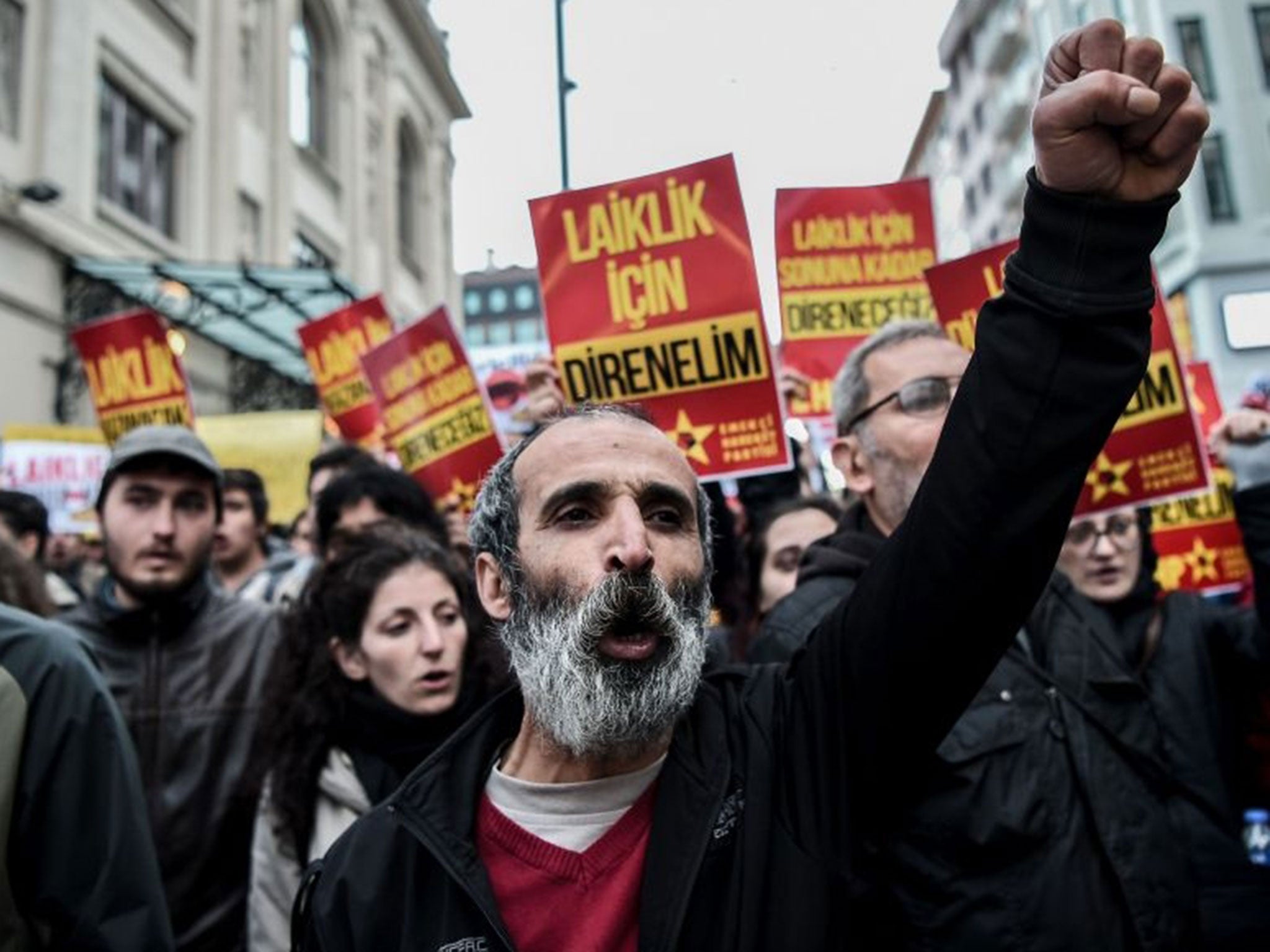 Turkey's parliament speaker has said the Muslim majority country needs a religious constitution, contradicting the founding principles of the modern republic.
Speaker Ismail Kahraman also said the new constitution should drop references to secularism, while lamenting the fact Allah is not mentioned in the constitution.
His comments were met by condemnation from the opposition and a brief street protest on Tuesday.
In the 1920s, Mustafa Kemal Ataturk forged the secular republic of Turkey from the ruins of the theocratic Ottoman empire.
Ataturk banished Islam from the official religion of the state, replaced Arabic with Latin script and promoted Western dress and women's rights.
However, President Tayyip Erdogan and the ruling Justice and Development Party (AKP) have tried to restore the role of religion to public life.
They have expanded religious education and allowed the head scarf - once banned from state offices - to be worn in colleges and parliament.
Turkey's two million Syrian refugees
Show all 11
"For one thing, the new constitution should not have secularism," Mr Kahraman said, according to videos of his speech published by Turkish media.
"It needs to discuss religion ... It should not be irreligious, this new constitution, it should be a religious constitution."
Rockets strike Turkey's Kilis from Syria
On Tuesday, he clarified his remarks, saying secularism had been used to limit freedoms in Turkey.
A clearer definition "that does not bring the state and the people against each other" should be included in the new constitution, he added.
Kemal Kilicdaroglu, head of the main opposition and secularist Republican People's Party (CHP), tweeted: "Secularism is the primary principle of social peace.
"Secularism is there to ensure that everyone has religious freedom, Ismail Kahraman!"
Reacting to Mr Kahraman's comments, President Erdogan said the speaker had been expressing his own views.
Defending Turkey's secularism, he said: "My views are known on this ... The reality is that the state should have an equal distance from all religious faiths ... This is laicism."
Prime Minister Ahmet Davutoglu has assured the parliament Turkey's new constitution will include the principle of secularism.
Turkey is overwhelmingly Sunni Muslim, but a fifth of its 78 million people is estimated to be Alevi, which draws from Shi'a, Sufi and Anatolian folk traditions. Turkey is also home to about 100,000 Christians and 17,000 Jews.
Additional reporting by Reuters
Join our commenting forum
Join thought-provoking conversations, follow other Independent readers and see their replies