Turkish police use water cannon and tear gas to disperse protest against arrest of journalists
Nine journalists from oppositon daily Cumhuriyet have been arrested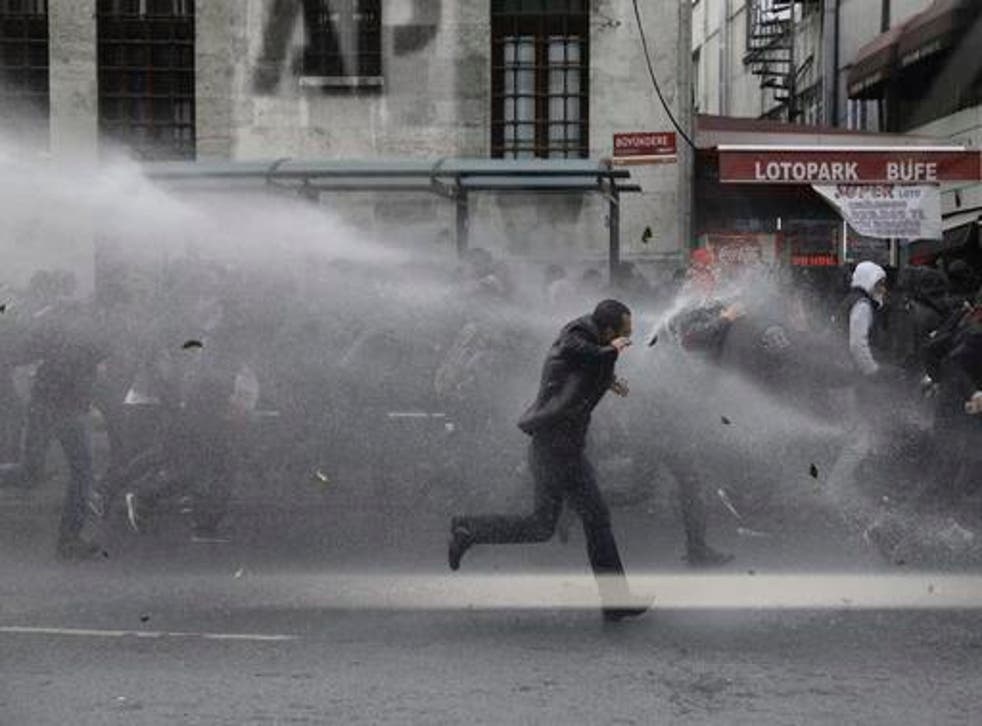 Turkish police have used tear gas, water cannon and plastic bullets to break up a protest by hundreds of people against the imprisonment of a group of journalists from secularist opposition newspaper Cumhuriye.
Riot police rapidly moved in as protestors demonstrated outside a mosque in Istanbul, shouting slogans denouncing the "fascist" state and vowing "we will not be silent", hours after nine journalists were formally arrested pending trial by an Istanbul court.
The crowds were dispersed as officers sprayed torrents of freezing water from trucks, as well as using tear gas and firing plastic bullets, according to AFP.
The journalists, who include some of the most prominent names in Turkish journalism, were arrested in raids on Monday and will now be held behind bars ahead of a trial, as part of an intensifying crackdown on dissent by President Recep Tayyip Erdogan.
Following their arrests Turkish courts ordered a media blackout, prohibiting the press from reporting on the detention of Cumhuriyet journalists.
The arrests are the latest in a huge crackdown following a failed coup attempt to oust President Erdogan in July. Since the coup, more than 100 media outlets have been shut and dozens of journalists detained.
Prosecutors said staff at the paper, one of the few still critical of President Erdogan, were suspected of crimes committed on behalf of Kurdish militants and US-based cleric Fethullah Gulen, who is accused of instigating the coup attempt by the government. He denies any involvement.
Earlier this year the former editor-in-chief of Cumhuriyet, Can Dundar, was given a five years and 10-month jail sentence for revealing state secrets in a front-page story.
Following his detention, Mr Dundar wrote on Twitter: "Our 'crime' is our writing, our headlines, our news. We will write again. We will write even more..."
It comes days after two leaders of the Peoples' Democratic Party (HDP), along with up to 11 other MPs from the group, whose support base is largely made up of Kurds from the region.
Selahattin Demirtas and Figen Yuksekdag were detained at their homes in Ankara as part of a counter-terrorism investigation, security sources told Turkish media.
After his arrest, Mr Demirtas said in a written statement read by his lawyer that he was the victim of a "civilian coup by the government and the palace".
On Saturday, authorities appointed a new mayor to Sirnak municipality, part of a campaign over recent weeks of replacing pro-Kurdish officials in the mostly Kurdish southeast.
A bomb in Sirnak province on Saturday killed two children and wounded four, an attack that the local governor's office blamed on the outlawed Kurdistan Workers Party (PKK).
The recent spate of arrests of dissenters has sparked immediate alarm among Turkey's Western allies.
EU foreign policy chief Federica Mogherini said she was "extremely worried" over the detentions, while US State Department spokesman John Kirby said there was a "worrisome trend" of limiting freedom of expression in Turkey.
The Turkish authorities sparked further controversy on Friday by slapping restrictions on social media and messaging services like WhatsApp.
In pictures: Turkey coup attempt

Show all 17
Users were still encountering problems loading social media on Saturday and had trouble using Virtual Private Network (VPN) connections, which people often use to circumvent such restrictions.
Turkey remains under a state of emergency that was imposed after the failed coup in July, which allows President Erdogan and his government to bypass parliament when drafting new laws and to restrict or suspend rights and freedoms.
In October the Turkish government announced it planned to submit proposals to parliament for constitutional changes that would make Mr Erdogan "executive president", expanding his powers further.
Register for free to continue reading
Registration is a free and easy way to support our truly independent journalism
By registering, you will also enjoy limited access to Premium articles, exclusive newsletters, commenting, and virtual events with our leading journalists
Already have an account? sign in
Register for free to continue reading
Registration is a free and easy way to support our truly independent journalism
By registering, you will also enjoy limited access to Premium articles, exclusive newsletters, commenting, and virtual events with our leading journalists
Already have an account? sign in
Join our new commenting forum
Join thought-provoking conversations, follow other Independent readers and see their replies