Turkish President backs Azerbaijan in conflict with Armenia
Azerbaijan's defence ministry has announced a unilateral ceasefire against the Armenian controlled region of Nagorno-Karabakh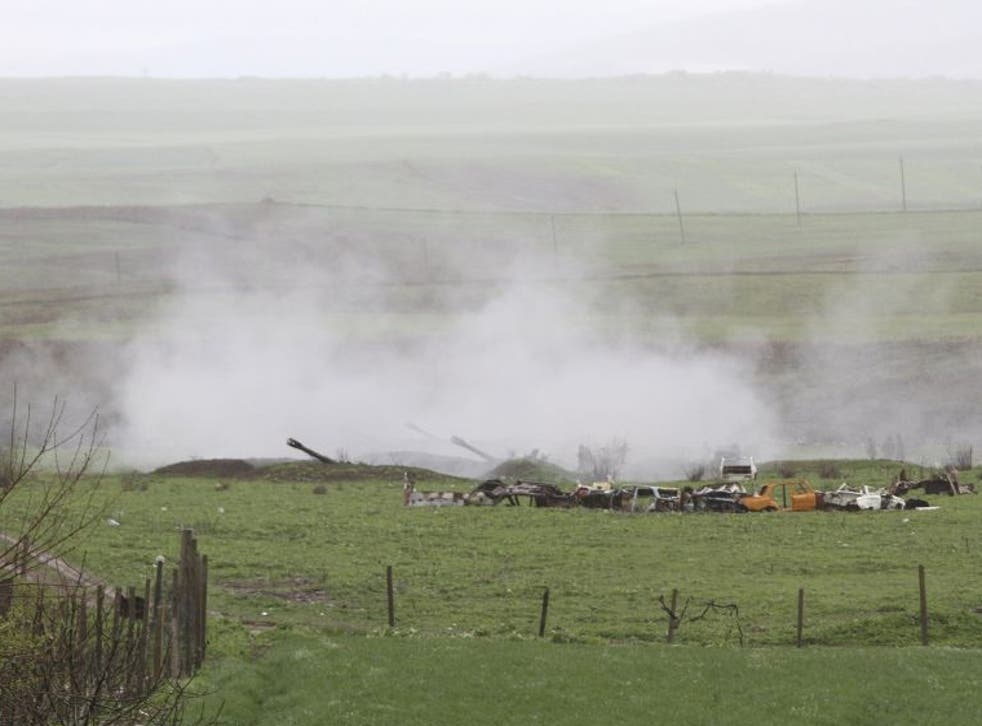 The Turkish president has promised to back Azerbaijan as its conflict with Armenians over the separatist region of Nagorno-Karabakh continues.
Fighting erupted over the weekend between the two countries in a conflict that has remained largely dormant for two decades.
Thirty troops and a boy were killed on both sides on Saturday over Nagorno-Karabakh, a region in Azerbaijan, which has been under the control of local Armenian forces and the Armenian military since a war ended in 1994. Conflict over the weekend is considered to be the worst outbreak since this period.
On Sunday, President Recep Tayyip Erdogan pledged his support for Turkey's ally Azerbaijan.
"We pray our Azerbaijani brothers will prevail in these clashes with the least casualties," said he said.
The intervention will anger Armenia, which has historical enmity toward the Turkish president who has continually denied that the mass killing of Armenians by Turks during the Ottoman era was genocide, as claimed by Armenia.
Azerbaijan's defence ministry announced a unilateral ceasefire against Nagorno-Karabakh on Sunday, saying it will be unilaterally "suspending a counter-offensive and response on the territories occupied in Armenia" after pleas from international organisations.
However, officials in the self-proclaimed republic of Nagorno-Karabakh have disputed Azerbaijan's ceasefire.
David Babayan, a spokesman for the Karabakh president, said on Sunday they had not seen any signs that fighting had been suspended.
Nagorno-Karabakh's defence ministry also claims to have restored control over a strategic area near the front line.
It said Nagorno-Karabakh forces went on a counter-offensive around the village of Talish after Azerbaijani forces shelled their positions just before dawn on Sunday using rockets, artillery and armour.
Two Karabakh troops have reportedly been injured.
Earlier on Sunday, Vagif Dargyakhly, a spokesman for Azerbaijan's defence ministry, said Azerbaijani positions came under fire overnight and that civilian areas were also hit.
Mr Erdogan has criticised the Minsk Group – a body under the Organization for Security and Co-operation in Europe, led by the US, Russia and France tasked with resolving the conflict.
He said the flare-up could have been avoided if the Minsk Group has taken "fair and decisive steps".
Additional reporting by Press Association
Register for free to continue reading
Registration is a free and easy way to support our truly independent journalism
By registering, you will also enjoy limited access to Premium articles, exclusive newsletters, commenting, and virtual events with our leading journalists
Already have an account? sign in
Register for free to continue reading
Registration is a free and easy way to support our truly independent journalism
By registering, you will also enjoy limited access to Premium articles, exclusive newsletters, commenting, and virtual events with our leading journalists
Already have an account? sign in
Join our new commenting forum
Join thought-provoking conversations, follow other Independent readers and see their replies