Turkish riot police officer who gassed 'lady in red' faces prosecution and possible jail term
Incident came amid riots last summer which saw at least seven people killed
Adam Withnall
Thursday 16 January 2014 11:31 Comments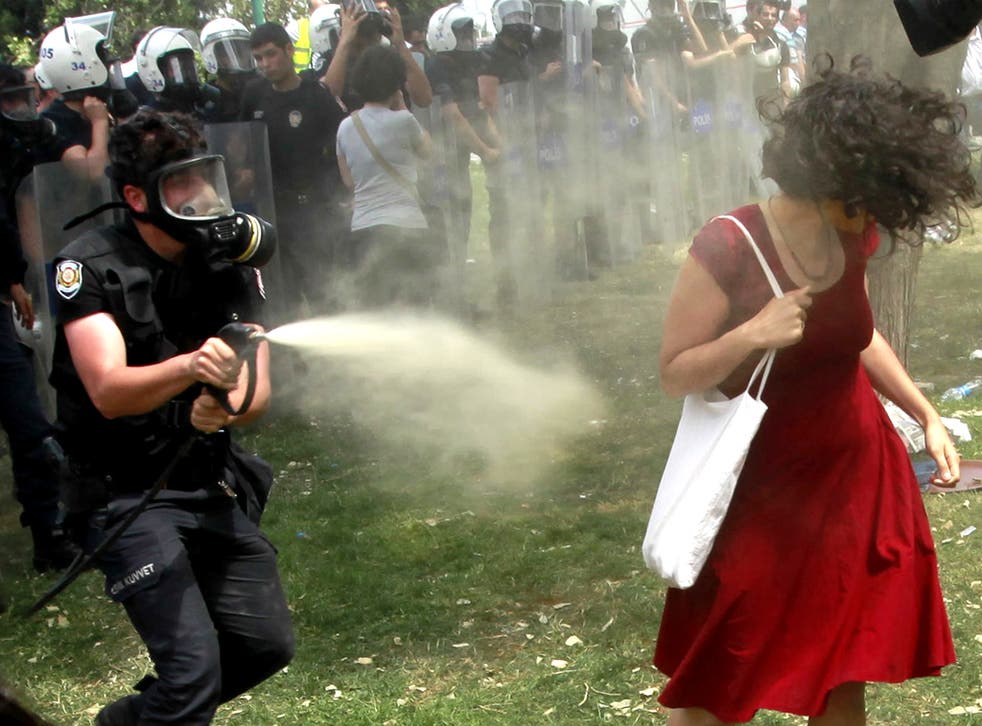 A Turkish police officer who sprayed tear gas in the face of a woman wearing a red dress at an anti-government protest faces prosecution and a possible jail term, a legal source has said.
Images of the incident with "the lady in the red dress" became symbolic of the ongoing unrest throughout last summer, quickly spreading on social media and printed on stickers and posters at protest camps.
They appeared to show police officer Fatih Zengin crouching down and blasting tear gas from less than a metre away at Ceyda Sungur.
An academic at Istanbul Technical University, Ceyda Sungur had reportedly only just arrived at the protest wearing a summer dress with a white bag over her shoulder, and had not been involved in any provocative acts.
An indictment has now accused Mr Zengin of using excessive force, and prosecutors are demanding he be dismissed from the force and sent to prison for up to three years on the grounds that no warning was issued prior to the incident, Turkish news agencies reported.
In pictures: Turkey unrest - protests of summer 2013

Show all 8
The protests last June started off as a peaceful demonstration against government plans to redevelop Istanbul's Gezi park, one of the last remaining green spaces in the city.
It escalated into an unprecedented show of defiance against Prime Minister Tayyip Erdogan's government after police used tear gas and water cannon to try to clear the site.
At least seven people, including a police officer, were killed in unrest which spread to cities around the country, while Mr Erdogan blamed the unrest on a foreign-backed conspiracy.
---
Watch below a video of the riots in summer 2013
This player is used within article copy as first element. Default size is 630w but FC code uses it for 460w article layout.
Register for free to continue reading
Registration is a free and easy way to support our truly independent journalism
By registering, you will also enjoy limited access to Premium articles, exclusive newsletters, commenting, and virtual events with our leading journalists
Already have an account? sign in
Join our new commenting forum
Join thought-provoking conversations, follow other Independent readers and see their replies